Product Description
The Taurus 738 TCP Sneaky Pete Holster has a sewn belt clip which can accommodate a belt up to 1.75" inches wide. The holster is made of high quality soft leather, and when worn on the belt resembles a cell phone case. The advantage of this design is that it allows you to carry your 738TCP concealed, but with full and easy access. Now it's possible to wear whatever you want, whenever you want to. Don't dress around your gun anymore.

The holster is made inside and out of glove-quality leather, and uses two magnets to stay closed. Each holster is designed for your specific firearm, and the opening is made in such a way that you cannot accidentally place your finger on the trigger during draw. The Kydex insert ensures that a smooth, silent draw occurs every time.

The use of double stitching and steel rivets guarantees that this holster will last for years to come. All available options are listed above, and the holster can be ordered either with the belt loop, or optional belt clip. We design every holster to be as small as possible and still fit your pistol.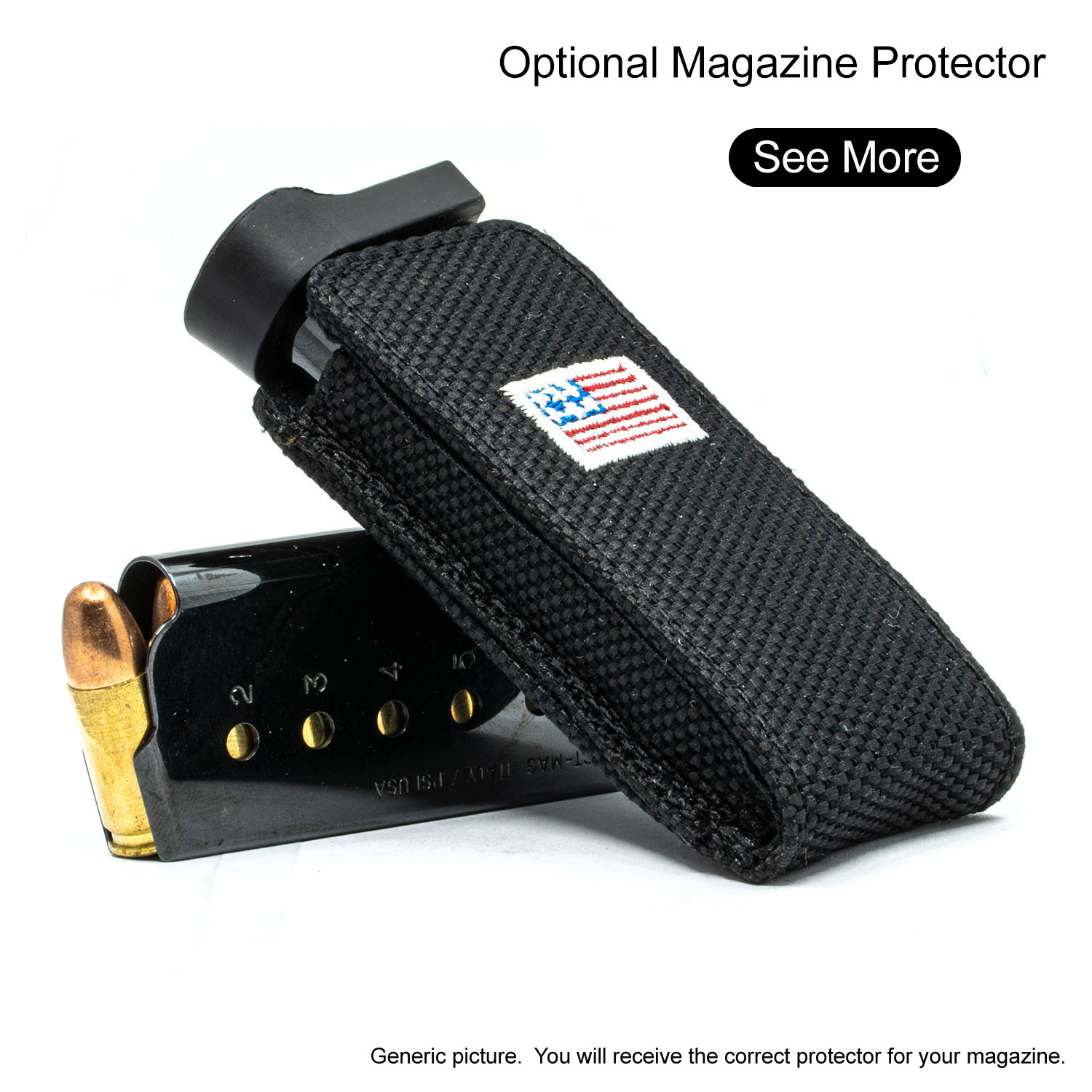 Other Details
Please contact us for warranty and exchange requests.
Custom Field
Approx Internal Dimensions
Height 5" Width 4 1/8" Depth 1" (flush base magazine holster)
Product Reviews
Shipping was quick! The holster is very well made in soft leather. Working with it to get my proper trigger finger index alongside the slide, as the trigger is covered when the flap is opened (as it should be). My only criticism is minor - the TCP 738 tends to "rattle" in the holster- not a lot, but enough to be an irritant. Maybe tighten up the holster just a wee bit to securely hold the pistol inside with no movement? I dunno, but with that being said I am very satisfied with it!

Great Holster (Bad Handgun)

The holster is great ... beautiful craftsmanship and functional. Unfortunately, the Taurus TCP 380 broke the first time I had it out on teh range, so it is back at Taurus for repair. In the mean time, I returned the Sneaky Pete since I will probably purchase a different handgun for my conceal carry.

Ordered my camo nylon for my Taurus Spectrum 380. It fits perfectly, no problems, I couldn't be happier with it.

As an older American with a few health issues, the "red cross" holster was apropos for my 738. I wanted a clip-on that wasn't to big or obvious. It looks like an allergy pack or something for remediation of a health issue. Realizing that it would not cover a gun through xray screening or simple pat-down, it nevertheless is non-threatening in places where it is lawful to be armed, as opposed to open carry, or even IWB concealed carry. Though the red is easily noticed, the "red cross" reduces concerns that might arise from the general public. Practice has shown it isn't a quick draw (Old West) holster, but it makes the self-defense weapon quite available quickly if needed. I like it. I'd forgotten that my 738 had a laser, so when I received this holster, the gun didn't fit (there is a model for the laser-equipped). Realizing my error, I found that the plastic form inside was removable, and though not "perfect" (whatever that might be), it works just fine. The gun does not rotate or slip around. Jumping up and down, I felt it slightly, but heard no revealing rattle. So I am quite happy with this product. A prior black holster for a different gun I no longer have was my reason for looking at this one.

Like it really well after returning the first one ( which is a pain in the butt) .

Fits the gun very well.

TAURUS 738 TCP SNEAKY PETE HOLSTER (BELT CLIP)

Works very well. If you have extended grips it won't work, but the standard grips fit well.

Ordered it in Camouflage nylon. It has got to be without a doubt the best conceal holster out there. Slapped a apple sticker on it and doesn't draw any attention. I've used for two weeks now and had no problem with it releasing the magazine as another review has stated. Highly recommend.

Sneaky pete holster for 380.

It's a great made product. The only downside and reason I can't use it is the fact that when the pistol sits in the holdster it pushes the clip release button. So when I go to remove I have a clip bouncing on the floor. I got this for right handed use. If you could come up with a fix for that it would be an amazing product all around. Until then it is of no use to me. Thanks. Keep on improving your product.

The holster is the right size and comfortable to wear. No one even asks. The clip for the belt is alittle clumsy. But I like the convenience.