Product Description
The Sneaky Pete Holster has sewn belt clips which can accommodate a belt up to 1.75" inches wide. The holster is made of high quality soft leather, and when worn on the belt resembles a cell phone case.
The advantage of this design is that it allows you to carry your pistol concealed, but with full and easy access. Now it's possible to wear whatever you want, whenever you want to. Don't dress around your gun anymore. The holster is made inside and out of glove-quality leather, and uses two magnets to stay closed.
Each holster is designed for your specific firearm, and the opening is made in such a way that you cannot accidentally place your finger on the trigger during draw. The Kydex insert ensures that a smooth, silent draw occurs every time. The use of double stitching and steel rivets guarantees that this holster will last for years to come. All available options are listed above, and the holster can be ordered either with the belt loop, or optional belt clip.
We design every holster to be as small as possible and still fit your pistol. Please make sure that you are using the same magazine as the one pictured, as the holster will not fit a different magazine.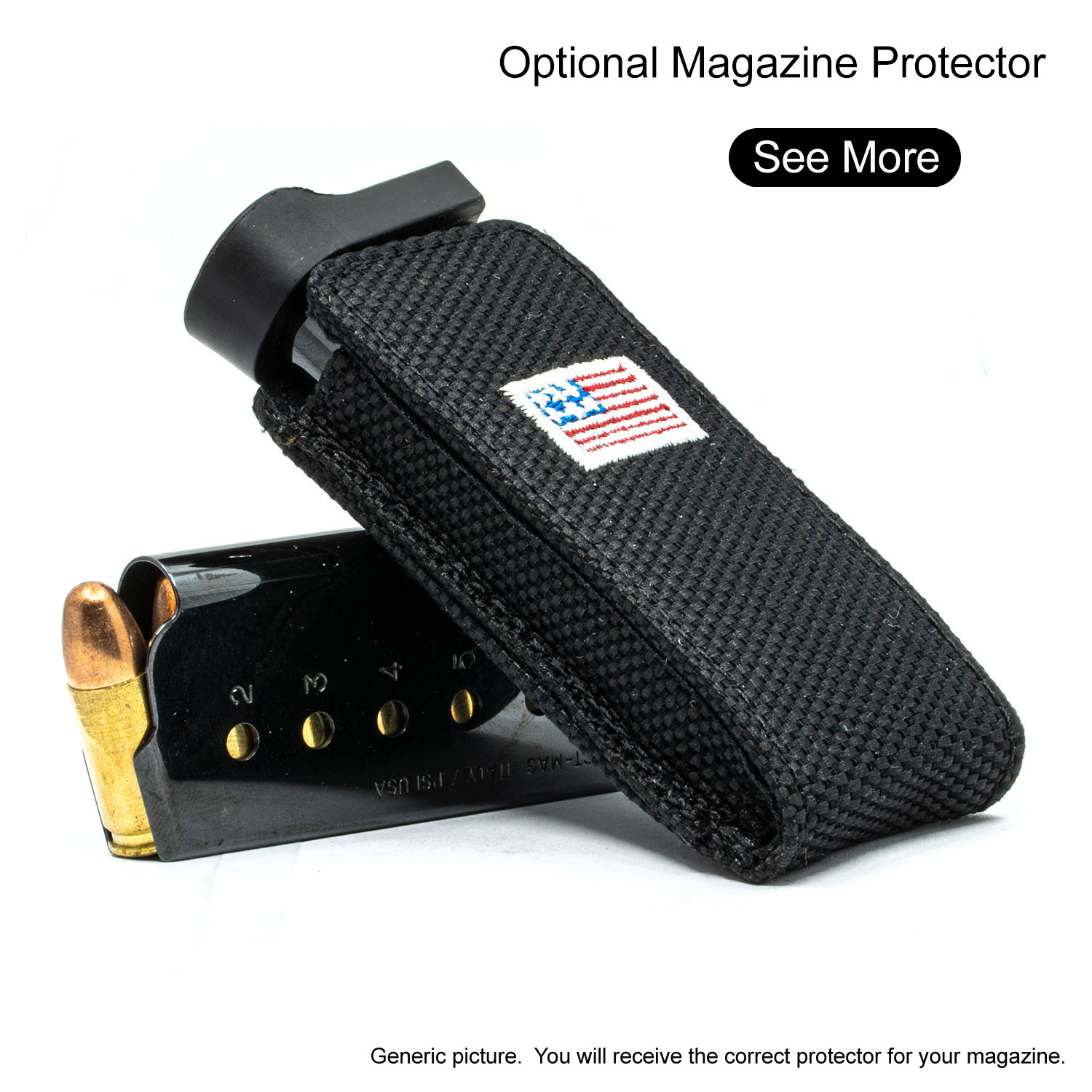 Other Details
Please contact us for warranty and exchange requests.
Custom Field
Approx Internal Holster Dimensions
Height 5 " Width 4 1/8" Depth 1" (flush magazine)
Approx Internal Holster Dimensions
Height 5 " Width 4 3/4" Depth 1" (extended pinky magazine)
Product Reviews
Sneaky Pete's small caliber

For my needs, this item is excellent.

Sneaky Pete holster it's Taurus spectrum like a glove

Taurus Spectrum Belt Clip Holster

The quality of the product both exterior and interior is good. The only issue I have is the belt clips are very hard to slide over my belt. Most of the time I have to thread the belt through the clips like you would a belt loop.

This holster is the best purchase I've made.

The belt clip model allows me to comfortably carry my weapon, while being able to discreetly remove it when entering a location I can't legally carry it. The quality of construction means I'll be carrying this for many years to come.

Sneaky Pete holster Taurus Spectrum

Quality product as described. Had purchased one previously for a larger pistol but found it to be too bulky for my taste. For the smaller pocket pistol it's perfect for me. I wear it daily. For anyone considering this product you should place your order. A professional company!

Bigger and bulkier than I had hoped, but works well.

Great product first time customer but not the last time . My wife just ordered me another one for my birthday. Keep up the great work . Marshall Fields

Overall, a quality product. Great fitment, comfortable to wear. Would recommend to others.

Really would like to see a place to put an extra magazine.

I like the holster. However, I ordered the incoorect Tarus model. I went by the manufactor's model number,. I needed to personally measure for highth, wideth & length. Let me suggest that your instructions included a warning to buyers: take measurements, rather than rely on manf. documentation. I worked with a very knowlegabel Represenatative, who found the correct sized Sneak Pete..