Product Description
The Taurus G2C Sneaky Pete Holster (Belt Clip) has a sewn belt clip which can accommodate a belt up to 1.75 inches wide. The opening is made in such a way that you cannot accidentally place your finger on the trigger during draw.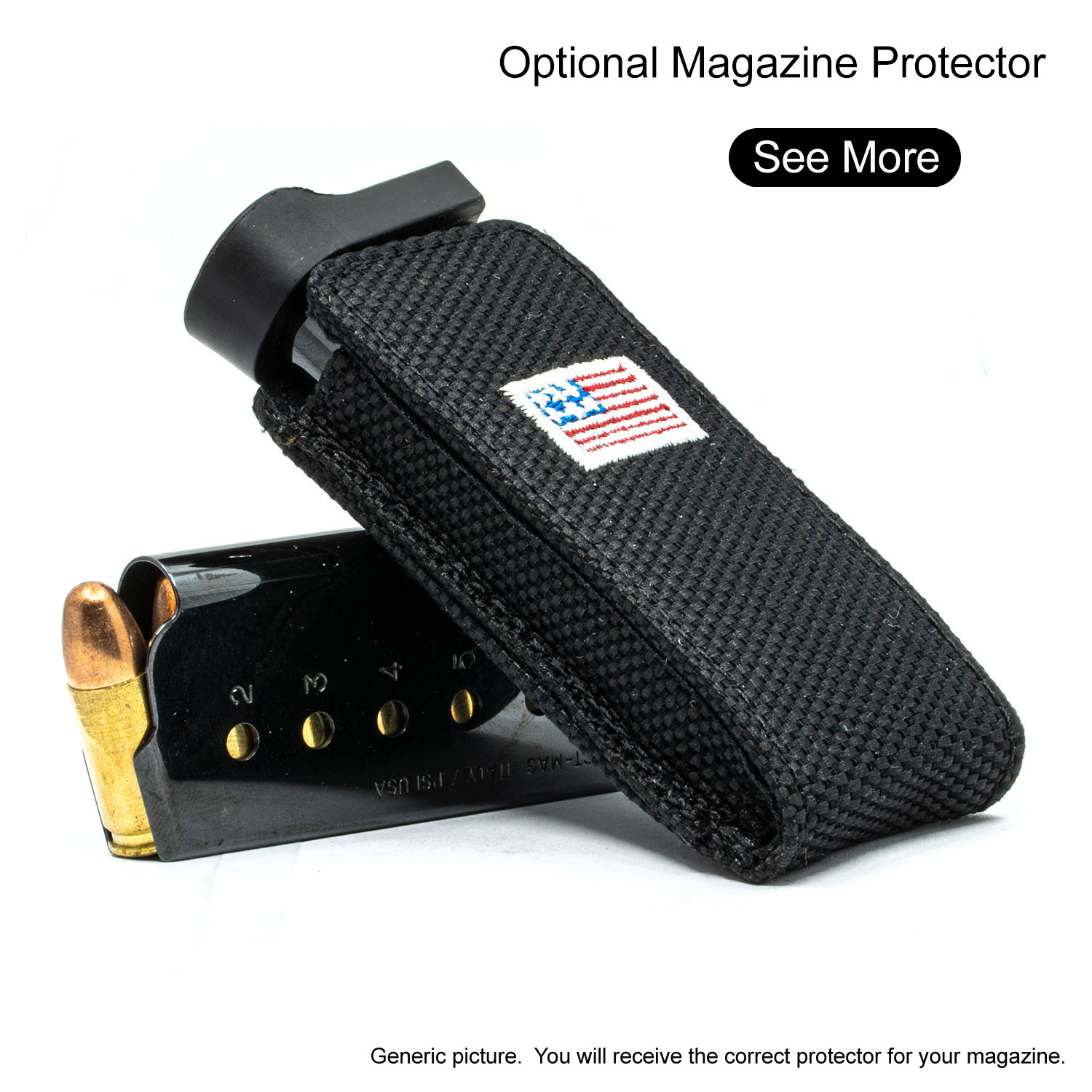 Other Details
Please contact us for warranty and exchange requests.
Product Videos
Custom Field
Approx Internal Dimensions
Height 5 3/4 Width 5 Depth 1 1/8" (pinky extender magazine holster)
Product Reviews
Taurus G2C holster w/belt clip

Excellent fit. Snug and secure. Safely covers trigger/trigger guard, while leaving plenty of area on pistol grip to securely draw pistol from holster.

Ordered this to hold my new G3c. Had one for my Sig P238 and figured one for the Taurus would be a good idea. Wrong- it was a great idea! Took a bit of adjustment as the Sig only requires one belt clip, whereas the G3c needs two. So I just have to suck in the gut a bit longer… who's watching, right? Anyways, kudos for a fantastic fit and a spot-on holster!

It's great

Black belt clipped holster.

His holster is Fantastic ! Nobody realizes that it conceals a gun in it, even tho it is in plain sight.

The bag pull rope left a impresion on the front close flap during shipping or long time storage. I hope it will fix it self in time .I guess I can live with it. Other wise it fits my G2C with a Armalaser very nicely and very well made,I like it a lot! Thanks!

The handgun fits well in the holster. But I had a problem racking the slide on my pistol. I attached a charging ring on the back of the pistol and now the holster flap will not close. What other handguns will this holster be used for? Nothing wrong with the holster. My disability caused the problem leaving my hands with no gripping strength. What other pistols are adaptable to the G2C holster?

Review for Taurus G2C Holster

The holster is well made, looks great and has a much more surprisingly intuitive draw than I thought it would. It is a bit larger than I imagined, but that is on me. Even with the size for my particular weapon, it is comfortable to wear in any seated situation, whether a office chair or in a vehicle.

I have a G2C with a hilight P3GL laser/light combo. I asked if this case would be able to hold my gun and attachment. I was told it would. It does hold them, BUT the case turns in the laser and or light and drains the battery. If that wasnt an issue this would be perfect.

I wore the holster a few times with nothing in it to see if anyone would noticed. I put a medical decal on the flap on mine. No one even paid attention. So then I wore it into Costco. One of the 2nd amendment enemies. They would have freaked out. No one even gave it a second thought. Like it should be. Highly recommend.