Product Description
The SCCY CPX-2 Sneaky Pete Holster has two belt clips which can accommodate a belt up to 1.75" inches wide. The holster is made of high quality soft leather, and when worn on the belt resembles a cell phone case. The advantage of this design is that it allows you to carry your CPX-2 concealed, but with full and easy access. Now it's possible to wear whatever you want, whenever you want to. Don't dress around your gun anymore.

The holster is made inside and out of glove-quality leather, and uses two magnets to stay closed. Each holster is designed for your specific firearm, and the opening is made in such a way that you cannot accidentally place your finger on the trigger during draw. If you have a factory pinky extension you must order that option. The Kydex insert ensures that a smooth, silent draw occurs every time.

The use of double stitching and steel rivets guarantees that this holster will last for years to come. All available options are listed above, and the holster can be ordered either with the belt loop, or optional belt clip. We design every holster to be as small as possible and still fit your pistol. Our holsters are not designed to work with pinky extenders, modified grips, flash suyppressors, or any accessory that will increase the size of the SCCY from stock.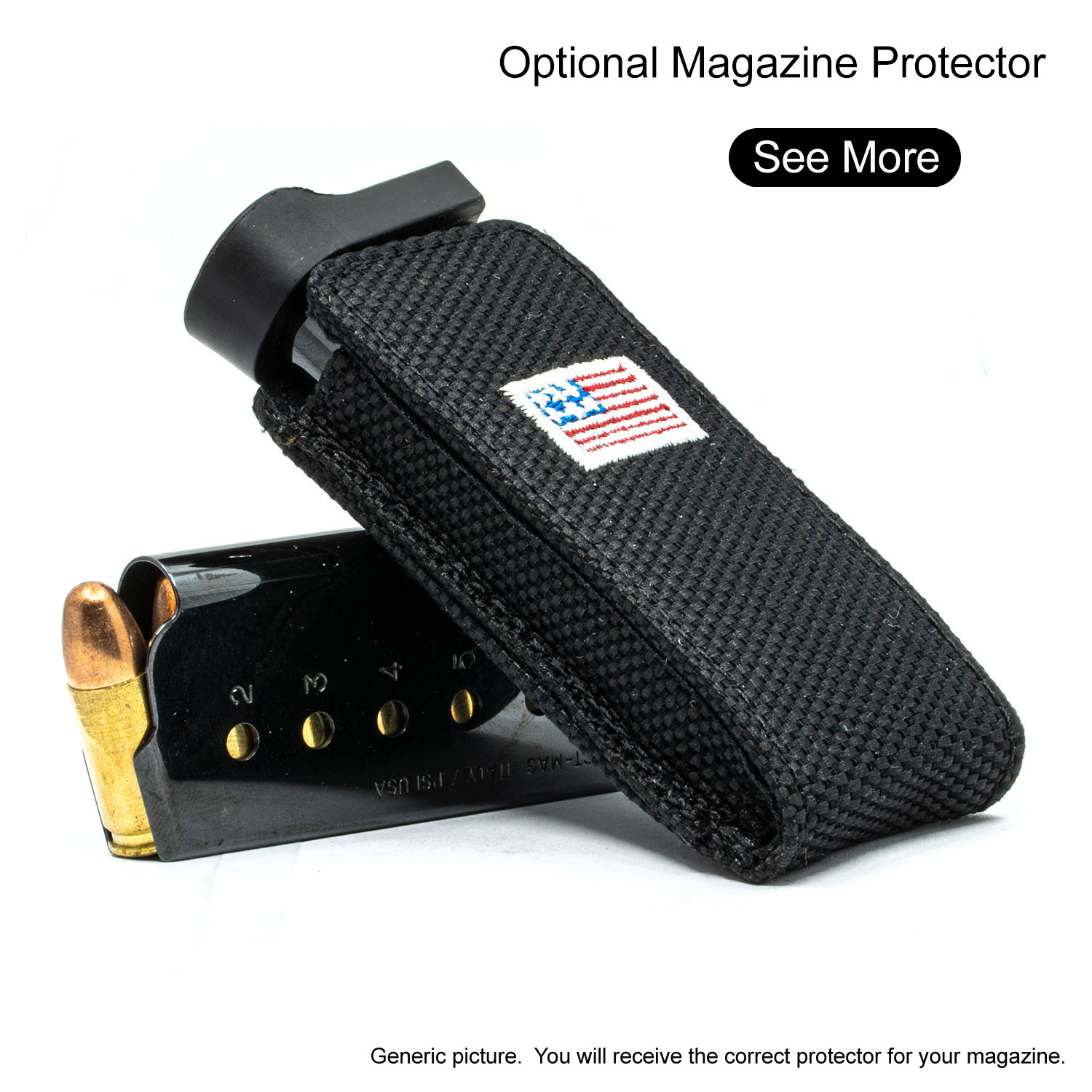 Other Details
Please contact us for warranty and exchange requests.
Custom Field
Approx Internal Dimensions
Height 6 2/8" Width 5" Depth 1 1/8" (flush base magazine holster)
Product Reviews
Clips a little too stiff.

Very good. I like it.

It is a nice product. It is bulkier than I expected. I do carry it on occasions. It is difficult to conceal

I have had this holster for several months now but I do not carry on a regular basis due to restrictions. Holster is comfortable and works well with anything I wear. Holster is a quality made product. Even at the gun range the guy next to me thought it was an I-Pad case until I shoved the gun into it. Only 2 recommendations, design a cutout to make drawing the gun easier and provide a means to carry an extra clip into the holster.

a little larger than I would Like, but does a good job of keeping the weapon out of Sight

It fits the guns perfect. Unless someone knows what it is, no one would know what it is

I love the new holster i got, it takes some getting used to but well worth it when you can carry it everywhere and dont have to worry about it showing. My only complaint is on the bottom where the barrel touches it seems to me way to flimsy and feels like the gun is going to fall through. I wished the gun would sit a little higher in the holster to make it easier to grab the gun in case of situations. To me i cant even get my finger under the grip to pull it out.

I concerned about the size at first and thought that it might draw unwanted attention, however, after several weeks of wear I can say that my concerns were unwarranted. In the time I have been wearing, I have had but one individual question what it was and he ask "is that a case for an I-Pad Mini". The quality of the leather, fit and form is outstanding and I would have no problem in ordering another at some point. If I was disappointed at all it was that on the model I ordered there was not an option to get one with accommodations for a pinkie extension.