Product Description
The SCCY CPX-2 Sneaky Pete Holster has two belt clips which can accommodate a belt up to 1.75" inches wide. The holster is made of high quality soft leather, and when worn on the belt resembles a cell phone case. The advantage of this design is that it allows you to carry your CPX-2 concealed, but with full and easy access. Now it's possible to wear whatever you want, whenever you want to. Don't dress around your gun anymore.

The holster is made inside and out of glove-quality leather, and uses two magnets to stay closed. Each holster is designed for your specific firearm, and the opening is made in such a way that you cannot accidentally place your finger on the trigger during draw. If you have a factory pinky extension you must order that option. The Kydex insert ensures that a smooth, silent draw occurs every time.

The use of double stitching and steel rivets guarantees that this holster will last for years to come. All available options are listed above, and the holster can be ordered either with the belt loop, or optional belt clip. We design every holster to be as small as possible and still fit your pistol. Our holsters are not designed to work with pinky extenders, modified grips, flash suyppressors, or any accessory that will increase the size of the SCCY from stock.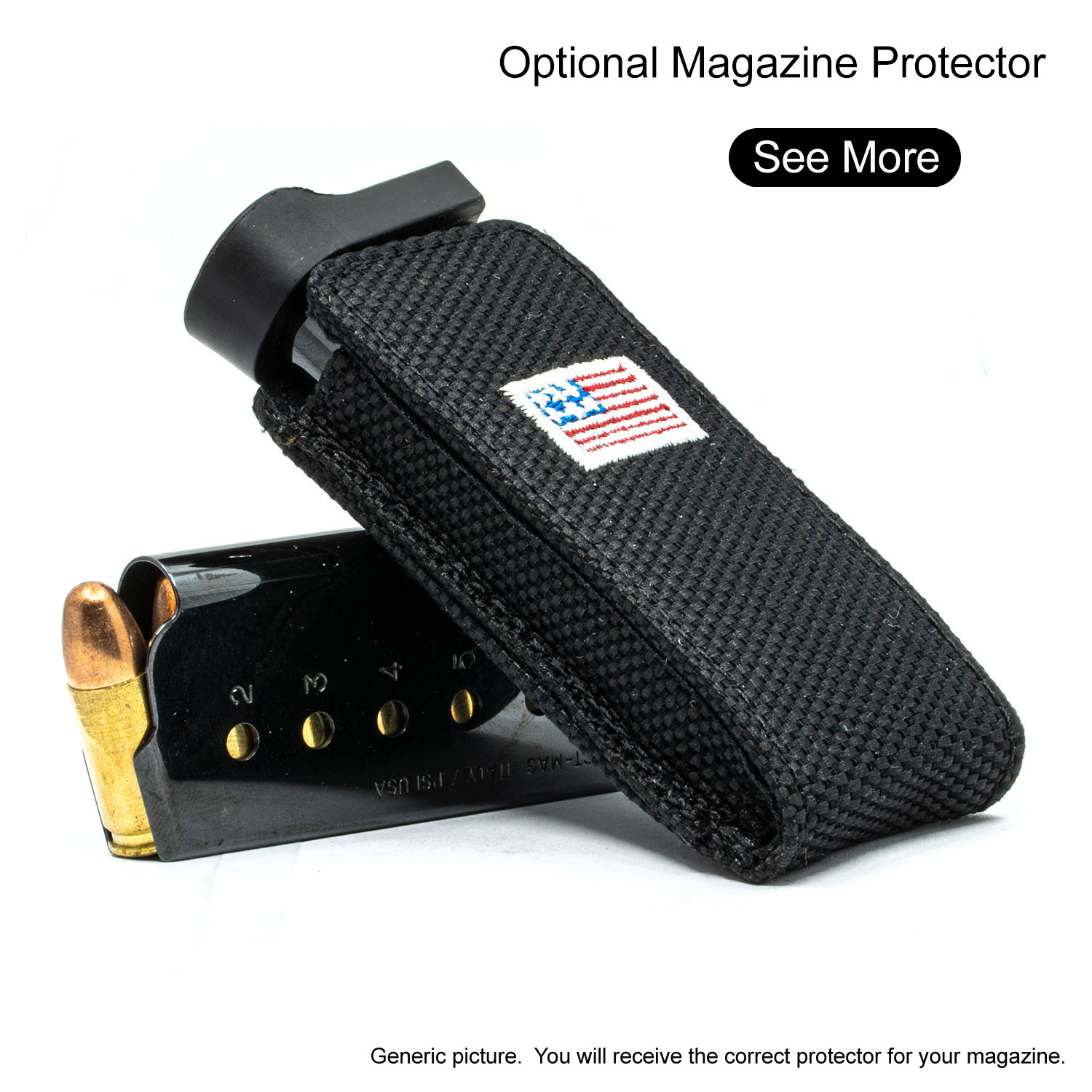 Other Details
Please contact us for warranty and exchange requests.
Custom Field
Approx Internal Dimensions
Height 6 2/8" Width 5" Depth 1 1/8" (flush base magazine holster)
Product Reviews
There's nothing sneaky about it but it is a pretty good holster I was looking for something smaller

Great product - Thanks,

Very nice, but so large. I was very surprised. It works great.

Ordered the Holster for the SCCY CPX-2, and on receipt found that wearing it was like having an iPAD size thing clipped to your belt - totally weird, attention attracting, and just unacceptable. Exchanged that Holster for one sized for a Kahr P380 or Diamondback DB380 - 5" x 4 1/8" x 1" given holster dimensions. My Bond Arms BullPup9 size is spec-ed at 5.1" x 4.2" x 0.96". Removed the Sneaky Pete Holster Plastic Insert - the BullPup9 sights prevented a fit - and made 1/4 inch cuts in side fabric to accommodate rear sight height, and now the Bond Arms BullPup9 fits in well enough and remains 'upright' without the plastic insert. And the single belt-clip size is just a bit larger than my Galaxy Note Phone, so it is not so much of an attention grabber when I wear it. A good-enough workaround, but will probably mostly carry my BullPup9 in a Sticky Holsters SM-3 Pocket Holster that precisely fits the BullPup9. May use the SneakyPete - it is a bit more comfortable than in-pocket carry - when on trail hikes not so much in public.

SCCY fits prefect and Walther PPS also fits prefect

it came in really quick .fits my hand gun perfectly

SCCY CPX-2 Sneaky Pete Holster (Belt Clip)

It is a nice holster but I would rather have the belt loop one. I have not used it because it is a hassle to get on and off a belt.

SCCY CPX-2 SNEAKY PETE HOLSTER (BELT CLIP)

Very nice product. Well made. Difficult to wear while driving.

Sneaky Pete ballistic nylon holster

SCCY handgun fits like a glove. Well made product. Recommend.