Product Description
The Bersa Thunder 380 Sneaky Pete Holster has sewn belt clips which can accommodate a belt up to 1.75" inches wide. The holster is made of high quality soft leather, and when worn on the belt resembles a cell phone case. The advantage of this design is that it allows you to carry your Bersa concealed, but with full and easy access. Now it's possible to wear whatever you want, whenever you want to. Don't dress around your gun anymore.

The holster is made inside and out of glove-quality leather, and uses two magnets to stay closed. Each holster is designed for your specific firearm, and the opening is made in such a way that you cannot accidentally place your finger on the trigger during draw. The Kydex insert ensures that a smooth, silent draw occurs every time.

The use of double stitching and steel rivets guarantees that this holster will last for years to come. All available options are listed above, and the holster can be ordered either with the belt loop, or optional belt clip. We design every holster to be as small as possible and still fit your pistol.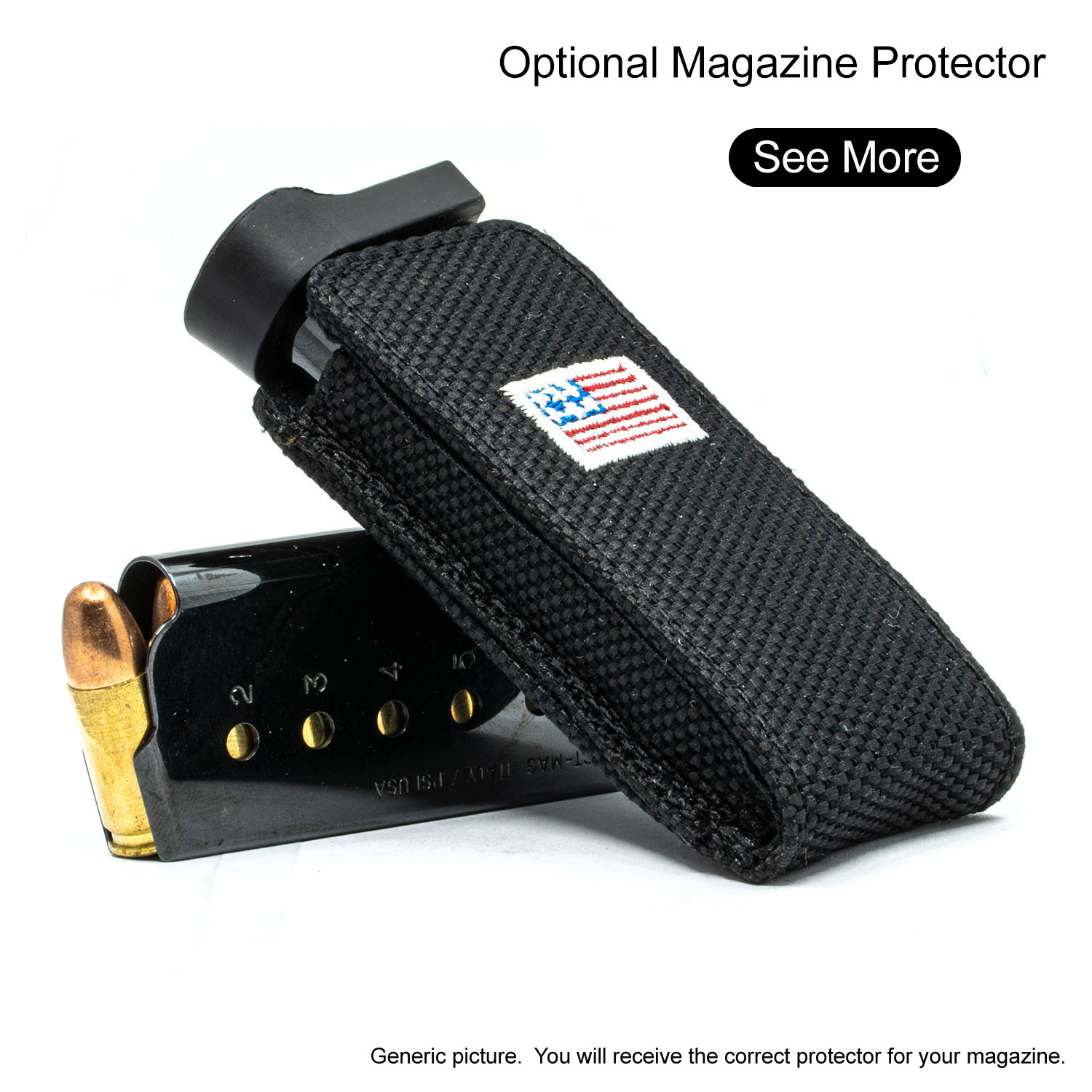 Other Details
Please contact us for warranty and exchange requests.
Custom Field
Approx Internal Dimensions
Height 6 1/2" Width 4 1/2" Depth 1 1/8" (flush base magazine holster)
Product Reviews
Very good quality

Bersa Thunder 380 Sneaky Pete Belt Clip

The produce is very well made, unfortunately it is quite a bit larger than I thought it would be based on the picture, my bad. I will continue to use a good IWB holster instead.

Nice holster, fit my pistol perfect. Was surprised that the green color was more gold.

BERSA THUNDER 380 SNEAKY PETE HOLSTER (BELT CLIP)

Nice Holster, fits well and is well built. I like it.

None.

Originally I ordered the standard holster (SP 201-CA) for my Bersa Thunder 380 with the pinky extension on the mag and had to return it for the (SP 201-CB) due to size constraints. It was my fault for ordering the wrong one in the first place. I received the replacement holster late yesterday. Of course the first thing I did was to check the fit of my Bersa Thunder 380+ That's the double stack model. Anyhow, I'm happy to report that it's an almost perfect fit except for being on the overly snug side. Right at the very top where the butt of the magazine clip rests has to be stretched a tiny little bit but I guess that helps with the retention. Because of that I'd give it a 98% overall rating. I also checked the fit of my standard size Thunder 380 with the pinky extension and that's perfect or 100%. I also want to say thanks for the excellent response from the Customer Service folks at Sneaky Pete. You folks put many other companies to shame with your excellent communication and service. Kudos to all. P.S. Personally I'd recommend the larger size holster (SP 201-CB) regardless of the mag style that you have. That way you have the option of buying a spare mag with the pinky extension at a later date.

I ordered this "holster" because I liked the look of a "first aid kit" or what ever people think it is. It was a bit bigger than I was expecting, because My gun is not a small as I would like, but it does give you very quick access to my weapon with out any trouble. The magnetic flap stays down until you move it and that happens very fast. It does not get in the way at all. The quality of the workmanship was the best.

Sneaky Pete holster for Bersa Thunder .380

The Sneaky Pete holsters are an excellent choice. I have 3. I recently bought one for my Bersa Thunder .380. The pistol fits like a glove. All of the holsters are the same size on the exterior. I wish that some that were smaller for pistols such as my .380 could be offered. The only difference in the holsters are the inserts inside that the pistol is held by. **NOTE: It sounds as if all 3 of your pistols are the same size. We make over 25 different Sneaky Pete sizes for guns from small to large and they all differ in dimensions. **

The statement "hidden in plain sight" fits this very well. Conceals the weapon and very easy to draw if needed.