Product Description
The Bersa Thunder 380 Sneaky Pete Holster has sewn belt clips which can accommodate a belt up to 1.75" inches wide. The holster is made of high quality soft leather, and when worn on the belt resembles a cell phone case. The advantage of this design is that it allows you to carry your Bersa concealed, but with full and easy access. Now it's possible to wear whatever you want, whenever you want to. Don't dress around your gun anymore.

The holster is made inside and out of glove-quality leather, and uses two magnets to stay closed. Each holster is designed for your specific firearm, and the opening is made in such a way that you cannot accidentally place your finger on the trigger during draw. The Kydex insert ensures that a smooth, silent draw occurs every time.

The use of double stitching and steel rivets guarantees that this holster will last for years to come. All available options are listed above, and the holster can be ordered either with the belt loop, or optional belt clip. We design every holster to be as small as possible and still fit your pistol.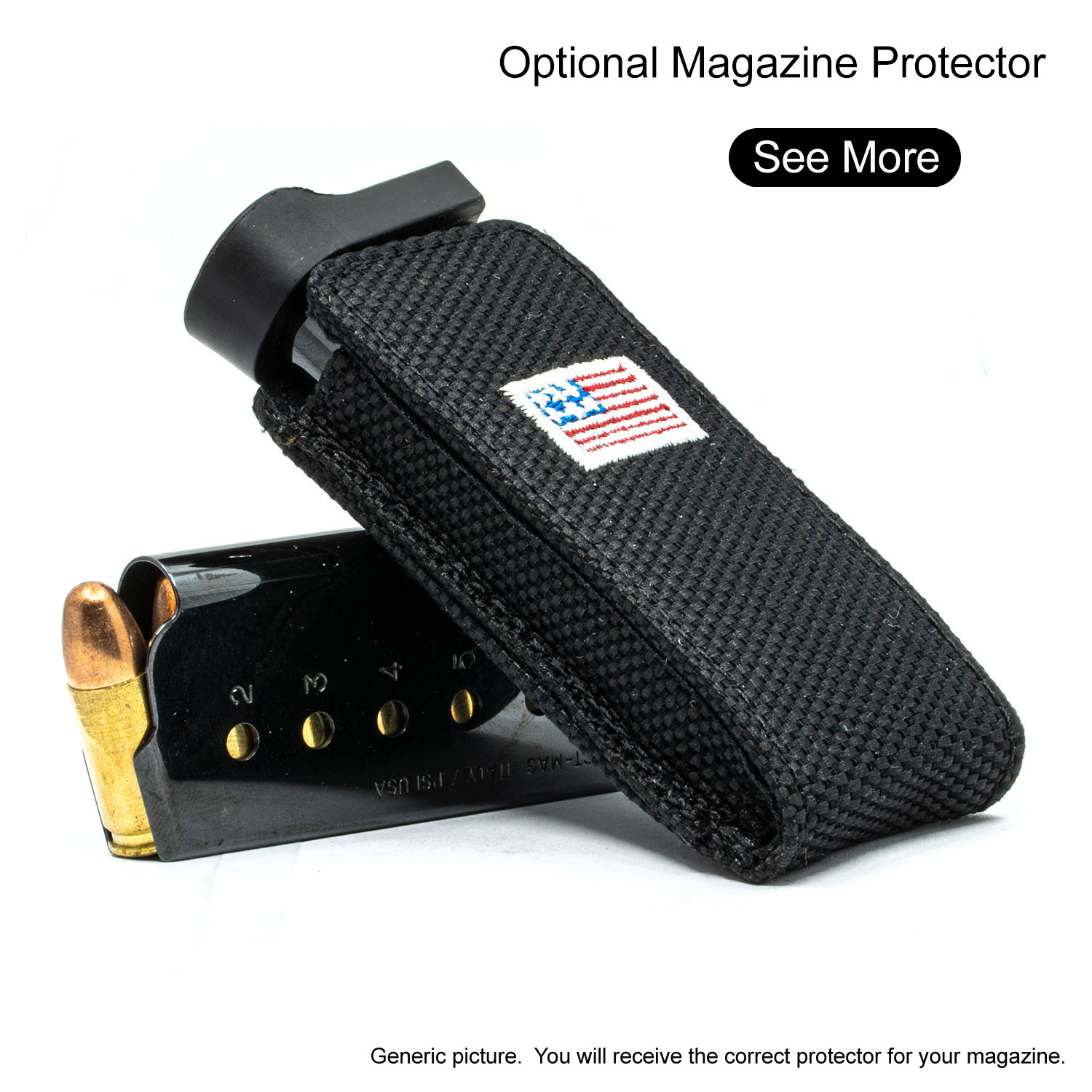 Other Details
Please contact us for warranty and exchange requests.
Custom Field
Approx Internal Dimensions
Height 6 1/2" Width 4 1/2" Depth 1 1/8" (flush base magazine holster)
Product Reviews
Great concealed carry holster

I was looking for a unique conceal carry holster for my 350 auto. What I found at Sneeky Pete was perfect.....just what I was looking for. Great price and quality. I was very satisfied with this purchase.

gun fits good, workmanship very good, very happy with sneaky pete holster

The Sneaky Pete for my Bersa!

I am impressed with this holster. Very fine quality and heavy duty and well built. The firearm fits perfectly and no one even knows I am carrying! Smooth in and out with no snags! I live in Arizona where you don't need to or want to wear an untucked shirt or jacket very often for about 10 months of the year. This fits the bill! I will be ordering more for my other concealable firearms.

Bersa Thunder 380 holster

Very nicely built but is a bit on the large side.

Overall I like the holster--but it is a little testy getting on and off the belt. It would be better if the design allowed an extra clip stored inside the case.

Bersa Thunder 380 Sneaky Pete Holster (Belt Clip)

First-class construction. The magnetic closure is perfect, both secure and silent. The width and height were perfect, but was a bit too shallow for the laser grip. (Factory-installed Crimson Trace) I left the gun in it overnight with the flap taped shut, and everything stretched just enough for a perfect fit. I was able to remove the plastic insert (it's velcroed in) and cut out a couple shallow notches for a magazine. I re-installed the insert, and now have a secure slot for a spare magazine!

Love the leather feel. Fits my Bersa Thunder CC 380 perfectly. No conspicuous bulging or outline of my firearm through the material. People assume that I have a handheld IPad on my hip and nothing more. Discrete and sleek and very well-made. I look forward to purchasing another for my Ruger sr9c!

Quality materal. Also have had a Beretta holster for years and it shows no sign of comeing apart.

I was disappointed that the magazine protector with knife didn't have a belt clip or loop.

Very well made. Excellent appeal. Augments finer clothing attire for discreet carry of personal protection capability. Did not rank 5 only because by doing what it is supposed to do i.e. provide a means for discreet , carry, speedy draw is negligible. Pleased with the product and would recommend it to others. .