Product Description
The Walther PPK/S Sneaky Pete Holster has sewn belt clips which can accommodate a belt up to 1.75" inches wide. The holster is made of high quality soft leather, and when worn on the belt resembles a cell phone case. The advantage of this design is that it allows you to carry your Walther concealed, but with full and easy access. Now it's possible to wear whatever you want, whenever you want to. Don't dress around your gun anymore.

The holster is made inside and out of glove-quality leather, and uses two magnets to stay closed. Each holster is designed for your specific firearm, and the opening is made in such a way that you cannot accidentally place your finger on the trigger during draw. The Kydex insert ensures that a smooth, silent draw occurs every time.

The use of double stitching and steel rivets guarantees that this holster will last for years to come. All available options are listed above, and the holster can be ordered either with the belt loop, or optional belt clip. We design every holster to be as small as possible and still fit your pistol.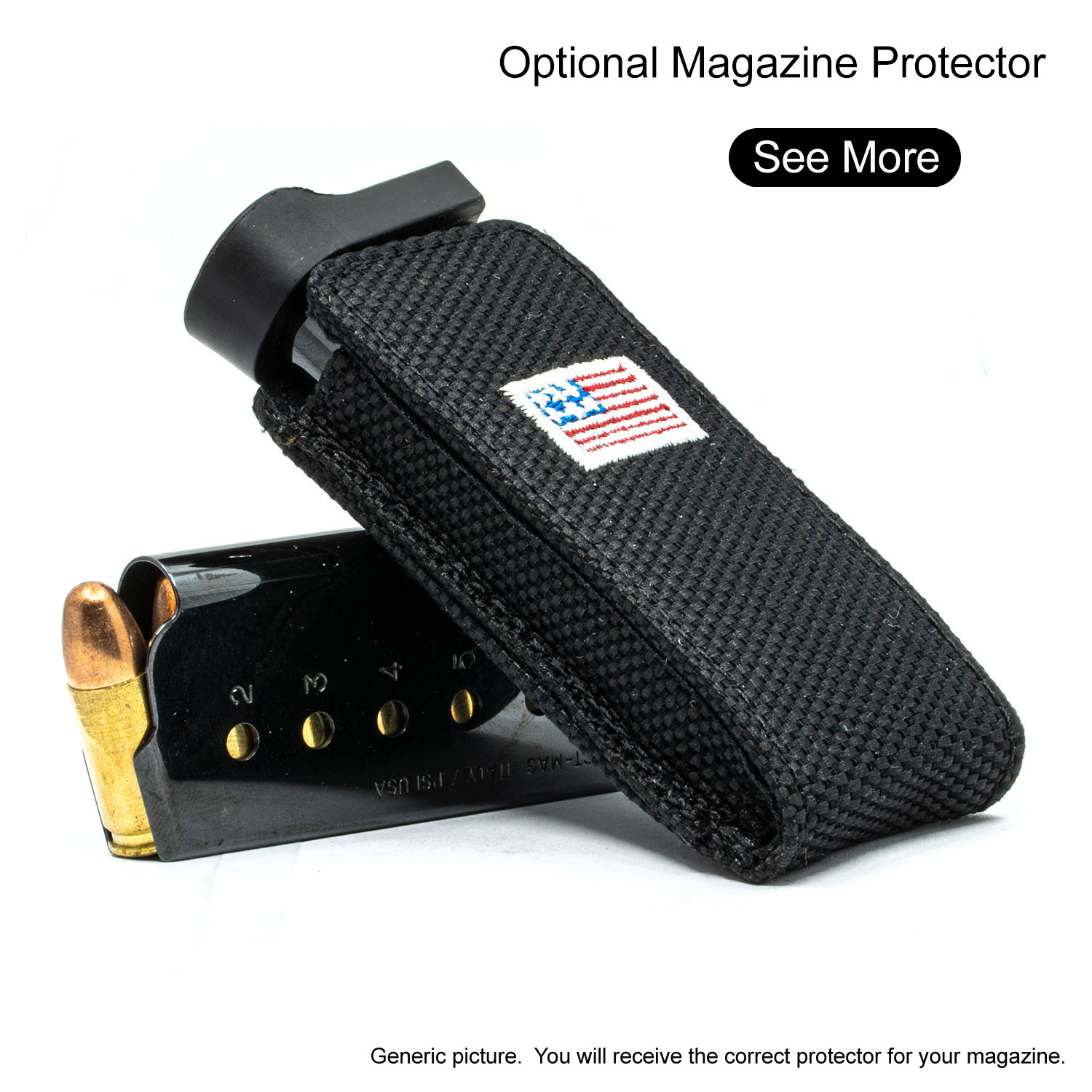 Other Details
Please contact us for warranty and exchange requests.
Custom Field
Approx Internal Dimensions with Flush Base Plate
Height 5 3/4" Width 4 3/8" Depth 1 1/8"
Approx Internal Dimensions with Pinky Extender
Height 5 3/4" Width 5" Depth 1 1/8"
Product Reviews
And looks good but slows down my draw a bit. Life is full of compromises ey.

Good product.

High quality materials, the gun fit is excellent and so far no one suspects that it is a holster. This is my second S./P. holster.

difficult to attach to belt.....I use to store in center consul.

It's well made and works well. I use it every day, and I should have gotten one with iphone holster

I'd recommend it to anyone looking for the same thing

This holster is actually more cumbersome and noticeable than the standard one I had been using.

this replaces a well-worn SP holster for the same weapon. It looks great & seems to be of the same quality construction. Timely service, too!.

All around, a decent holster. Several observations. First, it is bulkier than I expected from the pictures. That may just be a perspective issue, but to be honest, I expected something narrower. Second, when one closes the top, the extended grip "safety" makes a crease that tents the top of the covering flap. THAT is just not quite enough room lengthwise of the holster. Again, not a huge thing, but I expected better. On the plus side, it holds the weapon well, securely, and it is easily accessible, something not so true from a pocket carry. While some may discern what it is, most will not figure out what it contains, which IS, after all, the purpose of CONCEALED carry.

Well made holster. Somewhat bulky but very nice.