Product Description
For the 3.3" Barrel only.
The Springfield XDS 45 Sneaky Pete Holster has double belt clips which can accommodate a belt up to 1.5" inches wide. The holster is made of high quality soft nylon, and when worn on the belt resembles a cell phone case. The advantage of this design is that it allows you to carry your XDS concealed, but with full and easy access. Now it's possible to wear whatever you want, whenever you want to. Don't dress around your gun anymore.

The holster is made inside and out of ballistic nylon, and uses three magnets to stay closed. Each holster is designed for your specific firearm, and the opening is made in such a way that you cannot accidentally place your finger on the trigger during draw. The Kydex insert ensures that a smooth, silent draw occurs every time.

The use of double stitching and steel rivets guarantees that this holster will last for years to come. All available options are listed above, and the holster can be ordered either with the belt loop, or optional belt clip. We design every holster to be as small as possible and still fit your pistol.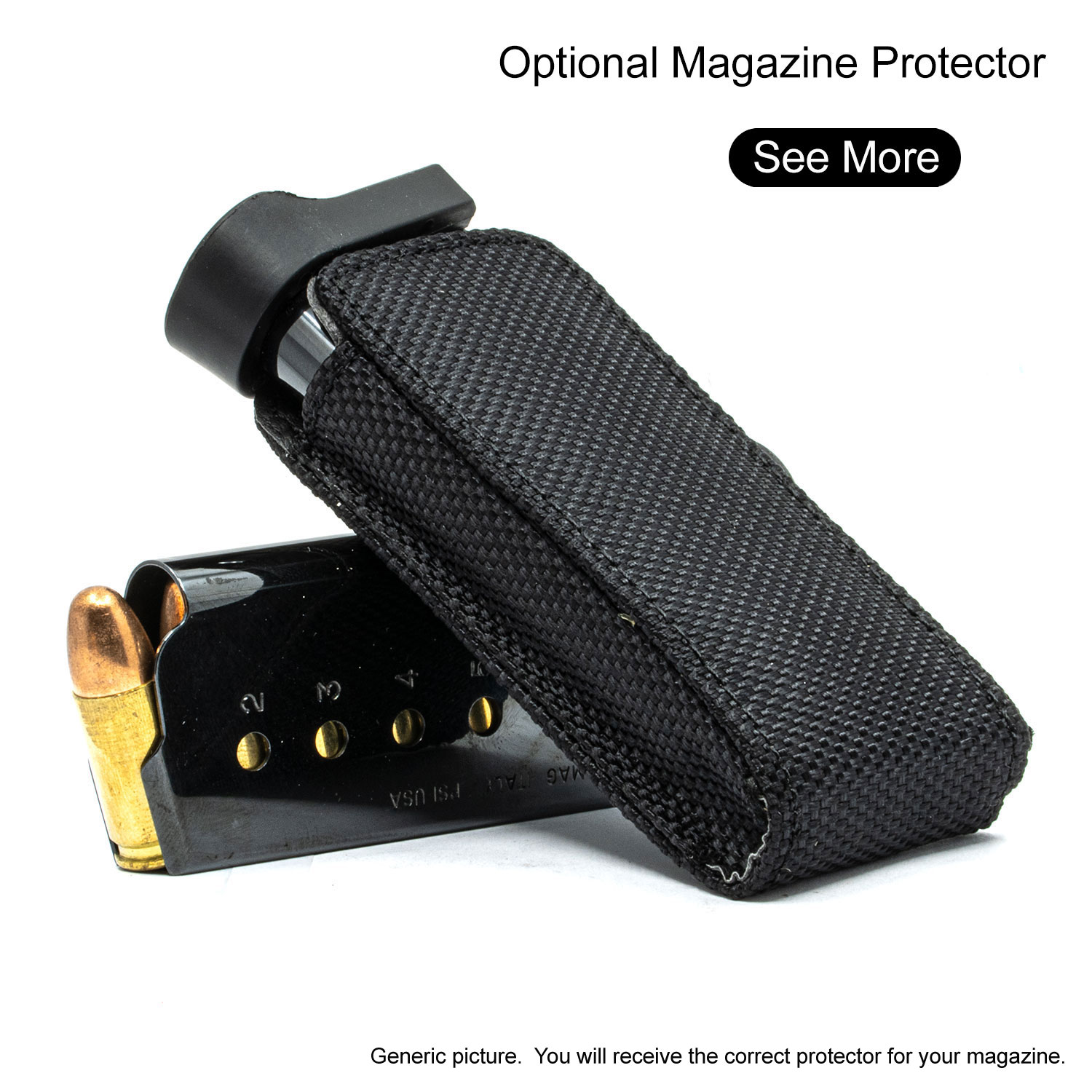 Other Details
Please contact us for warranty and exchange requests.
Product Videos
Custom Field
Accessories
NOT included!
Front Pocket (approx)
4 1/4 Wide x 4 1/2" High"
Approx Internal Dimensions
Height 6 1/2" Width 4 3/4" Depth 1 1/8" (flush base magazine holster)
Product Reviews
Fits like a glove, even with the O-Light on. Easy to draw pistol. Clamps are secure and elastic is tight when new. Samsung phone has to have its case removed.

Figured to give it a month or more to test this holster before reviewing it, and found it to be more than just functional - it's quite comfortable, given the size required to hold my XDs .45 with CTC laser. Only thing I'd change is the elastic pocket on the outside - make it a little larger to hold a phone that has Otter armor on it....fit's just too tight as it is. Other than that, I highly recommend it.

Springfield XDS 45 Perfect Holster

Great holster! I have been wearing this holster for about 4 weeks now. Draws no attention. People think it is a tool kit on my belt. Only complaint is the stitching on the phone pocket failed after one week. I was able to repair it with super glue and is holding up great. I would still recommend this holster.

As advertised. Took way too long to get. Was on back order and I wasn't told

THE SPRINGFIELD XDS 45 PERFECT HOLSTER

Wish you they made for extended magazine and storage for extra magazine.

Sneaky Pete Perfect Holster

I really like this holster. It is very comfortable to wear and does not attract the attention that a conventional style holster does. Never had anyone ask about it. A little disappointing. Haha

very helpful conceal caring holster

Excellent Multi-Purpose Tool

It holds my phone, weapon, a knife and a tac pen and they are all right where I want them if the need arises. I have also tested the ability to draw the weapon and it is easier from this holster than any I have ever used. I have a fairly large Android phone in an Otter case so, the phone pouch has a snug fit. The only suggestion I might have would be a snap at the bottom so the flap doesn't come up so easy when I pull out my phone.