Product Description
The Springfield Hellcat Sneaky Pete Holster can accommodate a belt up to 1.5" inches wide. The holster is made of high quality materials, and when worn on the belt resembles a cell phone case. The advantage of this design is that it allows you to carry your Springfield Hellcat concealed, but with full and easy access. Now it's possible to wear whatever you want, whenever you want to. Don't dress around your gun anymore.

The holster is made inside and out of ballistic nylon, and uses three magnets to stay closed. Each holster is designed for your specific firearm, and the opening is made in such a way that you cannot accidentally place your finger on the trigger during draw. If you have a factory pinky extension you must order that option. The Kydex insert ensures that a smooth, silent draw occurs every time.

The use of double stitching and steel rivets guarantees that this holster will last for years to come. All available options are listed above, and the holster can be ordeded with either with the belt loop, or optional belt clip. We design every holster to be as small as possible and still fit your pistol.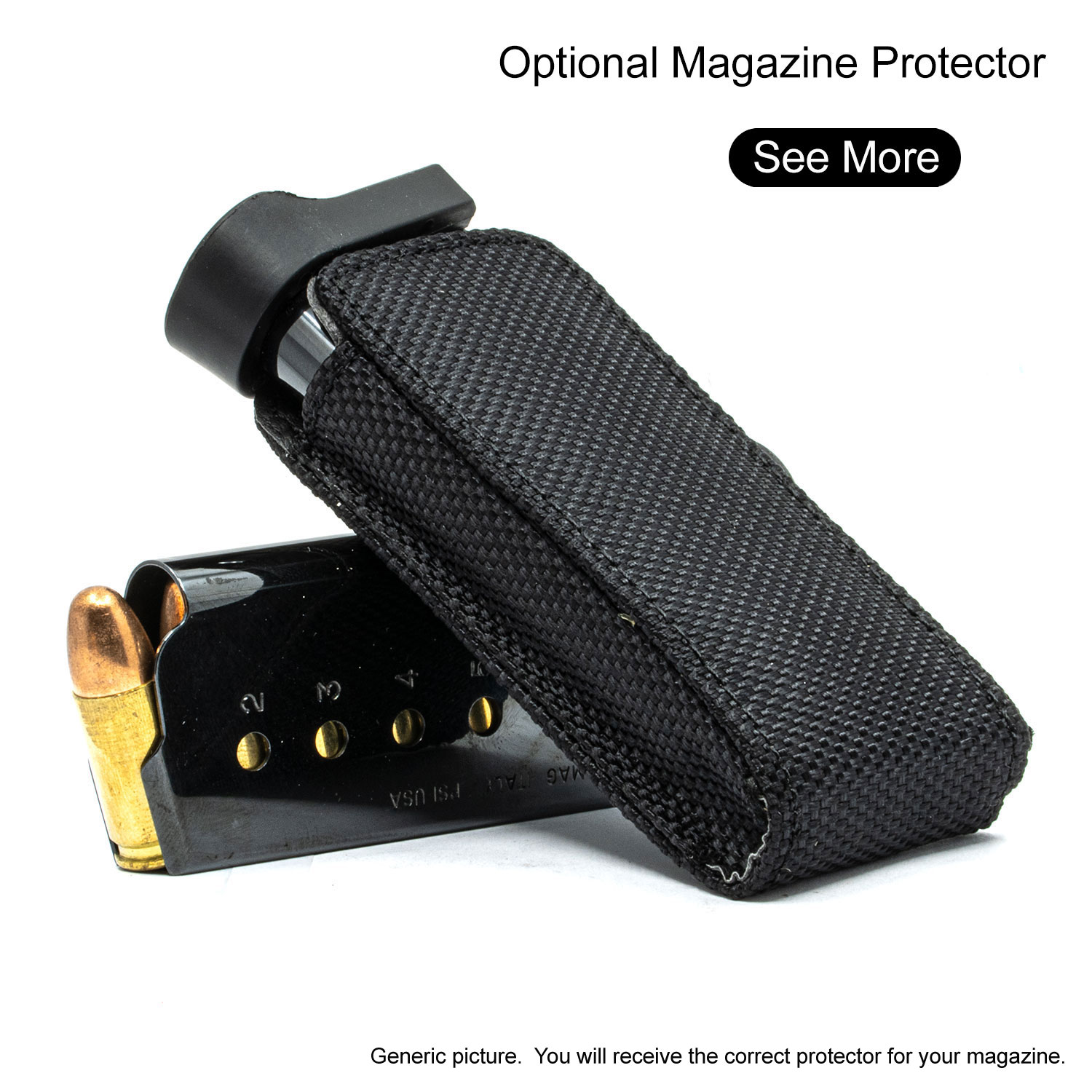 Other Details
Please contact us for warranty and exchange requests.
Product Videos
Custom Field
Accessories
NOT included!
Front Pocket (approx)
3 5/8 Wide x 4 1/2" High"
Flush Base Plate Holster (Approx. Dimensions)
Height 5 3/4" Width 4 1/8" Depth 1 1/4 "
Pinky Extender/Extended Mag Holster (Approx. Dimensions)
Height 5 3/4" Width 4 5/8" Depth 1 1/4 "
Product Reviews
These holsters are fantastic. Great fit and no one & I mean no one notices that's its a holster.

This a great and "sneaky"way to conceal carry. I love it. No one knows that I am carrying.

Although I prefer to carry inside the waist band, the sneaky Pete holster is my only option while I'm at work and can not conceal weapon with clothing. The holster fits the Hellcat perfectly and is well made.

Very happy with my sneaky Pete holster. I may be purchasing a few more for other models I have. My wife also wants one now.

The Sneaky Pete holster for the Springfield 9mm Hellcat is a perfect fit. Great product. Highly recommend

I just love my holster as it looks like a pack for stuff and it is great. I carry it everywhere to the point I don't even realize it is there. I'm 76 and have had my permit since I was 27. This is perfect for me. Thank you very much.

At first, the holster did not fit my Hell Cat. I complained and got a response. With a Little work and working at it for a while, it did finally fit. Love it. Thanks for the quick response to my complaint.

Not sure what to put here?

Excellent product easy to wear.

Almost a perfect holster, except for the spring clips. They are not easy to attach to a belt. The spring clips are to stiff. The holster will not move out of position, which good. Easy on easy off does not apply. Gun fit is good, overall quality is very good. Delivery was fast.