Product Description
Our Sig p365 XL Signature Concealed Carry belt Clip Holsters has two sewn belt clips which can accommodate a belt up to 1.75" inches wide. The holster is made of high quality soft nylon, and when worn on the belt resembles a cell phone case. The advantage of this design is that it allows you to carry your P365 concealed, but with full and easy access. Now it's possible to wear whatever you want, whenever you want to. Don't dress around your gun anymore.

The holster is made inside and out of ballistic nylon, and uses three magnets to stay closed. Each holster is designed for your specific firearm, and the opening is made in such a way that you cannot accidentally place your finger on the trigger during draw. The Kydex insert ensures that a smooth, silent draw occurs every time.

The use of double stitching and steel rivets guarantees that this holster will last for years to come. All available options are listed above, and the holster can be ordered either with the belt loop, or optional belt clip. We design every holster to be as small as possible and still fit your pistol.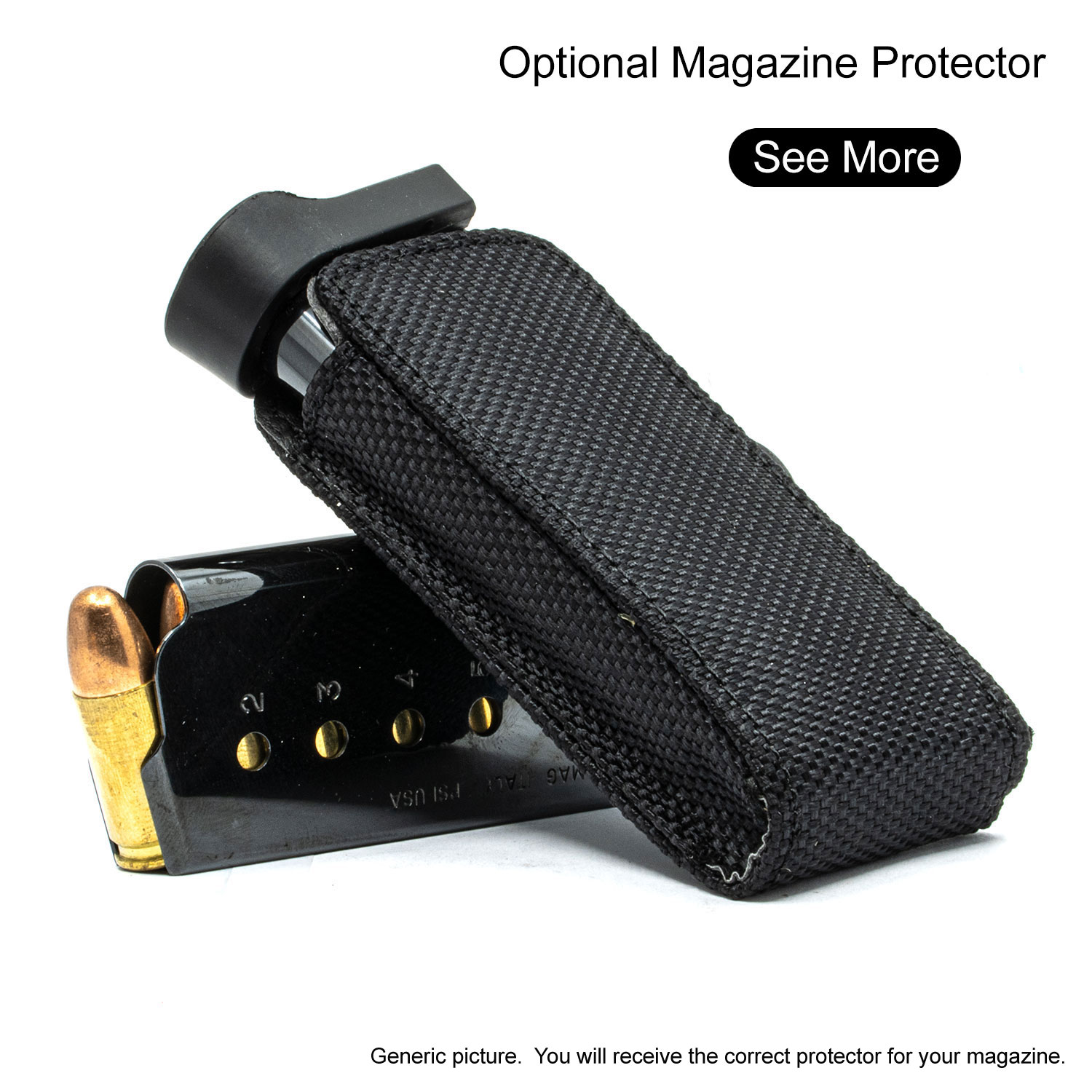 Other Details
Please contact us for warranty and exchange requests.
Product Videos
Custom Field
Accessories
NOT included!
Front Pocket (approx)
4 1/4 Wide x 4 1/2" High"
Approx Internal Dimensions
Height 6 1/2" Width 4 3/4" Depth 1 1/8" (flush base magazine holster)
Product Reviews
I like the concept but with my p365xl the sceakny Pete is large and awkward to carry.

THE SIG P365 XL PERFECT HOLSTER

Great fit. I'm using this as a EDC for summer. So far the only complaint is the material is fraying and I have to keep cutting off pieces of string.

A great carry but I also have found it super useful when in the car or going on a long car ride when you don't want to wear an IWB. Can have it right next to me and accessible.

I have tried several concealed weapon holsters and this is the one that works the best for me. The holster also provides a safe way to carry my phone. I love this feature. This holster has truly solved my concealed carry problems. I think I will buy another in leather if you have.

Works great

Sig P365XL Perfect Holster

Fits well, good price.

the holster looks good with the cell phone pocket and light sleeve

The holster is durable and I like the pockets for notepad and pen. The double belt straps keep it secure where it doesn't shift. Was concerned if it had only one loop that it would rotate. The holster itself is a tight fit. The pistol has to go in perfect and sometimes I get the angle a bit wrong when trying to holster. Drawing out is no problem and easy to get a grip on the handle. When getting in the car and putting on the seatbelt it can be a bit cumbersome to buckle up. All in all a nice holster.

Great holster for warm weather

I was initially concerned that this holster would scream "Handgun!!!" to bystanders, but after 5 or 6 times wearing it, there has been no hint that anyone has even noticed it. It's a great holster for those of us living in warm climates, well-made with a firm magnetic catch on the flap and secure catch in the holster itself. It's also comfortable, like an OWB holster (which it is, technically), and the other pockets come in handy, especially the phone pocket. I couldn't be happier with my purchase, it's now my favorite holster.