Product Description
Our Sig P365 Holster has THREE IMPORTANT MAGAZINE OPTIONS. For the best fit, it is important to be aware of the difference and choose accordingly, as the width of each holster is different. Our smallest holster for the Sig p365 is the 10 round flush magazine, but will not fit a 10 round factory magazine with a pinky extender, or the 12 round extended magazine. Well, we are sure you see where we are going with this! Size matters.
Our Sig p365 Signature Concealed Carry belt Clip Holsters has two sewn belt clips which can accommodate a belt up to 1.75" inches wide. The holster is made of high quality soft nylon, and when worn on the belt resembles a cell phone case. The advantage of this design is that it allows you to carry your P365 concealed, but with full and easy access. Now it's possible to wear whatever you want, whenever you want to. Don't dress around your gun anymore.

The holster is made inside and out of ballistic nylon, and uses three magnets to stay closed. Each holster is designed for your specific firearm, and the opening is made in such a way that you cannot accidentally place your finger on the trigger during draw. The Kydex insert ensures that a smooth, silent draw occurs every time.

The use of double stitching and steel rivets guarantees that this holster will last for years to come. All available options are listed above, and the holster can be ordered either with the belt loop, or optional belt clip. We design every holster to be as small as possible and still fit your pistol.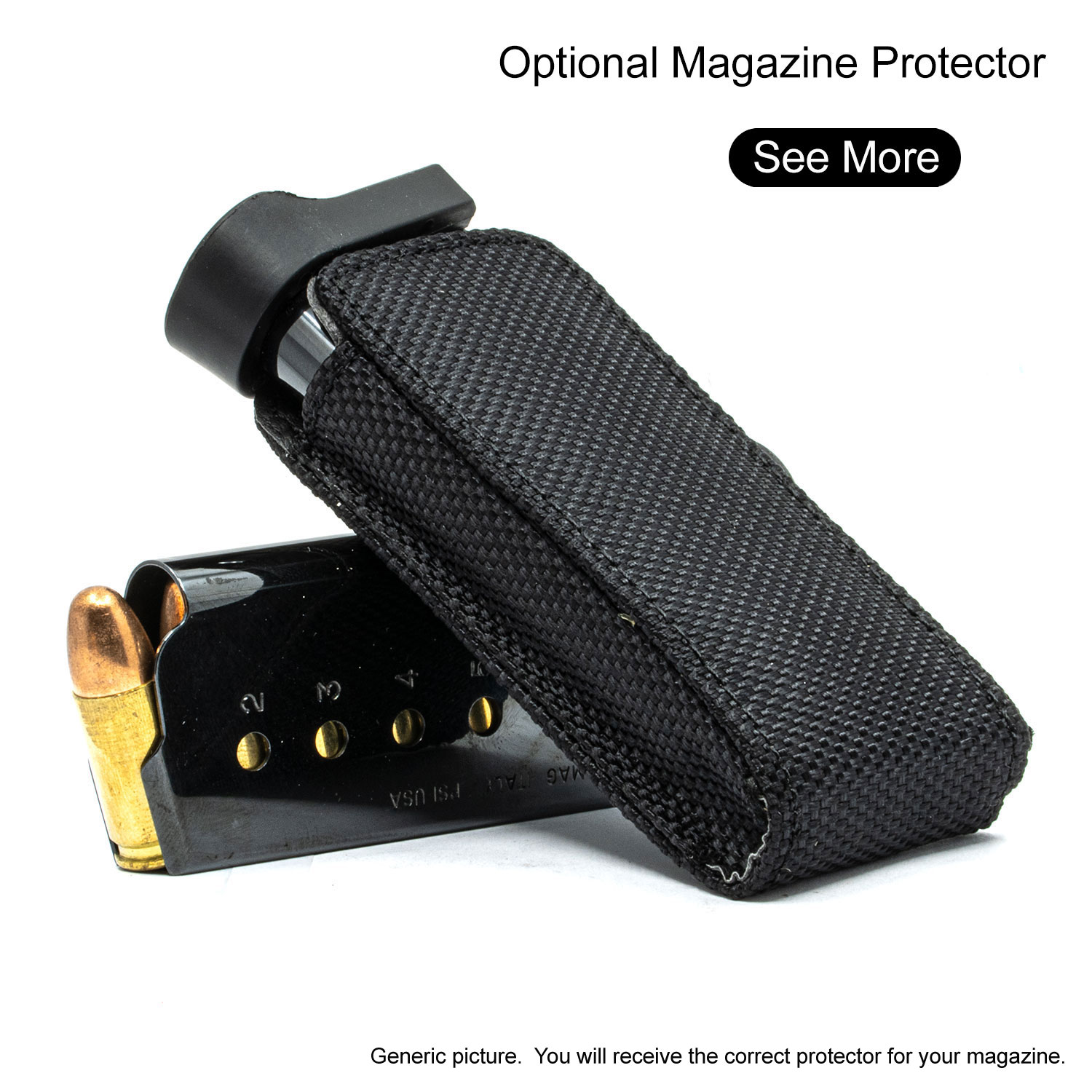 Other Details
Please contact us for warranty and exchange requests.
Product Videos
Custom Field
Product Reviews
Very well made holster. The Sig P365 gun fits perfectly! However this holster only uses narrow belts since there's NO belt loops. Also my cellphone doesn't fit in the front elastic pouch - phone is a bit too wide and long. I'm able to fit a pocket knife on the side. Still a very good fit along the waist band.

Fits perfect, only thing is everyone and their mother knows what's inside.

Perfect holster for Sig P365

I carry a right hand holster on my left side in order to use it as a crossdraw holster. This one works great for that and gives me a very good comfortable place to carry my phone as well. This is my second Sneaky pete holster and they both work great.

love it no more dressing around my gun or having to not carry it

The gun fits. You can decorate it with a flashlight, pen, things like that. My problem with it is when you go to open it the flap magnets slide up the case magnets and it doesn't open. I had to modify mine to give me something to get ahold of.

Well-made, good fit for my Sig 365. Wouldn't want to go any larger though, and I'm 5'11" 200lbs. I'm right handed. After practicing, I decided to carry my 365 with an empty chamber and work slide Israeli -style as part of draw. Need left hand to clear shirt/lift cover anyway, so this is not a hinderance at all and quite fast with practice.

Too wide. Looks too much like a holster. Should have purchased for the 10 round.