Product Description
The Ruger EC9s Sneaky Pete Holster has a sewn belt clip which can accommodate a belt up to 1.75" inches wide. The holster is made of high quality soft nylon, and when worn on the belt resembles a cell phone case. The advantage of this design is that it allows you to carry your EC9s concealed, but with full and easy access. Now it's possible to wear whatever you want, whenever you want to. Don't dress around your gun anymore.

The holster is made inside and out of ballistic nylon, and uses three magnets to stay closed. Each holster is designed for your specific firearm, and the opening is made in such a way that you cannot accidentally place your finger on the trigger during draw. The Kydex insert ensures that a smooth, silent draw occurs every time.

The use of double stitching and steel rivets guarantees that this holster will last for years to come. All available options are listed above, and the holster can be ordered either with the belt loop, or optional belt clip. We design every holster to be as small as possible and still fit your pistol.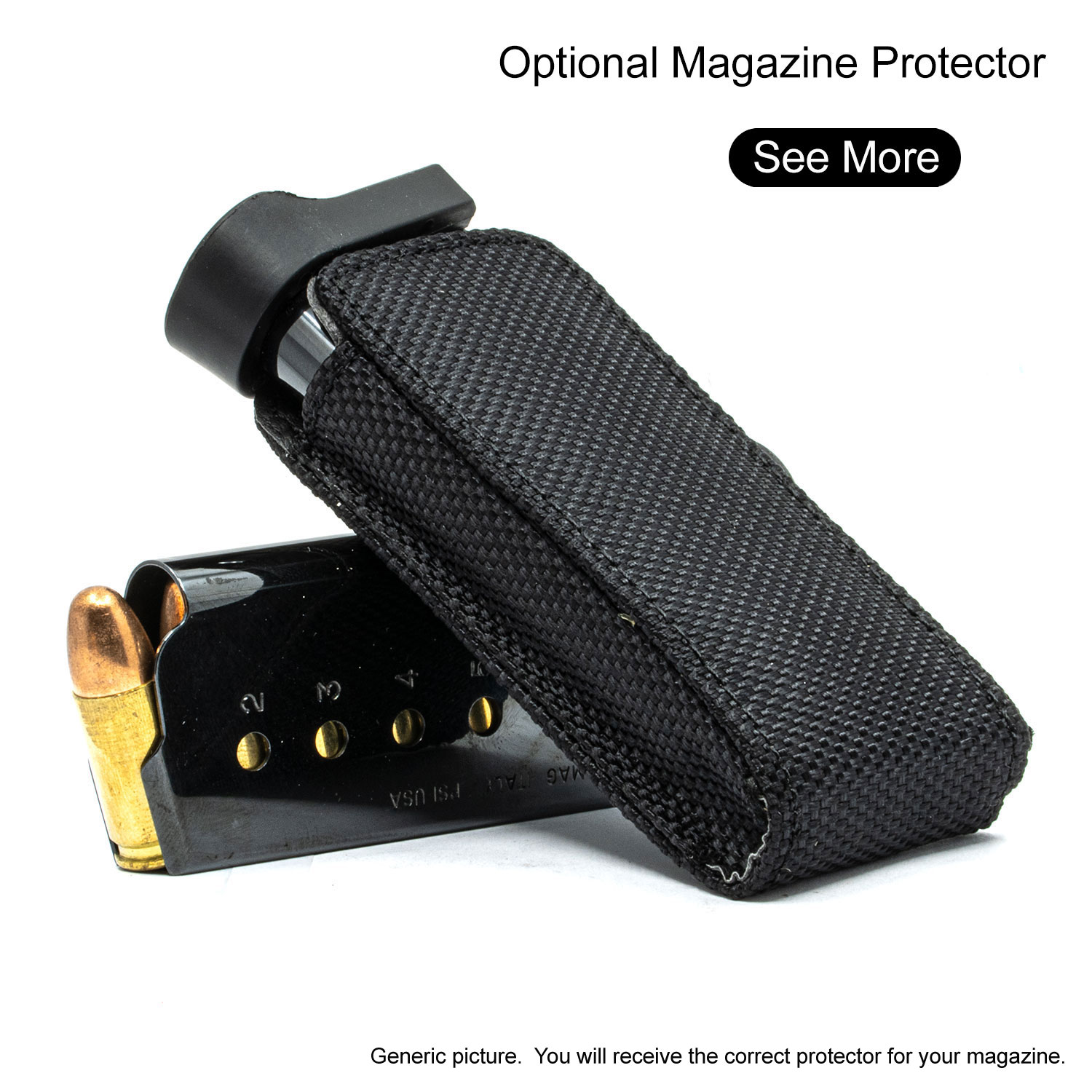 Other Details
Please contact us for warranty and exchange requests.
Product Videos
Custom Field
Accessories
NOT included!
Front Pocket (approx)
3 7/8 Wide x 4 1/2" High"
Approx Internal Dimensions
Height 5 3/4" Width 4 3/8" Depth 1 1/8" (flush base magazine holster)
Product Reviews
Weapon fits perfectly in holster and easy to extract.act as needed.

I may have been mistaken but, I thought that you offered a free magazine pouch if a purchase was made. If so I didn't receive mine.

Ruger EC9S Perfect Holster

I have an I phone 13, its too tight of a fit when put in the phone holder on the case. Cannot pull it out easily.

A wonderful Idea, but just too big to really conceal.Because of the size of the firearm.It feels like having a suitcase on your side.sorry guys, just not for me.

Holster is a little bulkier than I would like but it still gets the job done

Ruger EC9S Perfect Holster

This holster is well made and fit my pistol perfect. They are fast to respond to questions and also my Swiss Army knife and flashlight fit perfect. Great holster at a good price. Thank you..Terry

1. Pocket for cell phone too small. 2. Should have swivel so that when you sit down, the unit can be turned to be more comfortable

Will recommend to others

is a winner, second one i have purchased. the bug bite was a bust...won't hold my lc9s.

Although a bit large, attaching a logo of your choice helps increase its stealth quality. The additional pockets for phone, etc., make it an all-around great carryall. Highly recommended.