Product Description
The M&P Shield 380 EZ Sneaky Pete Holster has sewn belt clips which can accommodate a belt up to 1.75" inches wide. The holster is made of high quality soft nylon, and when worn on the belt resembles a cell phone case. The advantage of this design is that it allows you to carry your M&P concealed, but with full and easy access. Now it's possible to wear whatever you want, whenever you want to. Don't dress around your gun anymore.

The holster is made inside and out of ballistic nylon, and uses three magnets to stay closed. Each holster is designed for your specific firearm, and the opening is made in such a way that you cannot accidentally place your finger on the trigger during draw. The Kydex insert ensures that a smooth, silent draw occurs every time.

The use of double stitching and steel rivets guarantees that this holster will last for years to come. All available options are listed above, and the holster can be ordered either with the belt loop, or optional belt clip. We design every holster to be as small as possible and still fit your pistol.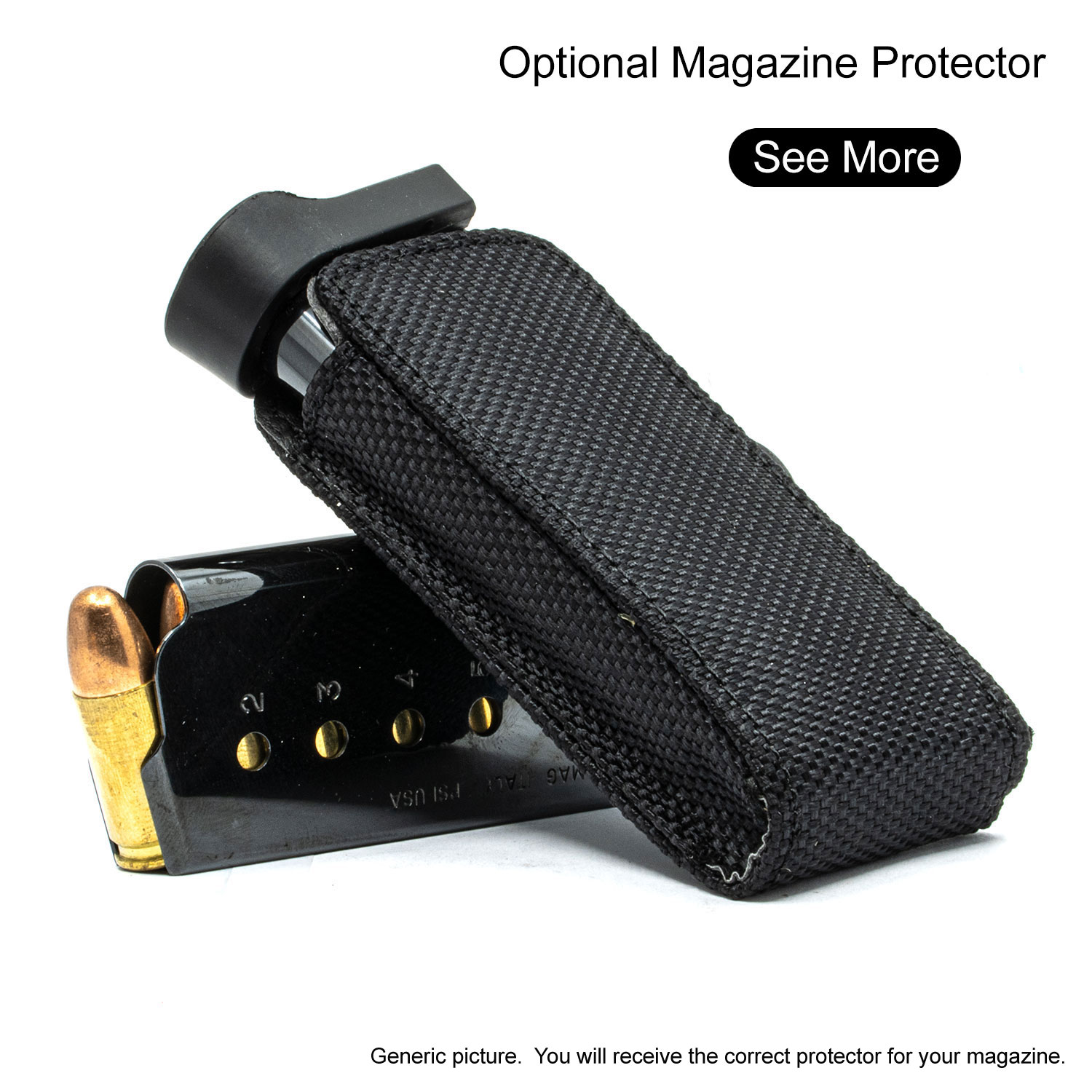 Other Details
Please contact us for warranty and exchange requests.
Product Videos
Custom Field
Accessories
NOT included!
Front Pocket (approx)
4 1/2 Wide x 4 1/2" High"
Approx Internal Dimensions
Height 7 Width 5 Depth 1 3/8 " (flush base magazine holster)
Product Reviews
A Good Concept, Could Be Better

I have had this now for a couple of weeks. First the positives: It is as stealthy as it looks and it fits the gun very well. The overall workmanship is pretty good. Now the negatives: There is no retention other than the magnetized flap. The magnets are not, in my opinion, strong enough. The flap is easily opened and that bothers me. I would really like the flap to be about twice as difficult to open OR I would like there to be an adjustable internal retention. One of the carry scenarios for me is seated on a Harley Davidson and I am concerned about retention in this case...sure don't want to lose my pistol while riding. I would be ok with the magnets being replaced with one or two snaps instead. I think with snaps it could be opened just as quickly but have much more strength to prevent accidental opening of the holster. Another issue is the plastic interior liner has two little flaps (which you can see in the pictures...one is directly above the flashlight) that are outside the case. Before I bought the holster I assumed they were metal but they are plastic. One of these plastic flaps caught on something which permanently bent it slightly outward. I don't know what the long term consequence of this will be but I can say that right now this bent plastic flap presents a sharp point that scrapes my hand during casual contact (like reaching into my pocket). I think I would also like to see the fabric be slightly heavier...at least the magnetized flap part of the fabric. After just a couple of weeks of daily carry, the top is losing its shape and is starting to cave in. This is a minor issue and really only affects the cosmetic look of the holster. I think that this holster is a great idea and with a few minor improvements it could be very good.

i bought this holster for my M&P Shield 380 EZ. I was delighted to finf out it also fits my Ruger Security 380. Saved me the cost of another holster.

Perfect (only as a) Holster

I have been wearing the Sneaky Pete Perfect Holster daily for about a month now, and found it to be a perfect holster for my M&P Shield 380 EZ, but not for anything else. I was excited to see the "Perfect Holster" being offered and bought one expecting to carry some of my EDC gear with it. However what I have found is that, at least for me, I didn't like fiddling with my holster every time I needed my phone, flashlight, or pocket knife. The elastic pocket had great retention for my cellphone, but the idea of carrying concealed was kind of defeated by pulling open the cover in order to get my phone out. In fact, for me to use my phone, I would have to use both hands - one to hold the flap, and the other to pull out my phone. So as a holster, it has been performing perfectly. It is comfortable for me to use. The flap always stayed secured, and the two clips has kept my holster stable while walking and sitting.

S & W Shield 380 EZ Perfect Holster

For me it's the perfect holster for CC and in my vehicle. Other carry options are uncomfortable for me.

M&P Shield 380 EZ perfect holster

Exactly as described and expected, fits the gun perfectly. Two VERY strong and tight belt clips on the back hold very well to waistband of ordinary leggings, jeans, even a skirt. I'm under 5 ft tall, and while the holster itself is impossible for me to conceal with regular indoor clothing, it is not obviously a holster because of its simple styling. It looks pretty innocuous, like maybe you have a phone or other ordinary stuff (paper, pad, pens, whatever) in there. My android phone fits in the stretch pocket on the front flap, if necessary. Relatively comfortable in spite of the bulk, and no worry about concealment because it does that. If I wore a jacket, it might conceal it (or most of it). Bottom line, I would recommend this holster.

M7P Shield Perfect Holster

Good idea to kill more birds with one stone, so to speak. Great holster, perfect for mobile phone, pen, credit cards & accessories- all in one compact holster!

Holds everything I need for daily carry

Very nice and comfortable if fits great on my hip and it's super cool that no one knows what's in it until I want them to

M&P Shield 380 EZ Perfect Holster

Love this holster! No need to carry a purse. Phone, Pen, Lip balm in outside pockets. ID and cash/credit card in the inside pocket.