Product Description
The Sneaky Pete Holster has sewn belt clips which can accommodate a belt up to 1.75" inches wide. The holster is made of high quality soft leather, and when worn on the belt resembles a cell phone case.
The advantage of this design is that it allows you to carry your pistol concealed, but with full and easy access. Now it's possible to wear whatever you want, whenever you want to. Don't dress around your gun anymore. The holster is made inside and out of glove-quality leather, and uses two magnets to stay closed.
Each holster is designed for your specific firearm, and the opening is made in such a way that you cannot accidentally place your finger on the trigger during draw. The Kydex insert ensures that a smooth, silent draw occurs every time. The use of double stitching and steel rivets guarantees that this holster will last for years to come. All available options are listed above, and the holster can be ordered either with the belt loop, or optional belt clip.
We design every holster to be as small as possible and still fit your pistol. Please make sure that you are using the same magazine as the one pictured, as the holster will not fit a different magazine.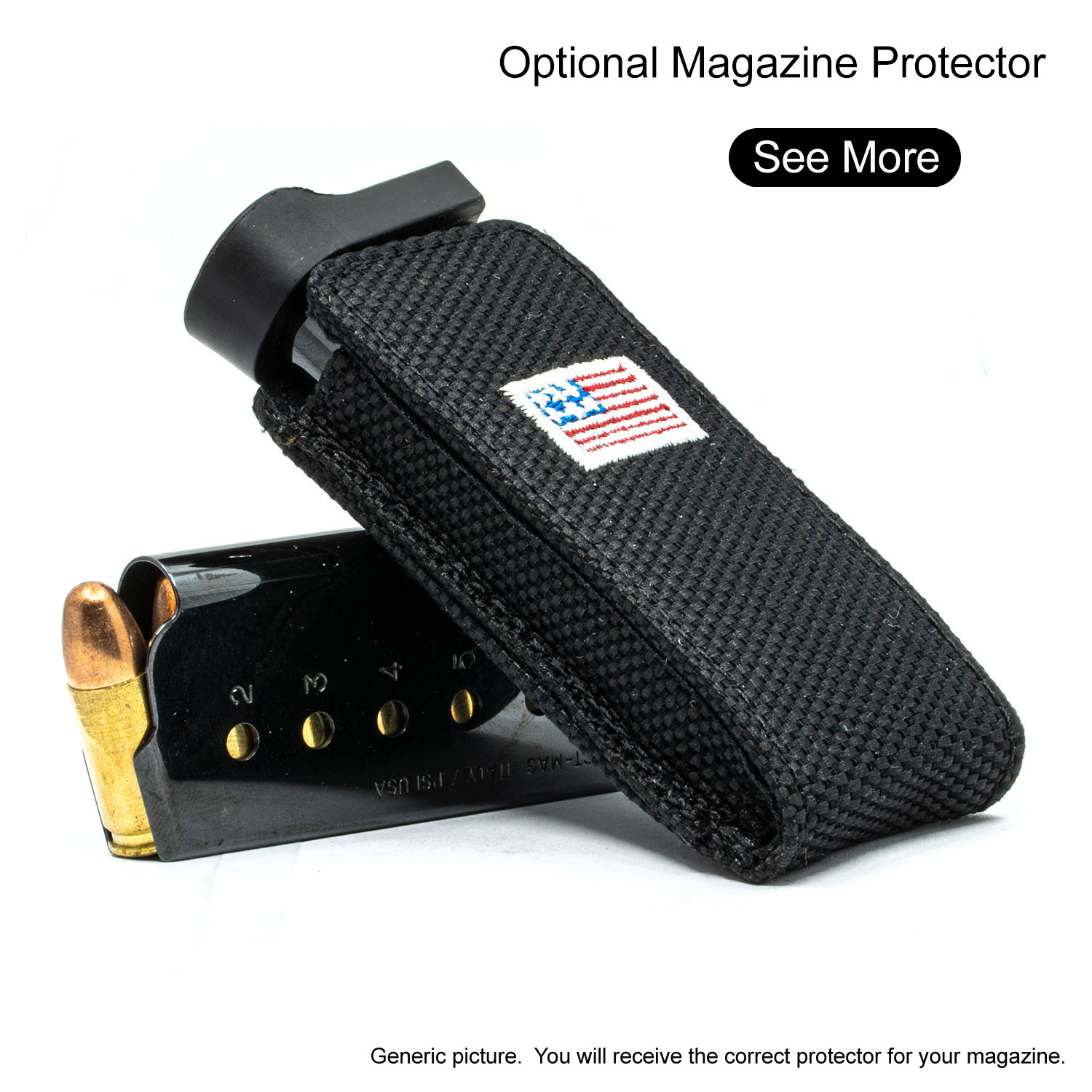 Other Details
Please contact us for warranty and exchange requests.
Custom Field
Approx Internal Dimensions
Height 5 3/4" Width 4 3/8" Depth 1 1/8" (flush base magazine holster)
Product Reviews
High quality materials and construction. Extreme longevity under extremely harsh working conditions. I'm a one-man masonry company with farm work added on. Brick and block, mortar, dirt , sand and dust, rain, sleet, snow and cow poop; the 'Pete is absolute armor in a most inconspicuous presentation.

I really like it. My boss allows me to carry at work as long as my gun is not visible and it is a good alternative to what I was using

The Sneaky Pete Holster I purchased for my Taurus 709 Slim 9mm pistol is perfect. It looks like an oversized cell phone case. One warning, it will only work with the OEM style( flat) magazine. It will not work if you are using the palm extension style magazine.

I feel that the interior fit (leather) is a little too snug. Possibly the metal frame is a bit out of shape for the 709. all in all I like the product (second one I've purchased). given a little wear it should be fine.

Absolutely love this! Secure and sedate. Even wider because of the extended pinky grip, the only people who have seemed to notice it look like gun guys wondering if it is a real SneakyPete? Just ordered another for wifey's revolver! Outstanding design, construction, and function. Whooho.

costly, but exactly as described. very well made with two belt clips

Both myself and my wile like the style of the holster so much we have ordered another one for a Glock43,! I'm still in hopes the discount we were offered towards a further Purchase will apply to our second holster?

Wished i bought one years ago. Its nice to not pull your shirt down or worry that someone will see your weapon when bending over. Great product

I'm a bigger guy, and the last thing I need is something else inside my pants. There was some sag at first, but that was solved immediately by getting a belt designed for holsters and tools. People say they could forget they're wearing it. Personally, I could never forget I'm carrying, but their sentiment is correct, there are times I've thought, 'I can't tell I've got a holster on. No one has ever questioned me on seeing the unit.