Product Description
For the 3.3" Barrel only.
The Springfield XDS 9mm Sneaky Pete Holster has double belt clips which can accommodate a belt up to 1.5" inches wide. The holster is made of high quality soft leather, and when worn on the belt resembles a cell phone case. The advantage of this design is that it allows you to carry your XDS concealed, but with full and easy access. Now it's possible to wear whatever you want, whenever you want to. Don't dress around your gun anymore.

The holster is made inside and out of glove-quality leather, and uses two magnets to stay closed. Each holster is designed for your specific firearm, and the opening is made in such a way that you cannot accidentally place your finger on the trigger during draw. The Kydex insert ensures that a smooth, silent draw occurs every time.

The use of double stitching and steel rivets guarantees that this holster will last for years to come. All available options are listed above, and the holster can be ordered either with the belt loop, or optional belt clip. We design every holster to be as small as possible and still fit your pistol.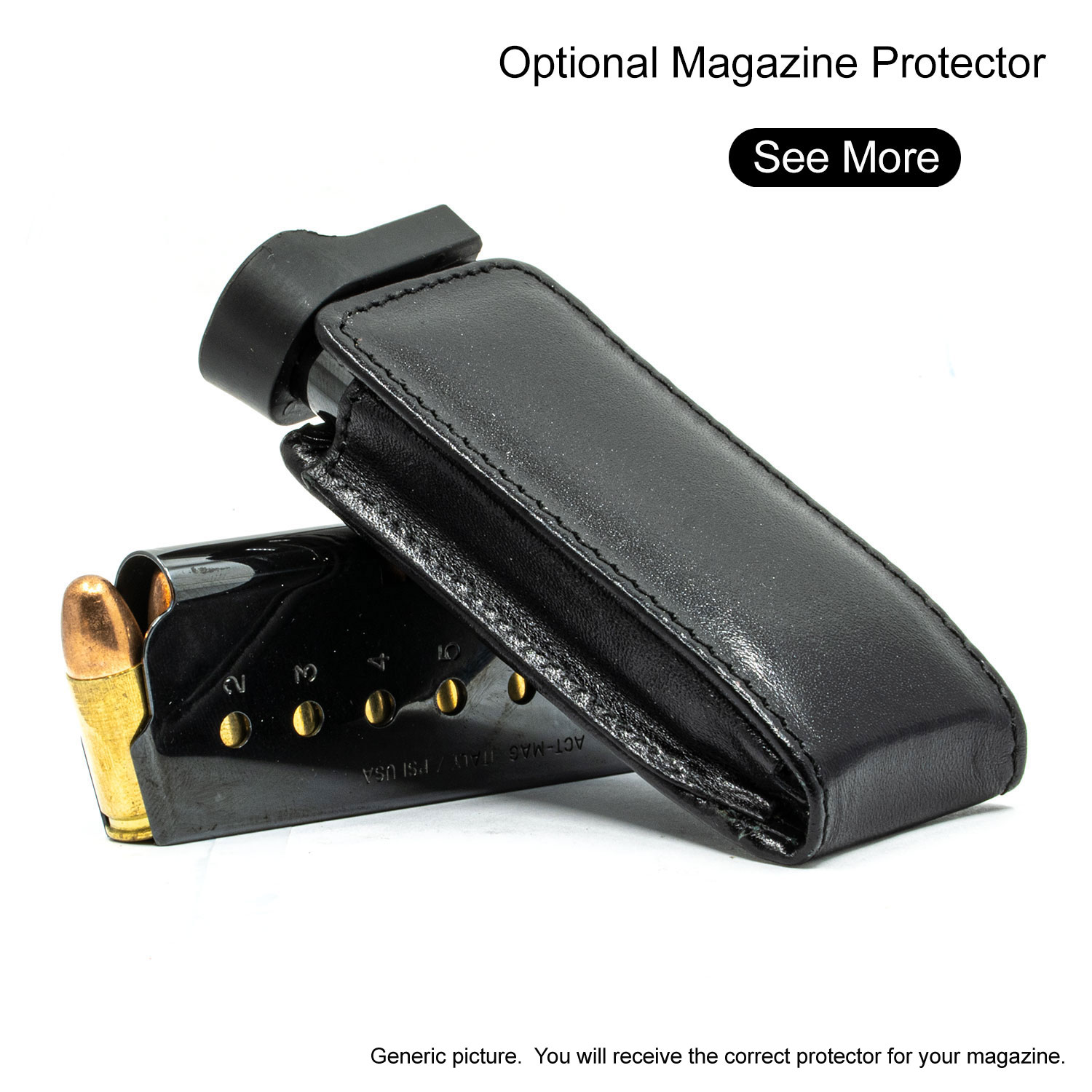 Other Details
Please contact us for warranty and exchange requests.
Product Videos
Custom Field
Approx Internal Dimensions
Height 6 1/2" Width 4 3/4" Depth 1 1/8" (flush base magazine holster)
Product Reviews
Construction seems excellent. No fraying gouges failures of any kind. Im wearing it a lot getting used to it. Profile is very large making me question wearing it at all. I'm getting used to it. Absolutely conceals the weapon. Magnetic close is strong enough to hold, relaxed enough to prevent frantic clawing. The placing of the clips on my belt is beyond frustating. I cannot put the holster on without removing pants. Wish I had bought belt loop style. Would I buy it again? Yes. The product has minor issues to deal with that do not in any way impede the use of the holsters i tended purpose. It looks good, carries well and draws smoothly. Great for packing where fumbling with your weapon would be inexcusable.

Gun fits great. Easy to conceal and carry. Thanks

First awesome product. Second capable of fast or faster draw than IWB. Safe carry position, trigger guard covered. Third- big, bulky. Not really good camouflage. Nylon holsters are more believable. "Battery Pack" never saw someone carry a outside battery pack. If you are using it with a shirt over the top- very effective!! Practice, practice, practice. Good quality. Will buy again.

I received this holster after a slight delay. I guess it should be expected with everything going on in the world these days. It's much better quality than I hoped. The pictures don't do it justice.