Product Description
The Springfield XD9sc Concealed Carry Holster has sewn belt loops which can accommodate a belt up to 1.5" inches wide. The holster is made of high quality soft leather, and when worn on the belt resembles a cell phone case. The advantage of this design is that it allows you to carry your Springfield concealed, but with full and easy access. Now it's possible to wear whatever you want, whenever you want to. Don't dress around your gun anymore.

The holster is made inside and out of glove-quality leather, and uses two magnets to stay closed. Each holster is designed for your specific firearm, and the opening is made in such a way that you cannot accidentally place your finger on the trigger during draw. The Kydex insert ensures that a smooth, silent draw occurs every time.

The use of double stitching and steel rivets guarantees that this holster will last for years to come. All available options are listed above, and the holster can be ordered either with the belt loop, or optional belt clip. We design every holster to be as small as possible and still fit your pistol.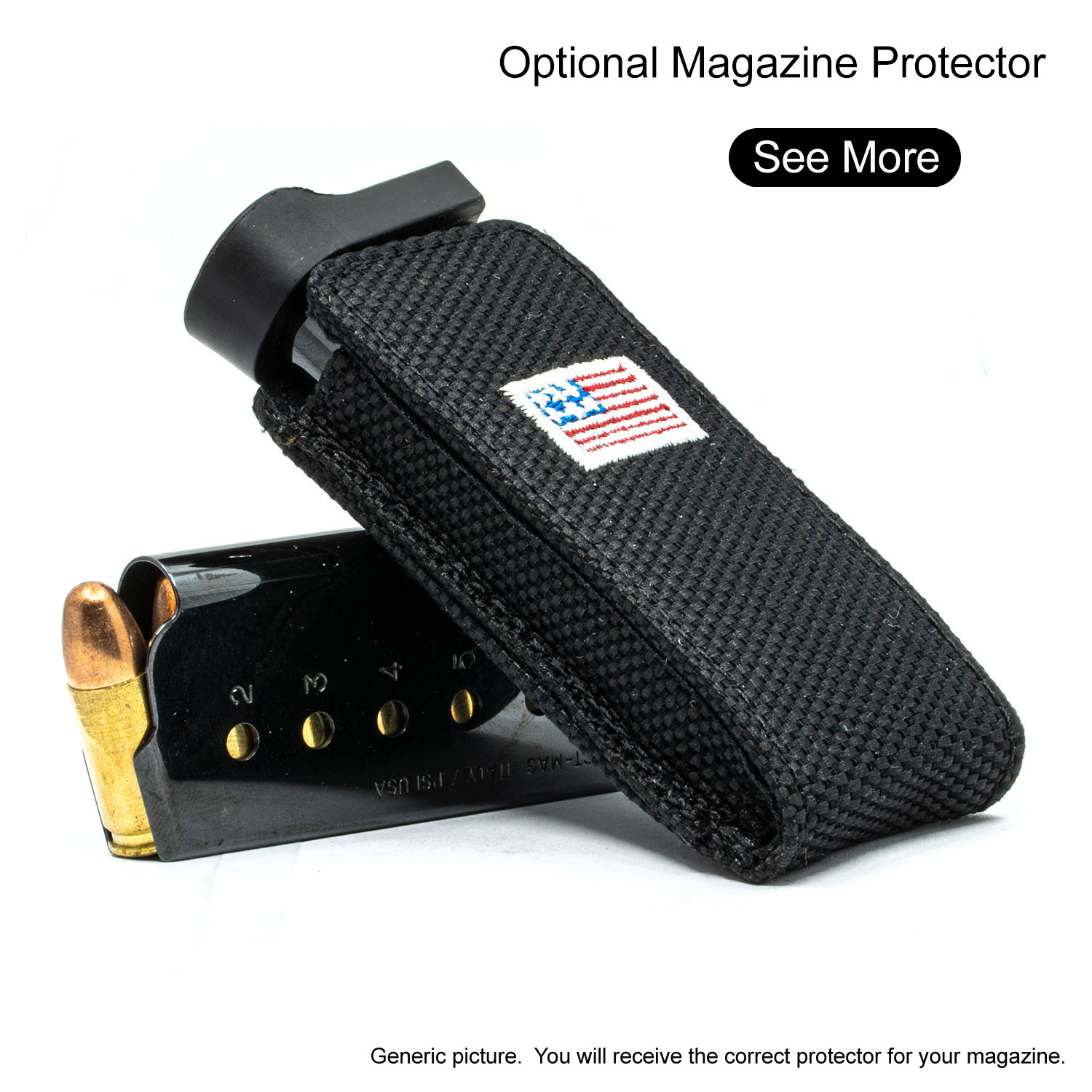 Other Details
Please contact us for warranty and exchange requests.
Custom Field
Approx Internal Dimensions
Height 6 2/8" Width 5" Depth 1 1/8" (flush base magazine holster)
Product Reviews
The product does precisely what it is designed to do. Very well constructed. I was told by a friend that it is "too big" and will "yell, pistol." Okay. It is less obtrusive than open carry and easier to access than in waist band styles. I'm not trying to hide anything. Just intent on having the option of self defense.

Ordered one for my father and one for my husband for Father's Day. It was easy to order, the product fits perfectly. The guys were very happy with their gift.

Hard to route my belt thru, maybe should have purchased clip on.

Like it a lot, wears well and weapon is easy to draw.

Hard to route my belt thru, maybe should have purchased clip on.

Like it a lot, wears well and weapon is easy to draw.

worth buying for concealment

I like the holster but it is larger on the hip than I expected. As soon as it arrived I wore it to a wedding reception and had my shirt tucked in, no one ever asked what I was carrying, I guess assuming it was piece of special equipment or something - they may not have noticed anything at all. I have worn it a couple times since and have several co-workers interested in the holster now.

Springfield XD9sc Sneaky Pete Holster (Belt Loop)

The holster is very well made. Top quality leather. My Springfield XD Subcompact fits perfectly inside. The only reason I gave 4 stars is the holster itself is pretty large. The demonstration video is a bit deceiving.