Product Description
The Springfield XD40sc Sneaky Pete Holster has sewn belt clips which can accommodate a belt up to 1.75" inches wide. The holster is made of high quality soft leather, and when worn on the belt resembles a cell phone case. The advantage of this design is that it allows you to carry your Springfield concealed, but with full and easy access. Now it's possible to wear whatever you want, whenever you want to. Don't dress around your gun anymore.

The holster is made inside and out of glove-quality leather, and uses two magnets to stay closed. Each holster is designed for your specific firearm, and the opening is made in such a way that you cannot accidentally place your finger on the trigger during draw. The Kydex insert ensures that a smooth, silent draw occurs every time.

The use of double stitching and steel rivets guarantees that this holster will last for years to come. All available options are listed above, and the holster can be ordered either with the belt loop, or optional belt clip. We design every holster to be as small as possible and still fit your pistol.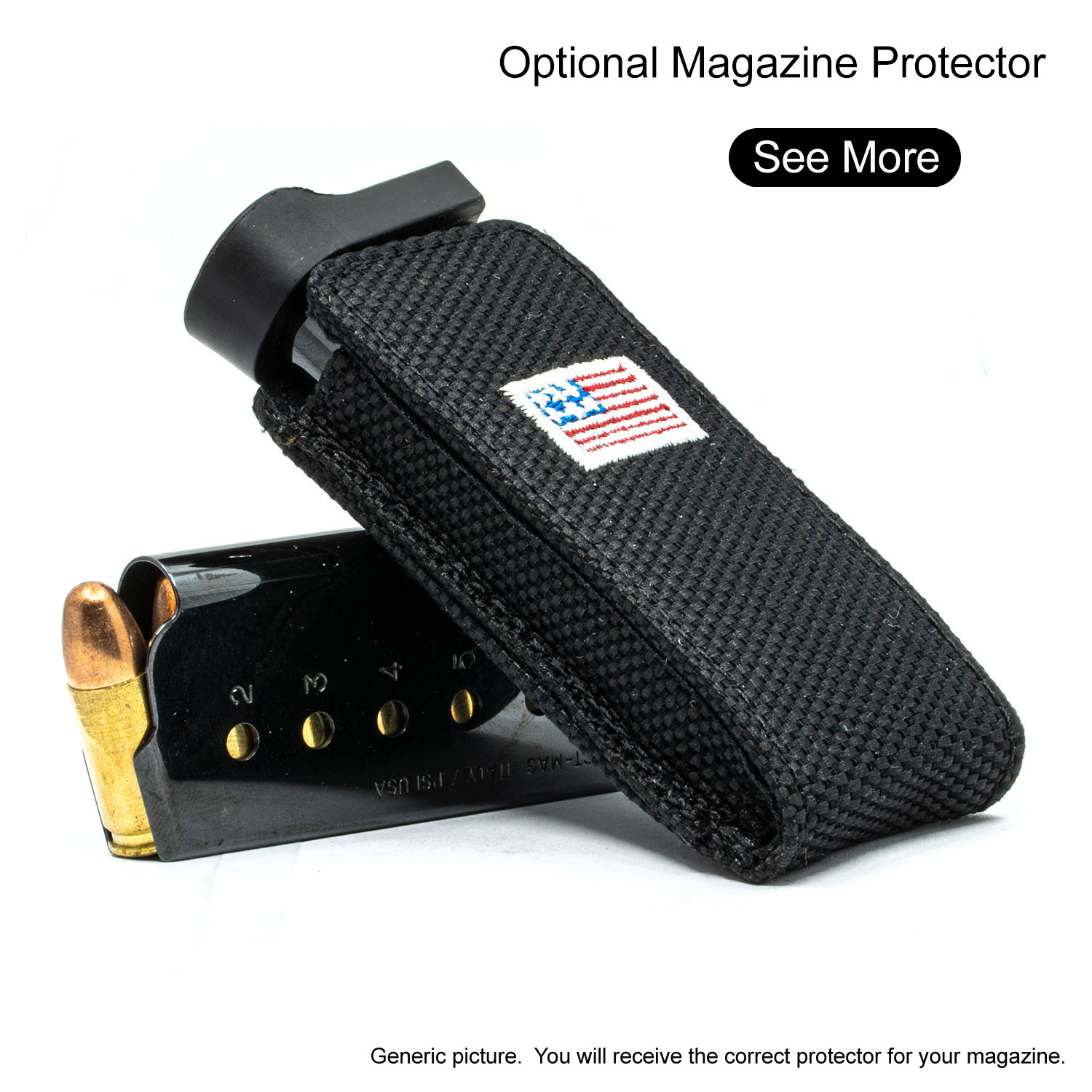 Other Details
Please contact us for warranty and exchange requests.
Custom Field
Approx Internal Dimensions
Height 6 2/8" Width 5" Depth 1 1/8" (flush base magazine holster)
Product Reviews
Sneaky Pete Springfield 40 cal

Awesome product,I highly recommend it for concealment.

Holster for S&W M&P Shield 9mm

Perfect fit for the pistol. Very comfortable and easy to use. Goes with me everywhere. Love the brown color and the overall construction. ~~Michael

Sneaky pete is great for my Springfield 40

Love it

SPRINGFIELD XD40SC SNEAKY PETE HOLSTER W/ BELT CLIPS

Very well made and it attaches easily to my belt. With the silver cross I have had people is that a way to carry my Bible. I say it can be used for that and the limit of what I have in it is almost only limited by my ability to think of what has the dimensions.

eldondo@epix.net I have bought 3 different holsters for my CC. I 100% love this sneaky Pete. A friend works in a hospital and got me An O2 cannula. When we're in the mall at a time we should be home I put the nose piece in and the 4 foot cut off In the side. Or back....IF , GOD FOR BID IM FACED WITH A PROBLEM. Maybe, just maybe some one would walk away. If they don't. surprise, surprise ⚰️

Springfield XD40SC Sneaky Pete Holster (Belt Clip)

Very pleased with product

Good product but I had to return it

It was not bad, better than most other products but I returned it because with the size of my gun it seemed too bulky and too many people asked what it was and while I am very confident with my responses, it was too much of an attention seeker.

Was tired of looking for a holster for my Springfield 40 XD SC. I now have it. The SP does not pull my pants down like the ISWB does. It is great being able to take my coat off no matter where I go and no one even notices it. So glad I got it.

This is my second holster. Most do not even question what I'm carrying. My kids (I guess more kids ask about it) tell them it's my IPad mind. This recent one is the alligator replica and I wear business attire 90% of the time and it looks and feels great to know I'm always protected.