Product Description
The Springfield Hellcat Sneaky Pete Holster can accommodate a belt up to 1.5" inches wide. The holster is made of high quality materials, and when worn on the belt resembles a cell phone case. The advantage of this design is that it allows you to carry your Springfield Hellcat concealed, but with full and easy access. Now it's possible to wear whatever you want, whenever you want to. Don't dress around your gun anymore.

The holster is made inside and out of glove-quality leather, and uses two magnets to stay closed. Each holster is designed for your specific firearm, and the opening is made in such a way that you cannot accidentally place your finger on the trigger during draw. If you have a factory pinky extension you must order that option. The Kydex insert ensures that a smooth, silent draw occurs every time.

The use of double stitching and steel rivets guarantees that this holster will last for years to come. All available options are listed above, and the holster can be ordeded with either with the belt loop, or optional belt clip. We design every holster to be as small as possible and still fit your pistol.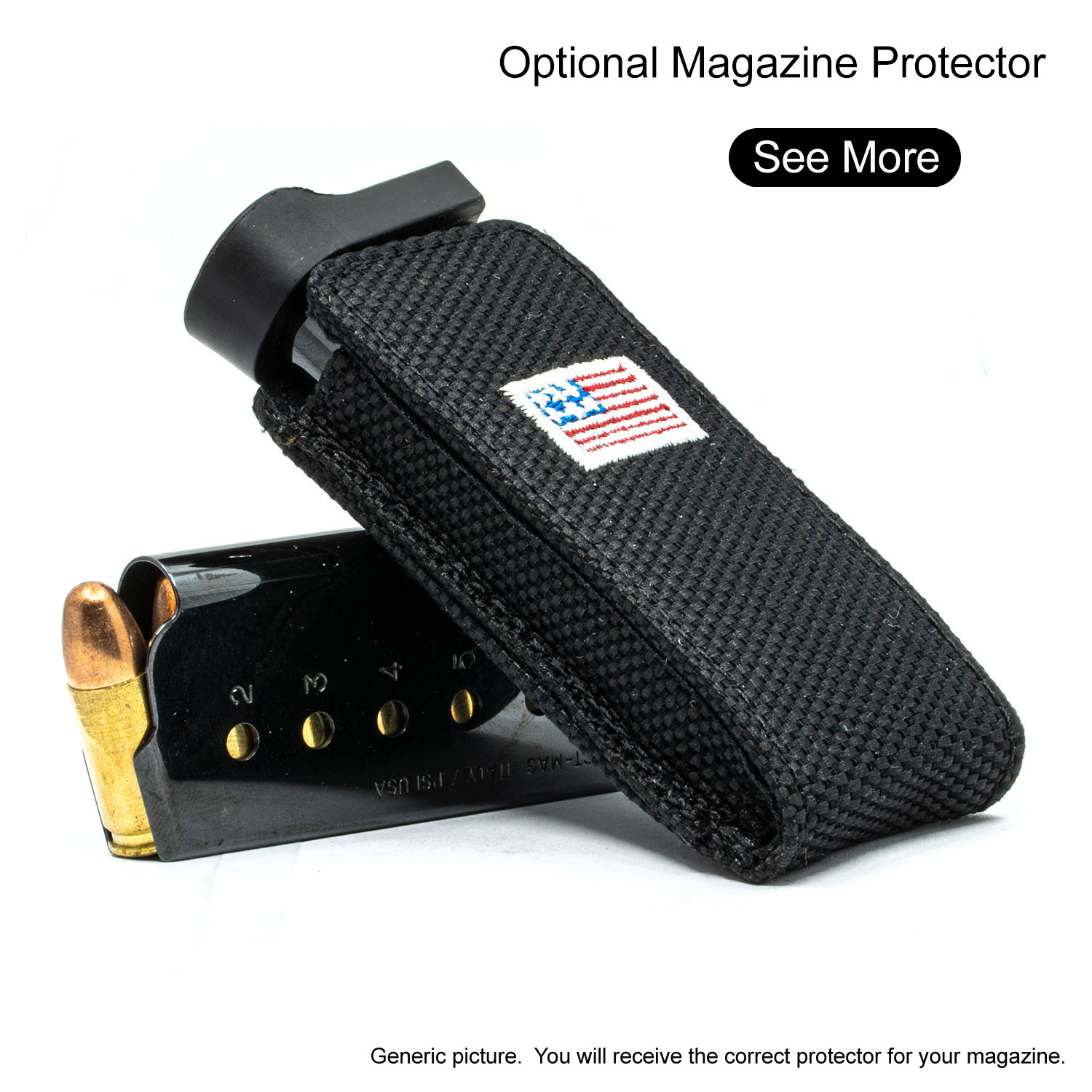 Other Details
Please contact us for warranty and exchange requests.
Product Videos
Custom Field
Flush Base Plate Holster (Approx. Dimensions)
Height 5 3/4" Width 4 1/8" Depth 1 1/4 "
Pinky Extender Holster (Approx. Dimensions)
Height 5 3/4" Width 4 5/8" Depth 1 1/4 "
Extended Magazine Holster (Approx. Dimensions)
Height 5 3/4" Width 5" Depth 1 1/8 "
Product Reviews
Very comfortable, Fits weapon just fine.

Very good product, quality materials.

Have recommended to friends.

Love it fits perfect on my belt and wears well very comfortable and very secure

As a person who doesn't wear untucked or loss fitting clothes, it's not easy to conceal carry. Since I start wearing the Sneaky Pete, I've only had one person ask what gun I was carrying but they also carried. It comfortable and easy access to my weapon.

Springfield Hellcat Holster

This holster is AWESOME! I can conceal my weapon and noone even knows it is there. "Hidden in plain sight." The case is a little bigger than a cell phone holster.

This thing is great. I thought it was going to be way to large looking. But it looks good. Noone has noticed yet.

SPRINGFIELD HELLCAT SNEAKY PETE HOLSTER (BELT CLIP)

Excellent Concealed Carry Holster!

I received my sneaky Pete holster a few weeks ago. I have been wearing it everyday. The two belt clips help keep the holster secure to my waist without much movement. It is completely covered and I don't have any bulge to my waist. A very comfortable feel.

This item is just as advertised. Just large enough to fit the Hellcat. I was initially worried when I placed the Hellcat into the holster because it didn't seem to fit. Flap wouldn't close securely. Took a minute to realize I could press it further in to engage a mechanism to secure the weapon. This makes it secure and discreet, yet easily deployed and, in my opinion, a cut above my IWB holster in that respect. Still practicing my draw,. Great product. I'll probably get one for the EZ for my wife.