Product Description
The Springfield Hellcat Sneaky Pete Holster can accommodate a belt up to 1.5" inches wide. The holster is made of high quality materials, and when worn on the belt resembles a cell phone case. The advantage of this design is that it allows you to carry your Springfield Hellcat concealed, but with full and easy access. Now it's possible to wear whatever you want, whenever you want to. Don't dress around your gun anymore.

The holster is made inside and out of ballistic nylon, and uses two magnets to stay closed. Each holster is designed for your specific firearm, and the opening is made in such a way that you cannot accidentally place your finger on the trigger during draw. If you have a factory pinky extension you must order that option. The Kydex insert ensures that a smooth, silent draw occurs every time.

The use of double stitching and steel rivets guarantees that this holster will last for years to come. All available options are listed above, and the holster can be ordeded with either with the belt loop, or optional belt clip. We design every holster to be as small as possible and still fit your pistol.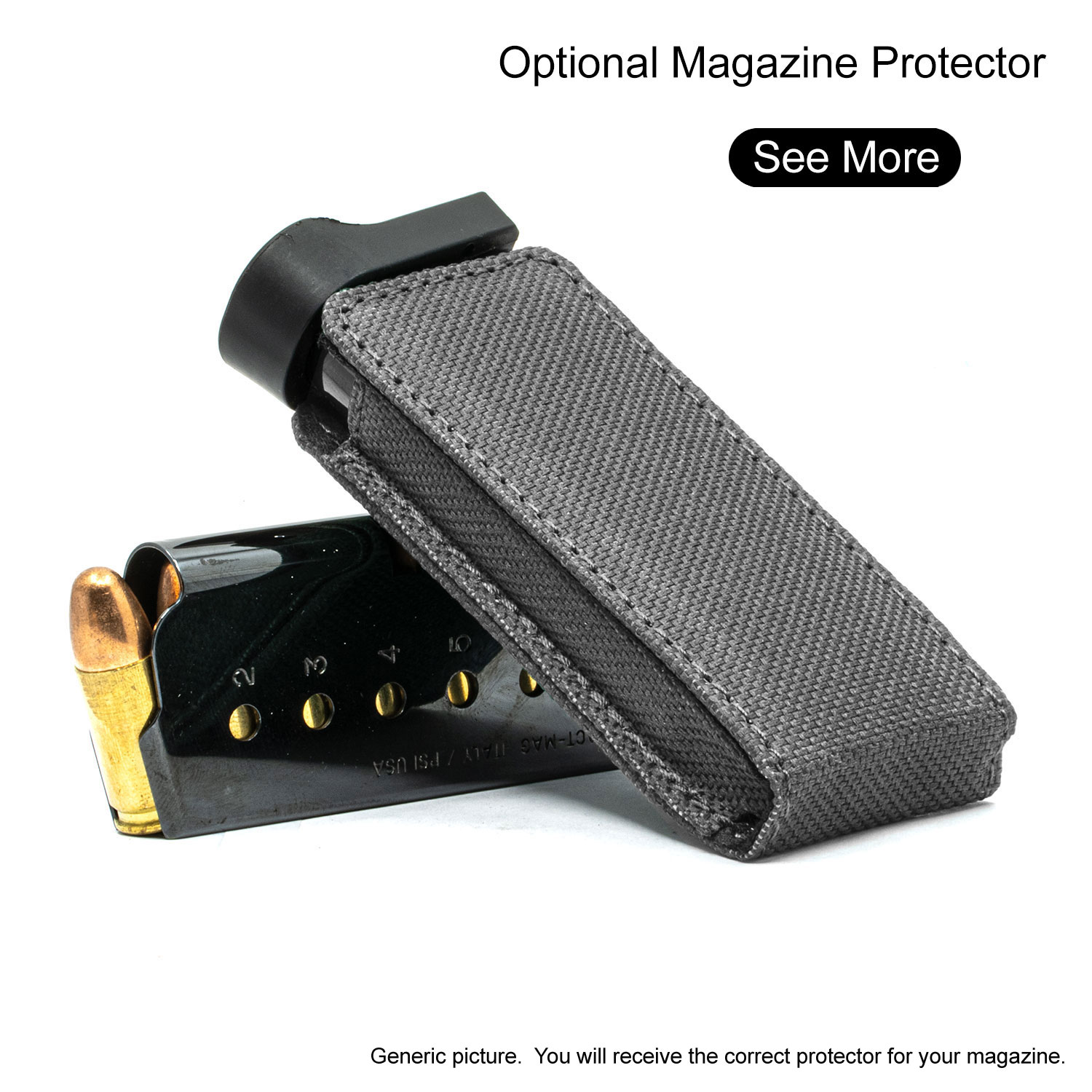 Other Details
Please contact us for warranty and exchange requests.
Product Videos
Custom Field
Flush Base Plate Holster (Approx. Dimensions)
Height 5 3/4" Width 4 1/8" Depth 1 1/4 "
Pinky Extender/Extended Mag Holster (Approx. Dimensions)
Height 5 3/4" Width 4 5/8" Depth 1 1/4 "
Product Reviews
Covert Holster for Hellcat

Make sure you designate the clip size before you order. The first holster I received was too small, but the company very quickly replaced it with the proper size and it performs as represented. The belt clips are large and work well with Jeans/Belt, etc. If you want to strap it onto a dress belt, a bit bulky but it works. Bottom line is that unless you know about Covert Holsters, if you see one straped on someone's side I think most people would think you're a nerd with a phone charger v. carrying a concealed 9mm. Well done Sneaky Pete's!

holds firearm with laser plenty of room

Looks good to me

Have had this holster for months. Never once had anyone ask me what it was. The logo throws most people off the scent.