Product Description
The Springfield Hellcat Sneaky Pete Holster can accommodate a belt up to 1.5" inches wide. The holster is made of high quality materials, and when worn on the belt resembles a cell phone case. The advantage of this design is that it allows you to carry your Springfield Hellcat concealed, but with full and easy access. Now it's possible to wear whatever you want, whenever you want to. Don't dress around your gun anymore.

The holster is made inside and out of glove-quality leather, and uses two magnets to stay closed. Each holster is designed for your specific firearm, and the opening is made in such a way that you cannot accidentally place your finger on the trigger during draw. If you have a factory pinky extension you must order that option. The Kydex insert ensures that a smooth, silent draw occurs every time.

The use of double stitching and steel rivets guarantees that this holster will last for years to come. All available options are listed above, and the holster can be ordeded with either with the belt loop, or optional belt clip. We design every holster to be as small as possible and still fit your pistol.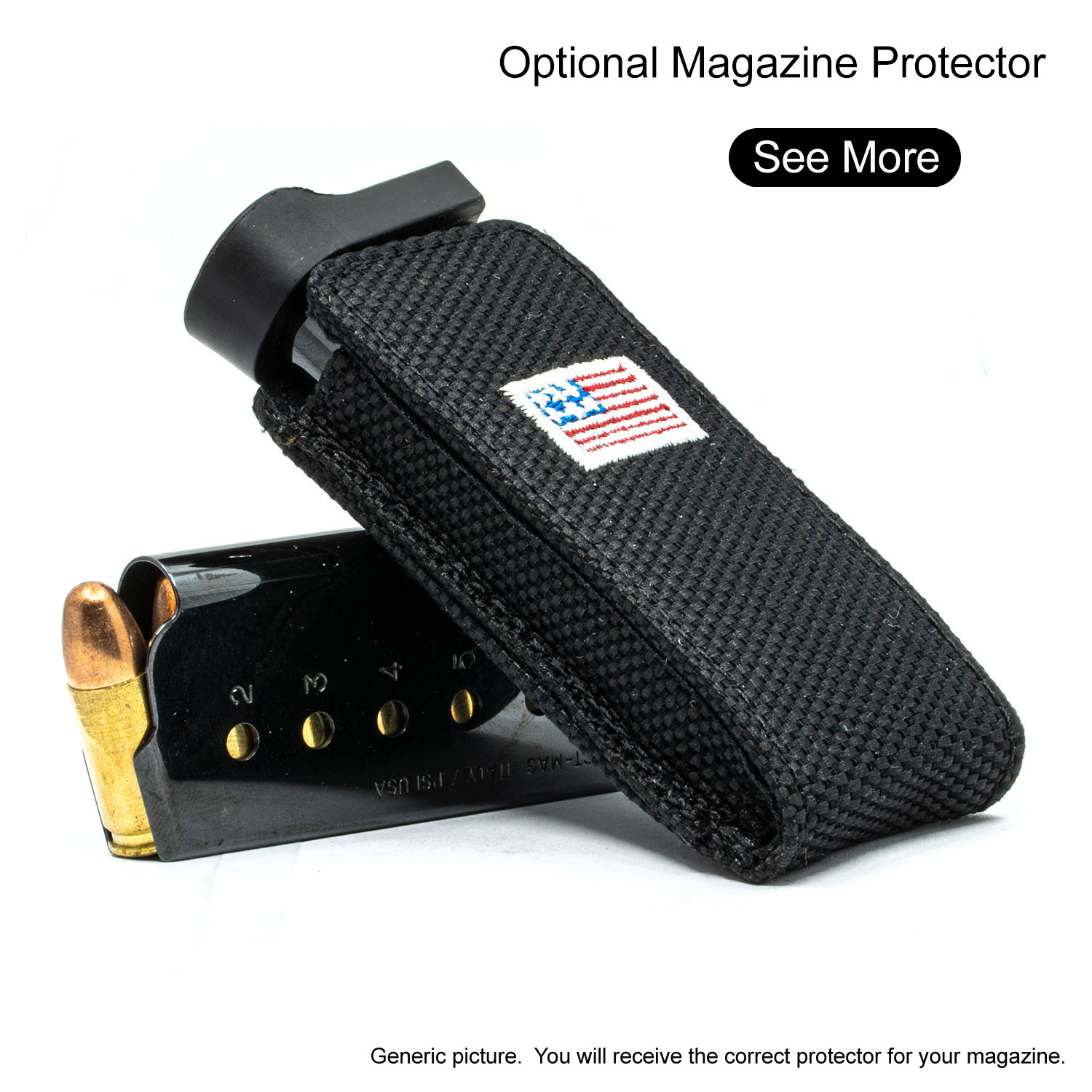 Other Details
Please contact us for warranty and exchange requests.
Product Videos
Custom Field
Flush Base Plate Holster (Approx. Dimensions)
Height 5 3/4 Width 4 3/8 Depth 1 1/8
Pinky Extender Holster (Approx. Dimensions)
Height 5 3/4 Width 4 5/8 Depth 1 1/8
Extended Magazine Holster (Approx. Dimensions)
Height 5 3/4 Width 5 Depth 1 1/8
Product Reviews
Very comfortable to wear

I had to send it back, I ordered the wrong size. I'm still waiting for the right one to be sent to me, I sent a check for the shipping. I need the one for the hellcat +1. I got a email saying it is on back order, I can't wait to try it out

I really like the utility of this rig. It allows me to carry without having to wear an outer garment to conceal my weapon. the only drawback is the belt loops are too wide and too close together which makes it a little difficult to thread my belt thr

taking a good look at the hardshell mag holders

My pistol will not fit holster.

Powerpack holster for Springfield Hellcat

I really like the product a lot. My only real complaint is there's no way to get a proper grip until the gun is out of the holster a couple inches. My thumb won't fit behind it when it's fully holstered. I don't know how that could be fixed. Maybe put a stretchy part where your thumb goes in. It's also too big to be confused for a phone case, which is fine. My gun is bigger than a cell phone so…. I primarily got it for things like hiking or other outdoor activities where prolonged appendix carry would be sweaty and uncomfortable. Perfect for that

I actually had to send it back. I mistakenly ordered one for a regular magazine. I needed one for a Hellcat with an extended magazine. I sent it back a few weeks ago and haven't heard from y'all. Thanks!

This is my 5th Sneaky Pete Holster, and I have been completely satisfied with every purchase! Do wish you had a buy 5 get 6th one free though...lol

Great product, well build, nice draw

Ordered, received, liked, glade I ordered it

Purchased this for a hellcat, I really like it. Well made, very comfortable, will add more for other guns.