Product Description
The Sig Sauer P320 Sneaky Pete Holster has sewn belt clips which can accommodate a belt up to 1.75" inches wide. The holster is made of high quality soft leather, and when worn on the belt resembles a cell phone case. The advantage of this design is that it allows you to carry your P320 concealed, but with full and easy access. Now it's possible to wear whatever you want, whenever you want to. Don't dress around your gun anymore.

The holster is made inside and out of glove-quality leather, and uses two magnets to stay closed. Each holster is designed for your specific firearm, and the opening is made in such a way that you cannot accidentally place your finger on the trigger during draw. The Kydex insert ensures that a smooth, silent draw occurs every time.

The use of double stitching and steel rivets guarantees that this holster will last for years to come. All available options are listed above, and the holster can be ordered either with the belt loop, or optional belt clip. We design every holster to be as small as possible and still fit your pistol. Please make sure that you are using the same magazine as the one pictured, as the holster will not fit an extended magazine.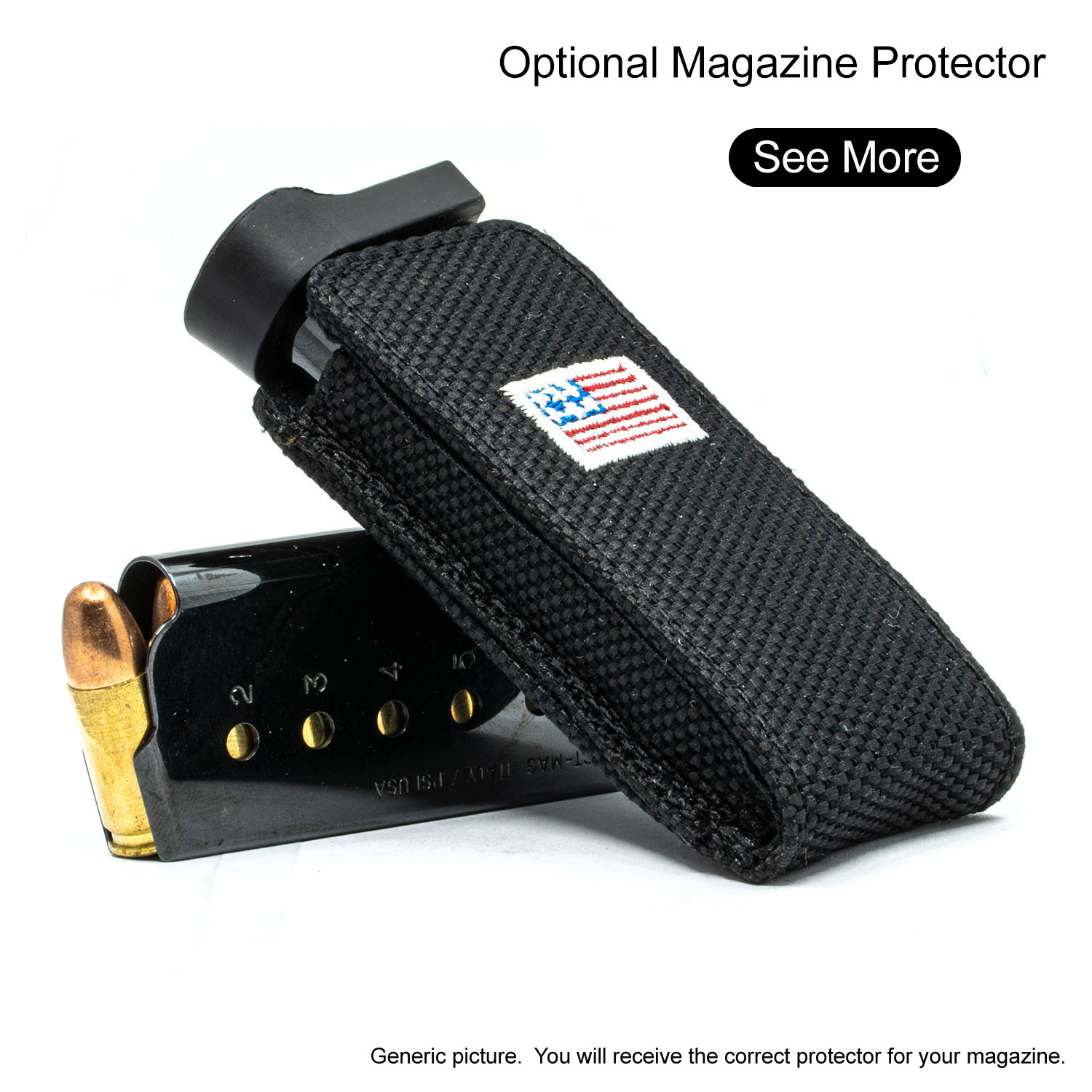 Other Details
Please contact us for warranty and exchange requests.
Custom Field
Approx Internal Dimensions
Height 7" Width 5 1/2" Depth 1 3/8" (flush base magazine holster)
Product Reviews
Using for Ruger SRC 9mm with pinky ext.

Works perfectly. Put double layer of "foam packing" in bottom for depth adjustment.

Sig Sauer P320 Compact Sneaky Pete Holster

I bought this with reservations. I've been using strong-side IWB and OWB retention holsters for decades. Changes of lifestyle include retirement, and I needed other ways to carry. I've also used belly bags of various types and styles for decades. for me included access while driving and the frequent complications of such carry and am happy with them, for the most part. My carry guns changed to a Sig P320C/357Sig and a S&W M&P/357Sig. Upon suggestion of a friend I researched carry methods like the Sneaky Pete, settling on it as the best likely choice. That was a very good idea. To my surprise and delight it fells lighter than a belly bag, fits both guns, and solves all the issues I had with belly bags. Any strong-side holster, right-hand for me, was blocked by seat belt buckles. The Sneaky Pete top rides above the buckle and is not blocked by it. True, drawing from it that way is a new task to learn, but it was an easy one. It is far more comfortable than than either an IWB or OBW holster when worn for long periods. Its flat design allows my arm to swing by it without brushing against it. THAT is a big plus. No "gunfighter swagger" look. One recurring issue is people asking me what's in it, based on the logo I chose. I have a good cover story and I suggest others work out one as well. No one has ever said they thought it might be a firearm. If you are looking for a comfortable alternate means of carry, I suggest you try one.

I like the holster. Solidly made, but just a little bulky for my taste.

For anyone that wants to walk around without being noticed? this is the holster. i have leather and the Medical Badge version and my own family didn't know I was carrying. Buy One Today!

customer service advised this holster for my Kahr cw45 and it fits well for this model with a crimson trace trigger guard laser based in the dimensions I gave them. This is the second sneaky Pete I own. I am thrilled to have found these as I have wanted a holster that covers the entire weapon for a long time. Built very well and should last a long time.

Sig Sauer P320 Compact Sneaky Pete Holster (Belt Clip)

I have a Ruger SR9c and originally had ordered the Sneaky Pete holster designated for that model (SP230), but that holster would not work with the SR9c 15 round magazine. I emailed Sneaky Pete support and found that the Sig P320 holster would fit with the 15 round magazine. Support offered to trade my old holster, but I decided to keep it. Great support!

I like every thing about it. My pistol fit great .

Look at the review subject . Thanks.

Since Sneaky Pete hadn't as yet made a holster for the Springfield XD-E (in .45 ACP), they recommended the sig holster. It fit the Springfield XD-E nearly perfectly. Great recommendation!! Thanks for your help

I actually use this for my Sig Sauer P229, and it works fine as the dimensions are the same as the P320. It is the typical high-quality holster I've come to expect from Sneaky Pete!