Product Description
The Sig Sauer P250 Sneaky Pete Holster has sewn belt clips which can accommodate a belt up to 1.75" inches wide. The holster is made of high quality soft leather, and when worn on the belt resembles a cell phone case. The advantage of this design is that it allows you to carry your P250 concealed, but with full and easy access. Now it's possible to wear whatever you want, whenever you want to. Don't dress around your gun anymore.

The holster is made inside and out of glove-quality leather, and uses two magnets to stay closed. Each holster is designed for your specific firearm, and the opening is made in such a way that you cannot accidentally place your finger on the trigger during draw. The Kydex insert ensures that a smooth, silent draw occurs every time.

The use of double stitching and steel rivets guarantees that this holster will last for years to come. All available options are listed above, and the holster can be ordered either with the belt loop, or optional belt clip. We design every holster to be as small as possible and still fit your pistol.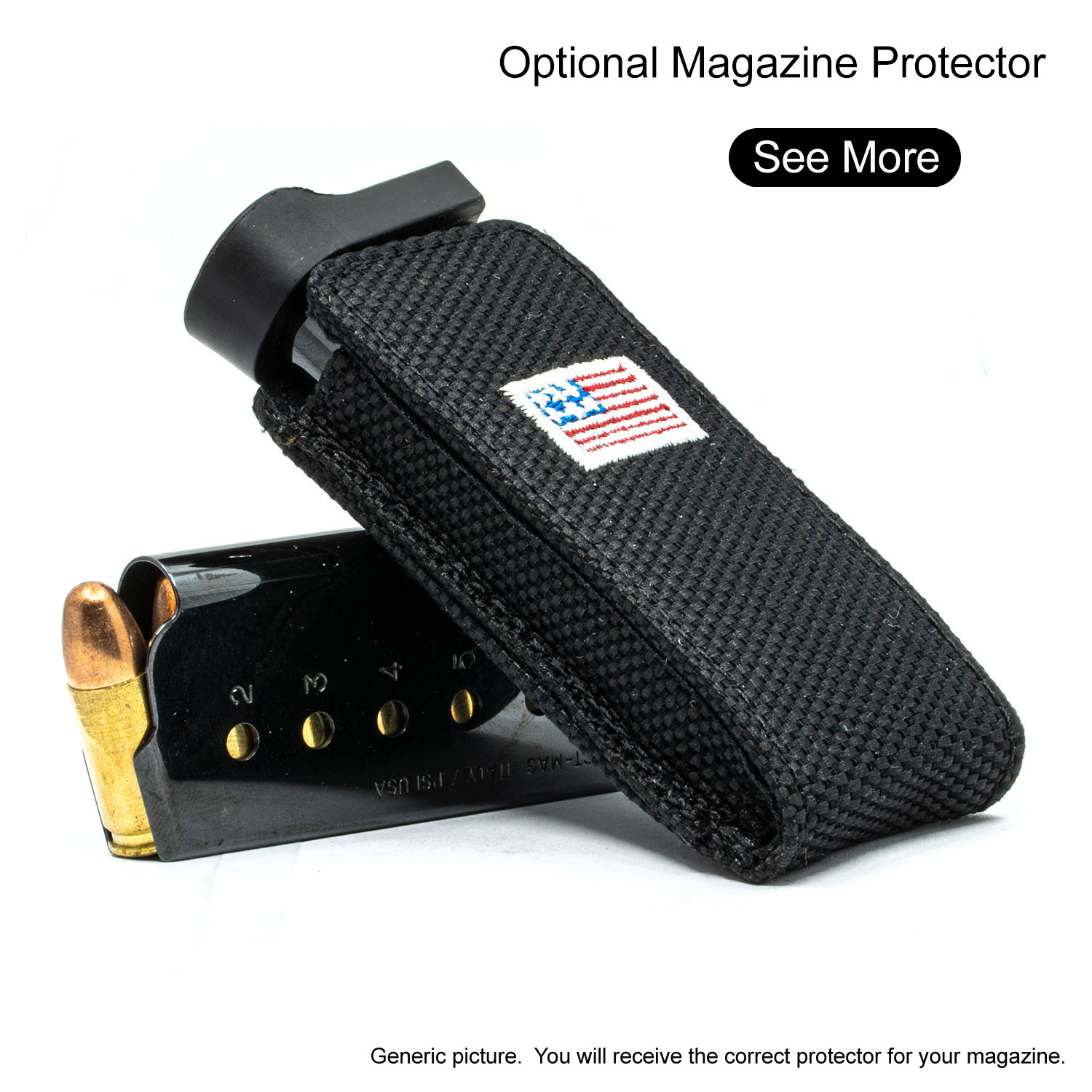 Other Details
Please contact us for warranty and exchange requests.
Custom Field
Approx Internal Dimensions
Height 6 2/8" Width 5" Depth 1 1/8" (flush base magazine holster)
Product Reviews
I had a great experience. Both with exchange and final product. Very quality

SIG SAUER P250 SUB COMPACT SNEAKY PETE HOLSTER (BELT CLIP)

Excellent concealed carry holster that looks like I am carrying smart phone, battery charger, and wallet. In fact I do carry these things inside it every so often so outsiders see me drag them out, otherwise my pistol is there. If I'm not using the holster for the weapon I have it in a inside pants holster. Highly recommend. Excellent product, well made, reasonable price.

fantastic idea very useful

I only have one suggestion, make it reversible. Fix it where you can snap out the liner and go from left to right by simply reversing it. That would be very helpful because sometimes you need it on one side, and sometimes you need to reverse it.

It's a slightly tighter fit than I expected, but I'm happy with it. It doesn't move around inside the holster, easy to draw. The belt clips are extremely strong. It's a bit slow to holster my firearm because the mag wants to catch the edge but that's OK by me.

Sig Sauer Compact P250 CC Holster

my Sig compact fits perfectly without the mag but with the mag in its a little tight space wise. Other than that the case is very well made and is great for conceal carry.

Sneeky Pee for my Sig 250SC

It is a well made and comfortable to wear holster. I found it easy to access and withdraw the firearm. It is a perfect solution when your wearing t shirts and such.

Love this holster. People still feel unconfortable with seeing guns out in the open, in public. Now I can feel safe and people stop staring at me. I have had a couple of comments that it is the biggest phone case they have ever seen. I smile and say..."I talk a lot"

The Sneaky Pete is a great product! I comfortably carry my Sig every where every day.

Let' talk about the single motion draw!

I have written other Sneaky Peat reviews with the usual praise of the superior comfort, style, construction, invisibility and USA built quality. What I have neglected is how quickly your weapon can be produced. And I tongue-in-cheek blame SP for not making a video address this top selling point. With very little practice you can out-draw and more accurately come to a shooting position than you can with almost any other CW holsters. I have been challenged by IWB holster owners, under arm tee shirt and even open carry crowd. SP as won them all over. The one motion draw is amazingly safe (the trigger is covered; you will never shot yourself in the foot or leg). If your SP holster is under a shirt, jacket, or open like a cell phone, the draw is the same with your strong hand naturally & nonthreatening on your strong side – no reach across or around your body (a 'dead' giveaway, and a time consuming tell, that you are pulling a gun!). The SP draws starts with a strong hand positioned at your side with your 2 middle fingers bent slightly inward. No matter what you are wearing – your single motion draw is straight up using your thumb to open the flap and simultaneously lifting any clothing out of the way, cup the pistol-grip with your 2 middle fingers, lifting your weapon out of the holster and once out of the holster grip as you normally would. I can do it in about ½ second with my Sig 238 sub compact. No other holster lets you come to a shooting position in one smooth movement. Buy one, try it, practice practice practice! You will wonder why you used any other concealed carry system. jus' sayin...