Product Description
The Sig Sauer P239 Sneaky Pete Holster has sewn belt clips which can accommodate a belt up to 1.75" inches wide. The holster is made of high quality soft leather, and when worn on the belt resembles a cell phone case. The advantage of this design is that it allows you to carry your P239 concealed, but with full and easy access. Now it's possible to wear whatever you want, whenever you want to. Don't dress around your gun anymore.

The holster is made inside and out of glove-quality leather, and uses two magnets to stay closed. Each holster is designed for your specific firearm, and the opening is made in such a way that you cannot accidentally place your finger on the trigger during draw. The Kydex insert ensures that a smooth, silent draw occurs every time.

The use of double stitching and steel rivets guarantees that this holster will last for years to come. All available options are listed above, and the holster can be ordered either with the belt loop, or optional belt clip. We design every holster to be as small as possible and still fit your pistol. Please make sure that you are using the same magazine as the one pictured, as the holster will not fit an extended magazine.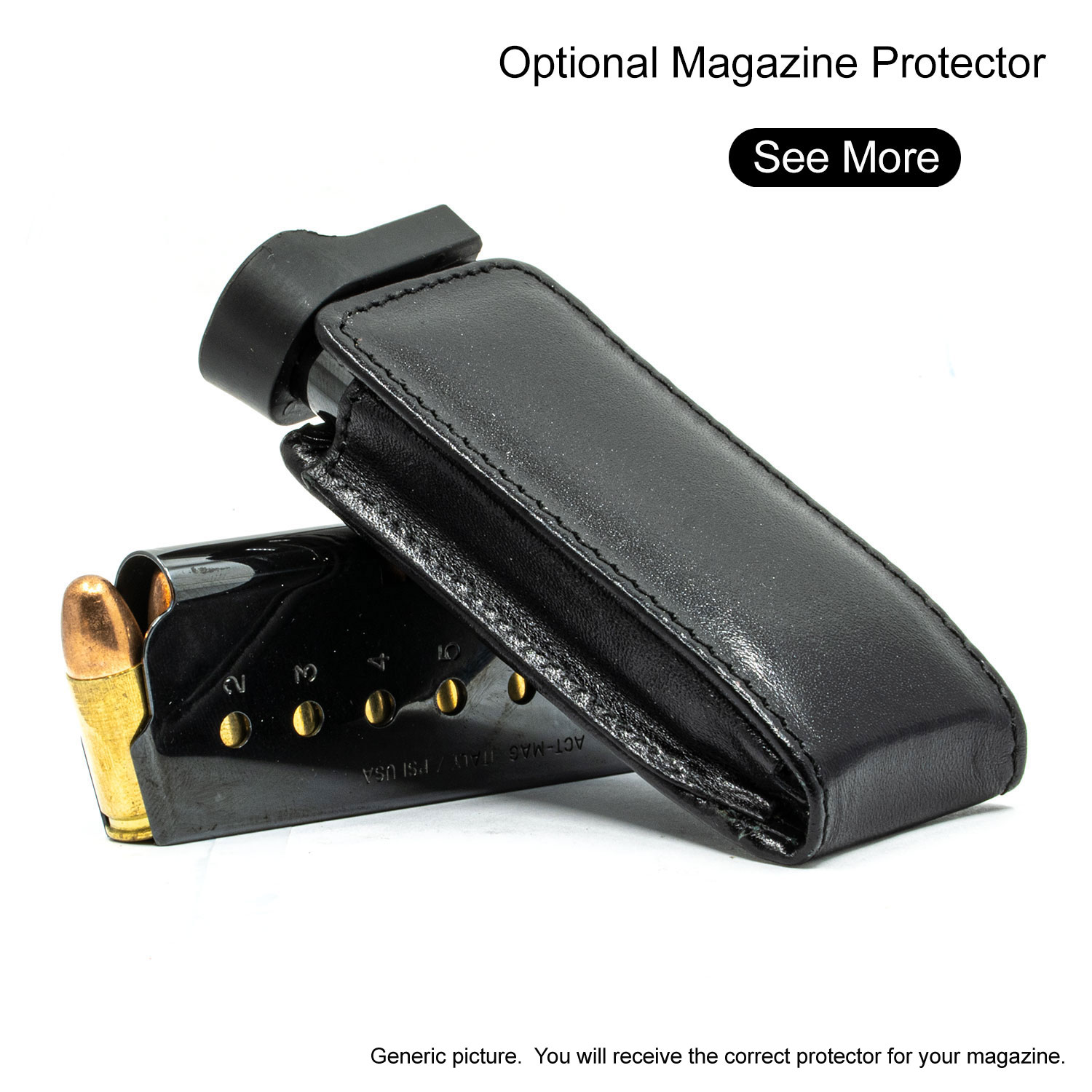 Other Details
Please contact us for warranty and exchange requests.
Product Videos
Custom Field
Approx Internal Dimensions
Height 7" Width 5 1/2" Depth 1 3/8" (flush base magazine holster)
Product Reviews
Requested a Sneaky Pete holster for a Charter Arms "Boomer'. By providing the pistol's dimensions, to Sneaky Pete, the holster for the Sig Sauer P239 was recommended. Perfect fit. Thanks.

Service was great in helping find the holster to fit the TX22. I have used Sneaky Pete for another pistol for years. Went with Belt loop this time. Like it much better. Definitely recommend either.

P-239 Black Leather Holster

Well made. Clips securely to my belt. Conceals my Springfield Armory 40 cal. 1911. Easy to access and draw the weapon. Allows me to tuck in my shirt. Haven't yet had one person ask about that "thing " on my hip. Recommend strongly.

Great quality holster my pistol fits nice and snug in it and is comfortable to wear nobody knows what it is

I'm looking into buying another pistol and probably will be buying another one in your Sneaky Pete Holsters and maybe even a belt depending on my finances

Repeat customer. Great quality and service

SIG SAUER P239 BLACK LEATHER HOLSTER

After searching for a black leather holster for my Springfield Armory EMP3 which does not use flush bottom magazines, I worked with the Support staff at SneakyPete. They suggested I look at the P239 holster, which, size-wise, would carry my EMP3 easily. I purchased the black leather holster for a P239, got it in the mail yesterday, and wore it to church last night (I am the Chairman of the Safety and Medical groups at our church). It was comfortable, easy to attach to my belt, and I hardly knew I was carrying it, even with my firearm inside. My EMP3 fit snug, and acted like the holster was meant for my firearm. If you need assistance in the purchase of a product at Sneaky Pete, I highly recommend contacting their support group who are very knowledgeable about their products. I recommend SneakyPete to anyone looking for a comfortable holster to carry every day.

I have a Sig p227 and this holster fits just right with my pistol. Very happy/satisfied with this product. Thank you very much!

After consulting with Sneaky Pete about a holster for my HK45C, which wasn't listed, based on my measurements they suggested I try the Sig P239. It was closest to the right size. When it came it was a little loose on the muzzle end. I mounted a laser on the picatinny rail and the HK fit perfectly. I had purchased from Sneaky Pete for other pistols and have been VERY pleased and impressed with the quality. Great outfit!

I received this holster after a slight delay. I guess it should be expected with everything going on in the world these days. It's much better quality than I hoped. The pictures don't do it justice.