Product Description
We offer two holsters for this gun. One is designed for the use with the standard flush 6 round magazine and one for the extended 7 round magazine shown in the above picture. IF you use the 7 round extended magazine listed, you must choose "pinky Extender" in the option for Magazine in order for this configuration to fit correctly in our holster. (for a proper fit please be sure that your extended magazine look exactly like ours) NO other variation will work.
The Sig Sauer P938 Sneaky Pete Holster has sewn belt clips which can accommodate a belt up to 1.75" inches wide. The holster is made of high quality soft leather, and when worn on the belt resembles a cell phone case. The advantage of this design is that it allows you to carry your Sig concealed, but with full and easy access. Now it's possible to wear whatever you want, whenever you want to. Don't dress around your gun anymore.

The holster is made inside and out of glove-quality leather, and uses two magnets to stay closed. Each holster is designed for your specific firearm, and the opening is made in such a way that you cannot accidentally place your finger on the trigger during draw. The Kydex insert ensures that a smooth, silent draw occurs every time.

The use of double stitching and steel rivets guarantees that this holster will last for years to come. All available options are listed above, and the holster can be ordered either with the belt loop, or optional belt clip. We design every holster to be as small as possible and still fit your pistol.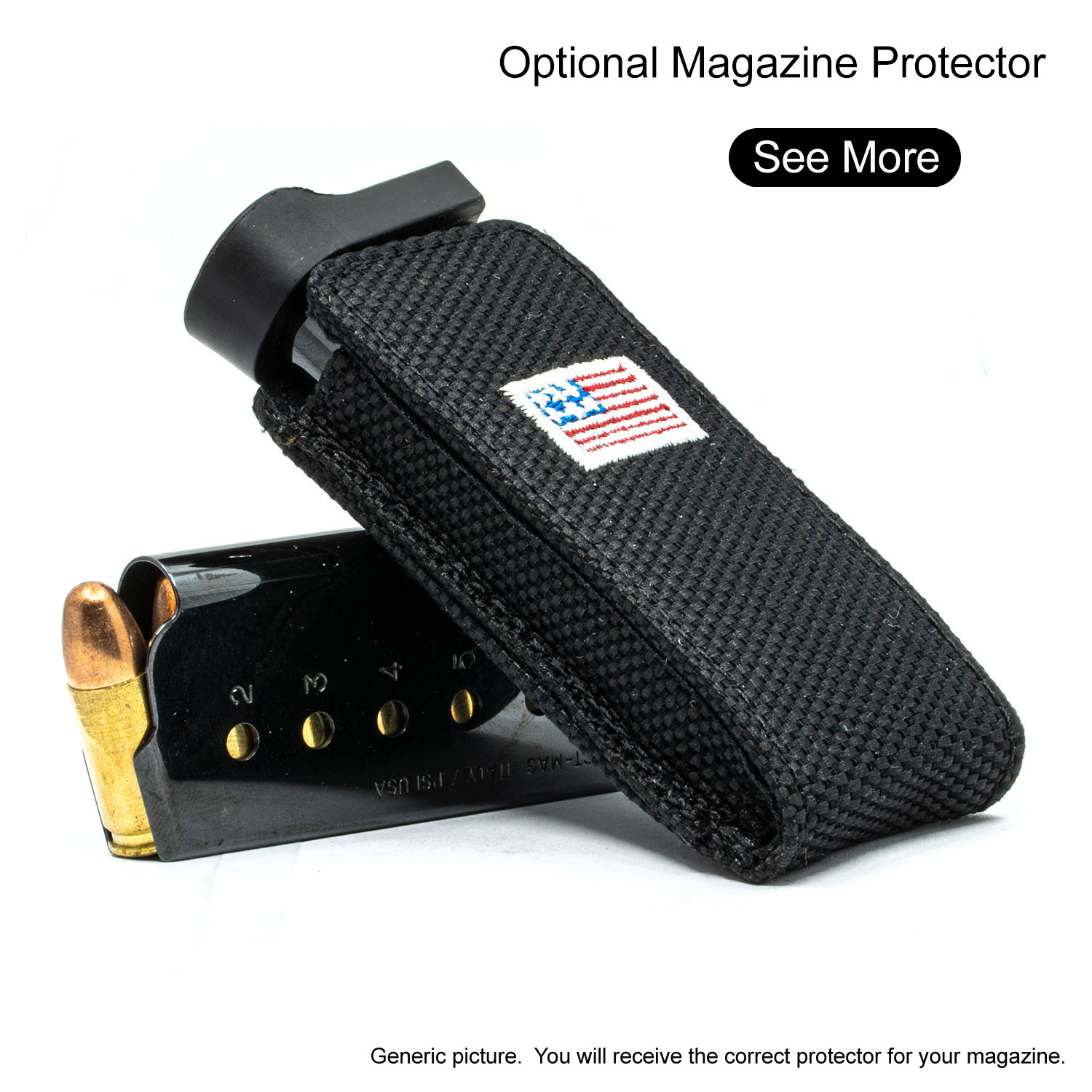 Other Details
Please contact us for warranty and exchange requests.
Custom Field
Approx Internal Dimensions
Height 5 3/4 Width 4 1/8 Depth 1 1/8 (flush base magazine holster)
Approx Internal Dimensions
Height 5 3/4 Width 4 5/8 Depth 1 1/4 (extended magazine Holster)
Product Reviews
Fits perfect on the side of my RAM console I no longer need to throw a rag over my pistol when I go into a store any more.

Overall it works well at doing what it is designed to do. It's bigger than you want it to be, but it is as small as it possibly can be. I wear it with an untucked shirt and at most only a corner of it is visible. Not enough to draw any questions or concerns from people around me. It is going to partially block either your front and/or back pocket. No way around that. The belt clips are super strong. So much so that they are hard to use. No chance of sliding this on my belt when wearing my pants. At least not without the help of another person. I've found I have to thread my belt and then clip the holster onto it before putting on my pants. Having 2 clips like it does is probably the way to go. But I think with a single clip I could easily put it on after I'm dressed. Plus I'd have more options with placement. With 2 clips and the belt loops you cannot adjust it very much. It appears to be very well made and the gun fits perfectly without any movement whatsoever. It's not quite as easy to use as I was expecting. But having learned some tricks, I will definitely continue to use it without concern of someone knowing I'm carrying.

This holster fits the Kimber Micro .380 with extended mag perfectly. While they make one specifically for that gun, it is for the standard mag. After sending gun dimensions to the company, they suggested this Sig P938, and it's great. Also VERY comfortable to wear...much more than an IWB holster. Will be carrying much more often because of it. Really a perfect carry solution for those who can't stand IWB, like me.

Sig p938 Sneaky Pete holster

I bought this holster for my father. Je has a Kimber Micro 9 STG with comfort grips. I was sure if the holster they had for the Kimber Micro 9 would fit because of the comfort grip. We was able to this one that fits it perfectly. My father love the holster; it more comfortable than other concealable holster on the market.

all is well

Sneaky Pete holster w/ belt clip

Excellent material quality, stitching, and riveting. My P938 fits snugly and yet is easy to pull out. Exactly as advertised.

Great product and service, however the return policy is not very good

Just like the other two holsters I've ordered, very pleased! Customer service is great and the product can't be beat!!!

Works great. My summer attire is shorts and a tank top so a conventional hoster won't work. I even took an FBI qualifying course and used this holster. With some practice, you can draw fairly fast.