Product Description
We offer two holsters for this gun. One is designed for the use with the standard flush 6 round magazine and one for the extended 7 round magazine shown in the above picture. IF you use the 7 round extended magazine listed, you must choose "pinky Extender" in the option for Magazine in order for this configuration to fit correctly in our holster. (for a proper fit please be sure that your extended magazine look exactly like ours) NO other variation will work.
The Sig Sauer P938 Sneaky Pete Holster has sewn belt clips which can accommodate a belt up to 1.75" inches wide. The holster is made of high quality soft leather, and when worn on the belt resembles a cell phone case. The advantage of this design is that it allows you to carry your Sig concealed, but with full and easy access. Now it's possible to wear whatever you want, whenever you want to. Don't dress around your gun anymore.

The holster is made inside and out of glove-quality leather, and uses two magnets to stay closed. Each holster is designed for your specific firearm, and the opening is made in such a way that you cannot accidentally place your finger on the trigger during draw. The Kydex insert ensures that a smooth, silent draw occurs every time.

The use of double stitching and steel rivets guarantees that this holster will last for years to come. All available options are listed above, and the holster can be ordered either with the belt loop, or optional belt clip. We design every holster to be as small as possible and still fit your pistol.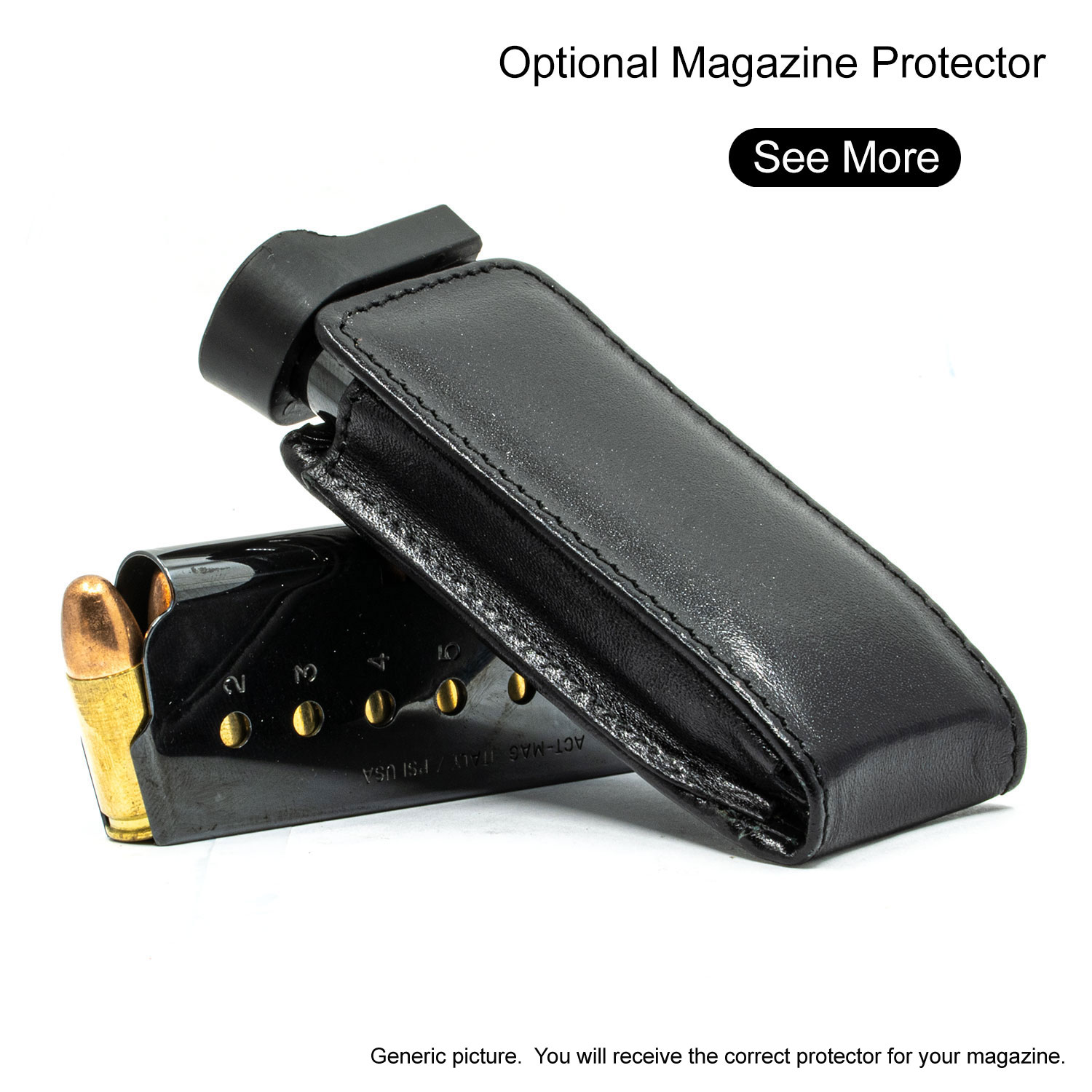 Other Details
Please contact us for warranty and exchange requests.
Product Videos
Custom Field
Approx Internal Dimensions
Height 5 3/4 Width 4 1/8 Depth 1 1/8 (flush base magazine holster)
Approx Internal Dimensions
Height 5 3/4 Width 4 5/8 Depth 1 1/4 (extended magazine Holster)
Product Reviews
The holster is well made with quality products…but way too large for me the wear inconspicuously! I will not be able to wear on my belt. I have tucked it back in the safe hoping t find so use for it!

Well made with quality materials but the size makes it useless to me!

I am very pleased with the quality of the product

I wish there was a list of other pistoled that would fit in this holster. I have several other pistols and it would help me select additional products if I knew it would fit several guns.

It was actually larger than anticipated, but the pistol fits well and is easily accessed. The first time I used it, everyone was surprised at it being a holster.

Referred Sneaky Pete to a friend, who said he would order right away.

Better Quality than expected

I bought two of these holsters. They both fit my Sig 938 perfectly. The quality of the leather and the craftsmanship are Spot On!!! Highly recommend!

Love this holster for my Sig 938. I have never found an inside the waistband holster that was comfortable for this pistol. Sneaky Pete is very secure and unobtrusive. I literally forget I am wearing it until I put on seat belt.

it does what it is supposed to do

The as I saw in americas first freedom had a holster that held a phone, flashlight, and a knife. That 's what I thought I was getting. I didn't realize that when I opted for leather I wouldn't get those. I was somewhat dissapointed.

Overall, this is a great concealed holster. Pros: Easy to manage, lightweight yet very durable, simple flap to draw, black leather goes well with any fashion. Cons: When having to go to the bathroom, the holster opens upside down which is not a good thing. Sneaky Pete could try a button snap or two to prevent this from occurring. I've been using the same concealed holster for the past 5 years of daily wear and have no complaints other than the loosening of the belt in the bathroom or bedroom with the handgun slipping out. Thank you.

Nice, I think it will work for me

This holster surpassed my expectations. A lot of thought was put into this holster, with the quality and design like no other. Everyone I come in contact with love it.