Product Description
Our Sig P365 Holster has THREE IMPORTANT MAGAZINE OPTIONS. For the best fit, it is important to be aware of the difference and choose accordingly, as the width of each holster is different. Our smallest holster for the Sig p365 is the 10 round flush magazine, but will not fit a 10 round factory magazine with a pinky extender, or the 12 round extended magazine. Well, we are sure you see where we are going with this! Size matters.
Our Sig p365 Signature Concealed Carry belt Clip Holsters has two sewn belt clips which can accommodate a belt up to 1.75" inches wide. The holster is made of high quality soft leather, and when worn on the belt resembles a cell phone case. The advantage of this design is that it allows you to carry your P365 concealed, but with full and easy access. Now it's possible to wear whatever you want, whenever you want to. Don't dress around your gun anymore.

The holster is made inside and out of glove-quality leather, and uses two magnets to stay closed. Each holster is designed for your specific firearm, and the opening is made in such a way that you cannot accidentally place your finger on the trigger during draw. The Kydex insert ensures that a smooth, silent draw occurs every time.

The use of double stitching and steel rivets guarantees that this holster will last for years to come. All available options are listed above, and the holster can be ordered either with the belt loop, or optional belt clip. We design every holster to be as small as possible and still fit your pistol.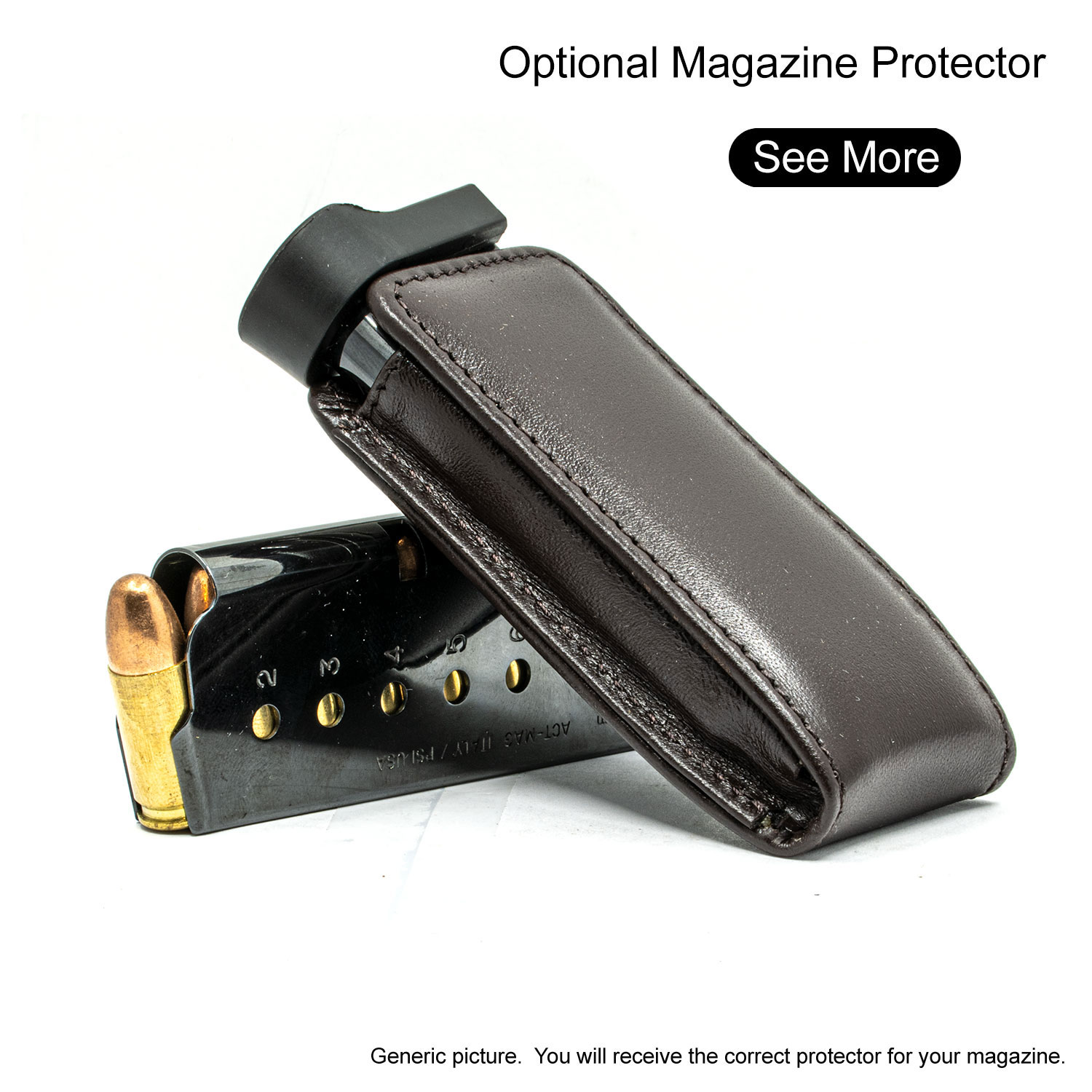 Other Details
Please contact us for warranty and exchange requests.
Product Videos
Custom Field
10 Round Flush (approx. dimensions)
Height 5 3/4" Width 4 3/8" Depth 1 1/8
10 Round Extended (approx. dimensions)
Height 5 3/4 Width 4 5/8 Depth 1 1/8
12 Round Extended (approx. dimensions)
Height 5 3/4 Width 5 Depth 1 1/8
Product Reviews
It is a beautiful holster and well made. Since we have it in black we are equally pleased with the brown.

Nice but clips to small for hanks bison belt

As a ret. cop, I only carry when I can fully conceal, but hot weather and wearing T-shirts made such difficult UNTILL my several purchases of this product. Folks would assume I'm merely carrying a "device" and this very wearable/comfortable and (now) EASILY accessed pistol carrier is the ONLY viable solution I'll consider! larryXcop

Very satisfied with the quality of the holster. Fits the firearm perfectly.

I believe the only hope for this world is "Jesus Christ." But, there is "evil" in this world and until time ends I will say - when seconds count the police are minutes away. Excellent product for concealed carry.

Love this holster , looks stylish. No one had asked me what I was carrying so far. Guess everybody thinks it's a cell phone case. Enjoy not having to wear a jacket to conceal it on warmer days. Functions very smoothly also. Very good product. Now I can carry concealed and no one will notice. Proud to be able to excercise my 2nd Ammendment right. Joe Biden can kiss my conservative right wing ASS.

I really like this holster. I open side carry full time but always pocketed my 365 when in a store for fear of frightening people. This holster eliminates that action. If ask, I tell people it is an emergency medical devise. Which it is. Excellent quality.

Fit my gun perfectly and is well made..

SIG P365 BROWN LEATHER SERIES HOLSTER

The SP is worn on my left side for right hand cross-draw. For use in a car, an SP with belt loops works best when worn to the door side. That is, worn on left side when driving, and on the right side when riding as passenger. The seat belt will then pass between my body and the lower portion of the SP. This is the most comfortable location in a car, and also permits the pistol to be drawn. I don't recommend wearing an SP towards the center of a car as that is where the seat belt clips in. If you want/need to wear a holster on your right side then the SP with belt clips will permit removing it for driving. This is my second identical SP. This is not because the first wore out, but because I like to keep one belt looped to a pair of pants and another belt looped to a pair of shorts during periods when outdoor temperatures vary a lot, such as spring and fall. The SP is my first choice for carrying as it is comfortable and doesn't look like a gun holster.

Just got my P365 left handed brown leather holster. I have holsters from Vega in Italy. And De Santis, USA. You're right there with them!. So, thankyou.