Product Description
Our Sig P365 Holster has THREE IMPORTANT MAGAZINE OPTIONS. For the best fit, it is important to be aware of the difference and choose accordingly, as the width of each holster is different. Our smallest holster for the Sig p365 is the 10 round flush magazine, but will not fit a 10 round factory magazine with a pinky extender, or the 12 round extended magazine. Well, we are sure you see where we are going with this! Size matters.
Our Sig p365 Signature Concealed Carry belt Clip Holsters has two sewn belt clips which can accommodate a belt up to 1.75" inches wide. The holster is made of high quality ballistic nylon, and when worn on the belt resembles a cell phone case. The advantage of this design is that it allows you to carry your P365 concealed, but with full and easy access. Now it's possible to wear whatever you want, whenever you want to. Don't dress around your gun anymore.

The holster is made inside and out of ballistic nylon, and uses two magnets to stay closed. Each holster is designed for your specific firearm, and the opening is made in such a way that you cannot accidentally place your finger on the trigger during draw. The Kydex insert ensures that a smooth, silent draw occurs every time.

The use of double stitching and steel rivets guarantees that this holster will last for years to come. All available options are listed above, and the holster can be ordered either with the belt loop, or optional belt clip. We design every holster to be as small as possible and still fit your pistol.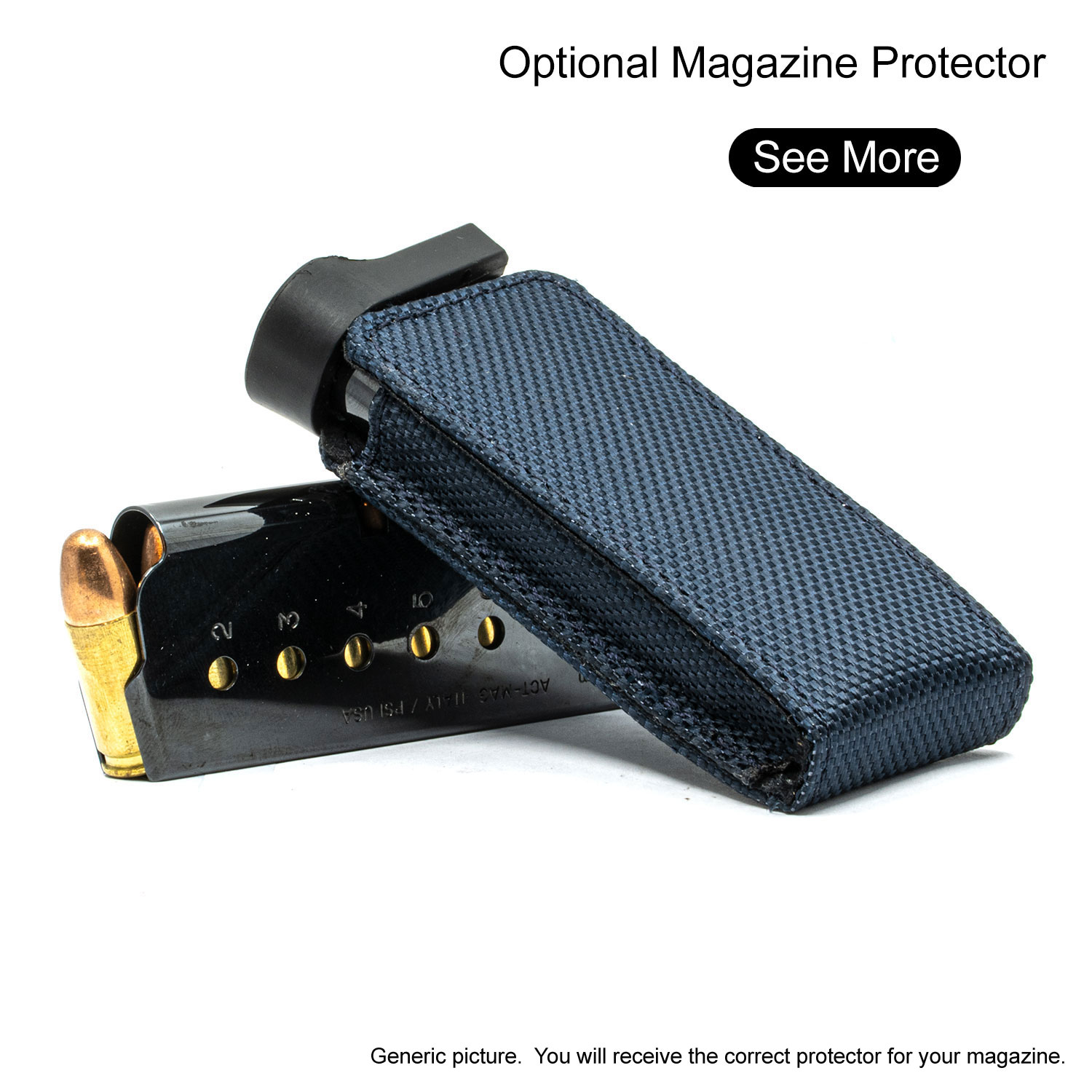 Other Details
Please contact us for warranty and exchange requests.
Product Videos
Custom Field
10 Round Flush (approx. dimensions)
Height 5 3/4" Width 4 3/8" Depth 1 1/8
10 Round Extended (approx. dimensions)
Height 5 3/4 Width 4 5/8 Depth 1 1/8
12 Round Extended (approx. dimensions)
Height 5 3/4 Width 5 Depth 1 1/8
Product Reviews
Holster with Medic emblem

Absolutely the best covert holster I could own. Nobody suspects that I'm carrying at all and if they ask what it is I have I have a good answer. Since I have a pacemaker I deflect their question by showing my scar and telling them that it is a handheld wireless device (true) that helps me to keep my heart beating in certain circumstances. (Also true). End of conversation! I'm on my 3rd holster. They do wear out a bit sooner than expected.

Very secure holster. It allows concealed carry in plain sight. Drawing is easy and quick.

SIG P365 BLUE COVERT SERIES HOLSTER FOR PINKY EXT.

I ordered the holster for the P365 w/pinky ext. I was mistakenly sent the one for the pistol with the normal flat bottom mag. I contacted them & they sent me the correct holster and a pre-paid envelope to return the first one. Great customer service and the second holster they sent was a perfect fit for my SIG. Great fit, good looking, well made and no one suspects what it really is. This was my second holster purchase from them. Earlier I had purchased the power pack one for my S.A. XDs .45 and it was a perfect fit and I was happy with it, too.

Sneaky Pete Covert Series Holster

I love this holster. It doesn't look like a holster, conceals your weapon, yet makes your weapon accessible. It is comfortable to wear. Brilliant idea. I bought the belt-loop model, which keeps it snug to the belt. Good materials, great customer service. I recommend this Sneaky Pete holster. If you have a P365XL make sure you specify that when you order. They make the holsters specific for each model, length, width, etc.

Sneaky Pete Covert for P365

A high quality, well made holster for P365. I wish the clips allowed it to ride a little higher.

Holster with Medic emblem

Had one for a couple of years and it started showing wear. Bought another one just like it but able to hold bigger magazines. Still using the old one to hold 3 spare mags. Perfect 'grey man' holster. Nobody looks twice, even law enforcement. They just assume it is medical equipment.

Zig P365 Blue Covert Series Holster

Great!

I came across this on the internet when browsing. Sounded like a great idea so I ordered it for my Sig P365 that I carry all the time. I've had all kind of different holster types, mostly inside the waistband types. None are comfortable. This seemed like a good idea so I thought I'd order it and give it a try. I wasnt disappointed one bit. It's comfortable to wear because of being outside the waist band and very easy to use if the need should be. So far no one has questioned me because I did get the one with the medical emblem. It fits my Sig perfectly. If I was questioned about what it was I would just say I'm on medication and that's what's I'm carrying. Thankfully I'm not, but I think it would sound pretty good.

I am 72 years old and concealed carried for four decades, first 25 years with U.S. government overseas in Central America and the Southern Philippines; and as a civilian thereafter. While I do have an inside the waste band and pocket carry holsters, this one is perfect for me in that when someone sees the medical insignia on it, and sees that I am an old timer, they just think its meds and occasionally bring me to the front of the line. I selected the belt clip variety as sometimes I want to take it off while in the car quicker and in situations that might draw notice if I have to take my belt half off in plain view. My SIG P365 fits perfectly. You will note that this holster comes in two sizes, one for standard 10 round magazines and one for 12 round magazines. If you buy a Pierce magazine extender for your 10 round magazine, you WILL need the 12 round case as the Pierce extender (which I love) sticks out too far for the 10 round holster. A great product and GREAT CUSTOMER SERVICE AFTER THE SALE!, which is unusual in most companies. BETH, GILLY and NICHOLAS are standouts and GREAT Ambassadors for CONCEALCARRY.