Product Description
Our Sig P365 Holster has THREE IMPORTANT MAGAZINE OPTIONS. For the best fit, it is important to be aware of the difference and choose accordingly, as the width of each holster is different. Our smallest holster for the Sig p365 is the 10 round flush magazine, but will not fit a 10 round factory magazine with a pinky extender, or the 12 round extended magazine. Well, we are sure you see where we are going with this! Size matters.
Our Sig p365 Signature Concealed Carry belt Clip Holsters has two sewn belt clips which can accommodate a belt up to 1.75" inches wide. The holster is made of high quality soft leather, and when worn on the belt resembles a cell phone case. The advantage of this design is that it allows you to carry your P365 concealed, but with full and easy access. Now it's possible to wear whatever you want, whenever you want to. Don't dress around your gun anymore.

The holster is made inside and out of glove-quality leather, and uses two magnets to stay closed. Each holster is designed for your specific firearm, and the opening is made in such a way that you cannot accidentally place your finger on the trigger during draw. The Kydex insert ensures that a smooth, silent draw occurs every time.

The use of double stitching and steel rivets guarantees that this holster will last for years to come. All available options are listed above, and the holster can be ordered either with the belt loop, or optional belt clip. We design every holster to be as small as possible and still fit your pistol.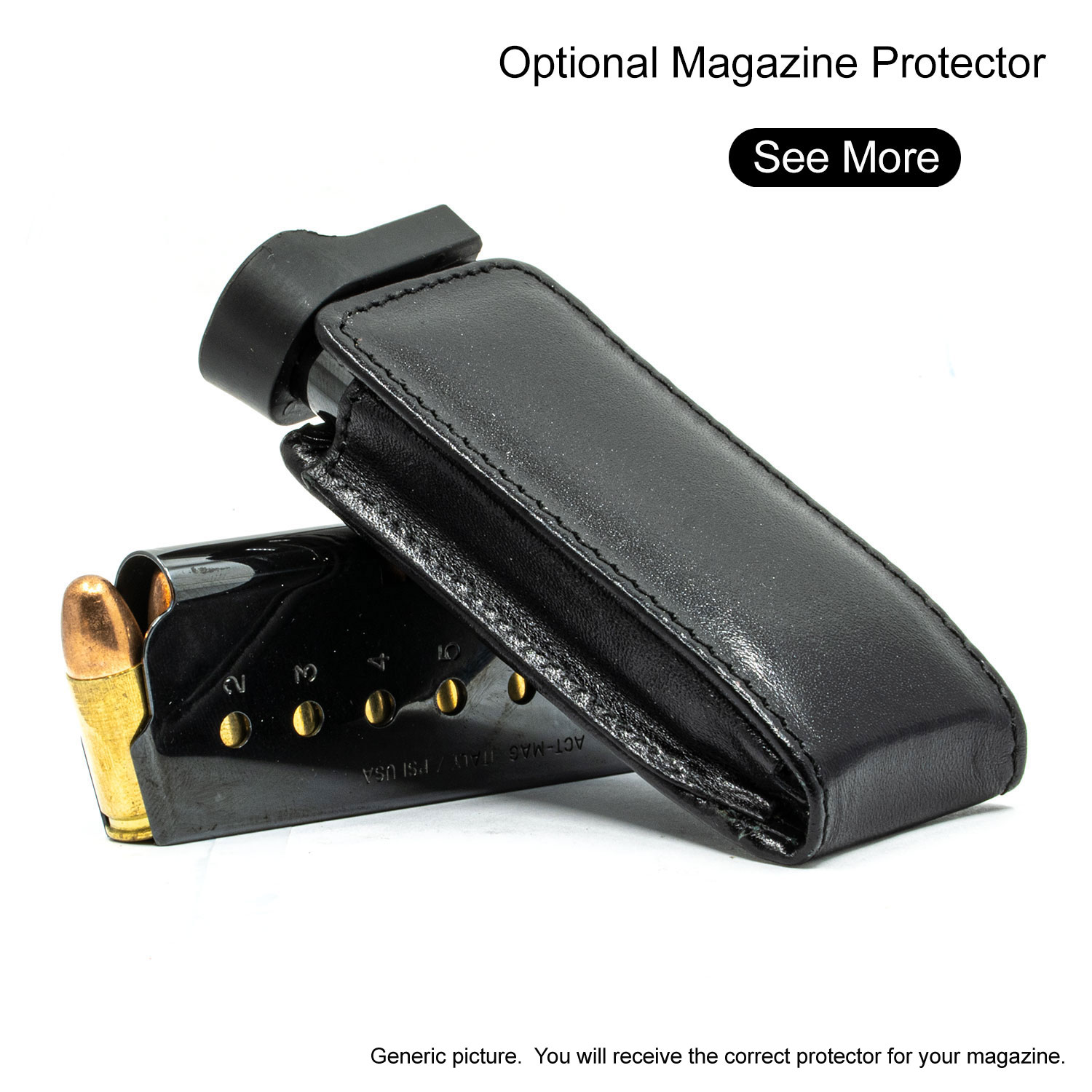 Other Details
Please contact us for warranty and exchange requests.
Product Videos
Custom Field
10 Round Flush (approx. dimensions)
Height 5 3/4" Width 4 3/8" Depth 1 1/8
10 Round Extended (approx. dimensions)
Height 5 3/4 Width 4 5/8 Depth 1 1/8
12 Round Extended (approx. dimensions)
Height 5 3/4 Width 5 Depth 1 1/8
Product Reviews
Great product. Well made and holds the pistol firmly yet still allows for a "quick draw." The flap is firmly held in place and when closed, the holster with gun inside resembles a cell phone case. This makes it something that does not attract attention. It has two belt clips on the back and is very comfortable to wear for extended times, whether seated or upright. I highly recommend this product for all those who want an easy to use, comfortable and well made concealed carry holster.

Have put this holster through a few years of rough treatment and hard use. Believe me it has been soaked ,muddy, scraped, and generally abused. Only problem was the magnets would not hold the flap closed at times. I solved this with a very small piece of "Valcro". I would recommend "Sneaky Pete" above all else.

A lot bigger than I thought it would be, I still like it and will use it mostly in warm weather.

Excellent holster and customer service was great. The weapon fits perfectly. Only complaint is that they have no Telephone numbers for customer service. Everything is handled over email.

Very pleased with the craftsmanship and product.

It is the best holster I have ever bought.

It's great normal people don't have any idea that it isn't a cellphone

Very nicely finished and the pistol fits perfectly and is easily accessed

SIG P365 BLACK LEATHER HOLSTER

I work in 'business dress' clothing, with shirt tucked in and have been looking for a suitable concealed carry holster where the my Sig P365 would not be sticking out of my waistband. This holster does the trick. It fits the weapon perfectly and is easy to access. It looks much like a battery pack I sometimes wear during event photography. It is a bit bulky and you have to watch it when sitting down, etc., but it does the job. It would be nice if it conformed a bit to the shape of the P365, but it is serviceable. The magnets in the cover keep everything secure. The workmanship is outstanding. I bought the matching cell phone case so it would look more in place. Great item.