Product Description
Our Sig P365 Holster has THREE IMPORTANT MAGAZINE OPTIONS. For the best fit, it is important to be aware of the difference and choose accordingly, as the width of each holster is different. Our smallest holster for the Sig p365 is the 10 round flush magazine, but will not fit a 10 round factory magazine with a pinky extender, or the 12 round extended magazine. Well, we are sure you see where we are going with this! Size matters.
Our Sig p365 Signature Concealed Carry belt Clip Holsters has two sewn belt clips which can accommodate a belt up to 1.75" inches wide. The holster is made of high quality soft leather, and when worn on the belt resembles a cell phone case. The advantage of this design is that it allows you to carry your P365 concealed, but with full and easy access. Now it's possible to wear whatever you want, whenever you want to. Don't dress around your gun anymore.

The holster is made inside and out of glove-quality leather, and uses two magnets to stay closed. Each holster is designed for your specific firearm, and the opening is made in such a way that you cannot accidentally place your finger on the trigger during draw. The Kydex insert ensures that a smooth, silent draw occurs every time.

The use of double stitching and steel rivets guarantees that this holster will last for years to come. All available options are listed above, and the holster can be ordered either with the belt loop, or optional belt clip. We design every holster to be as small as possible and still fit your pistol.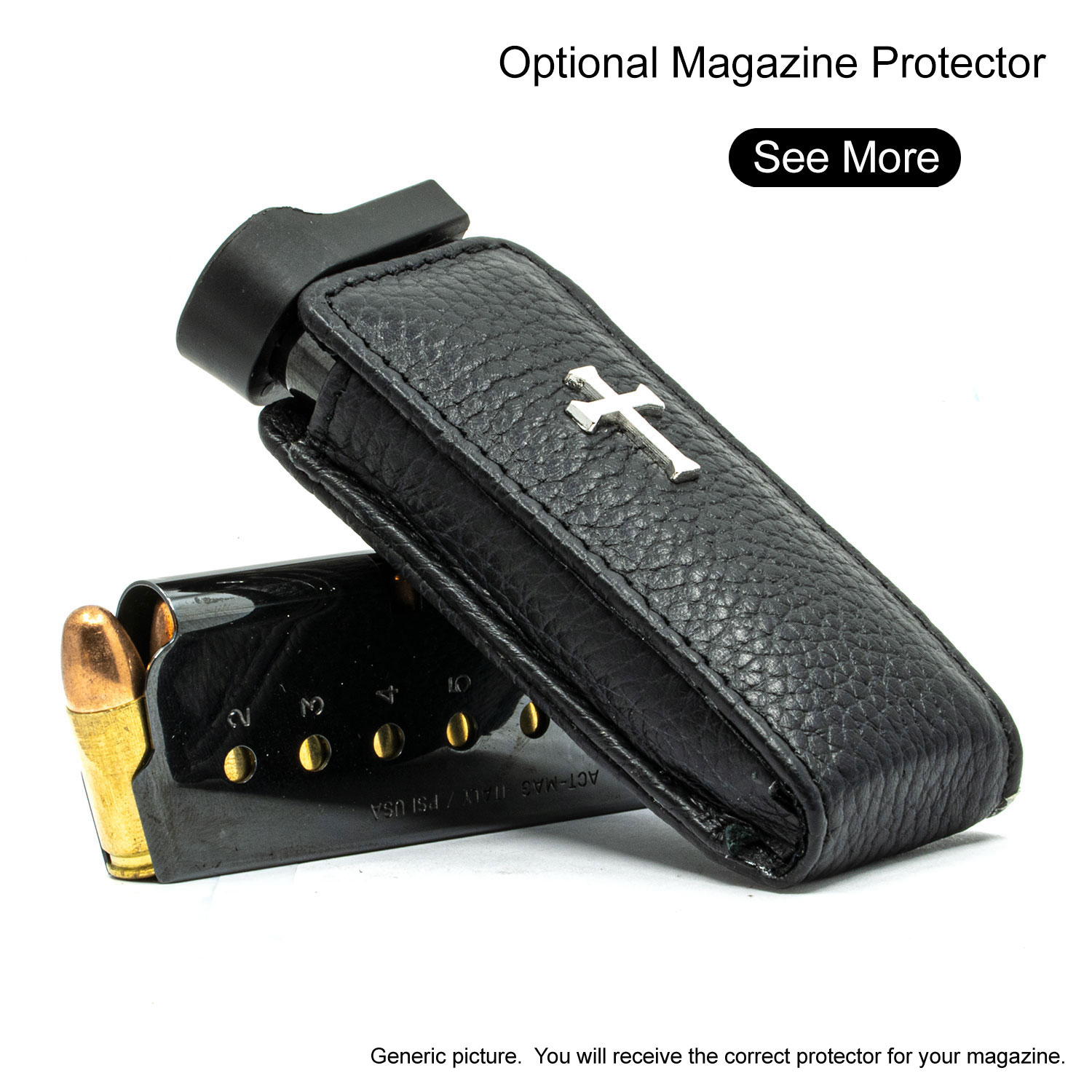 Other Details
Please contact us for warranty and exchange requests.
Product Videos
Custom Field
10 Round Flush (approx. dimensions)
Height 5 3/4" Width 4 3/8" Depth 1 1/8
10 Round Extended (approx. dimensions)
Height 5 3/4 Width 4 5/8 Depth 1 1/8
12 Round Extended (approx. dimensions)
Height 5 3/4 Width 5 Depth 1 1/8
Product Reviews
Ordered black leather cross holster

This holster fits my P365 SAS perfectly. The gun does not rattle while inside the holster and the holster looks classy. I am very pleased with my purchase.

Black leather cross holdter

I like the discrete handsome look of this holster. The fit is perfect. Very nice workmanship!

P365 leather cross holster

Love this ... most don't know what it is and those that do know what it is don't mind.

Very comfortable and really secure on your belt. Does not draw alot of attention. Would highly recommend.

Hide in plain sight. So far only two people have even mentioned it and they just asked if it was a Bible!

Sig P365 Black Leather Cross Series Holster

This holster is beautifully crafted and really well made, high quality, fits the Sig well, magnetic closure is right, would recommend.

Black Leather Holster with Cross

I am very pleased with this holster. It was somewhat expensive but of very good quality and worth the money. It was ordered for my Sig P365 with laser and the gun fit well in this nice holster.

Do not buy from this company this holster is way too big and bulky and there's no way to get in contact with the company! no phone number And they say they have a customer support button but I don't take you anywhere you can't reply to their emails it comes back! it's like they want a one time sell one and done! I want to return this holster I'm not happy With it at all! I cannot recommend this company I think it's a fraudulent company! Do not waste your money you will not be happy! I'm going to have my credit card company charge them back and I'm reporting them to the Better Business Bureau

I'm on the church security detail and it's not always easy to find a way to be a good 'shephard' on Sundays when it comes to carrying my 9mm. Our pastor told us about these holsters and they are just so perfect for church carry that I'm not sure how no one thought of something like this before. Even though the older members of our congregation knows what these are, it makes it so much easier to carry without worrying those who don't.