Product Description
Our Sig P365 Holster has THREE IMPORTANT MAGAZINE OPTIONS. For the best fit, it is important to be aware of the difference and choose accordingly, as the width of each holster is different. Our smallest holster for the Sig p365 is the 10 round flush magazine, but will not fit a 10 round factory magazine with a pinky extender, or the 12 round extended magazine. Well, we are sure you see where we are going with this! Size matters.
Our Sig p365 Signature Concealed Carry belt Clip Holsters has two sewn belt clips which can accommodate a belt up to 1.75" inches wide. The holster is made of high quality ballistic nylon, and when worn on the belt resembles a cell phone case. The advantage of this design is that it allows you to carry your P365 concealed, but with full and easy access. Now it's possible to wear whatever you want, whenever you want to. Don't dress around your gun anymore.

The holster is made inside and out of ballistic nylon, and uses two magnets to stay closed. Each holster is designed for your specific firearm, and the opening is made in such a way that you cannot accidentally place your finger on the trigger during draw. The Kydex insert ensures that a smooth, silent draw occurs every time.

The use of double stitching and steel rivets guarantees that this holster will last for years to come. All available options are listed above, and the holster can be ordered either with the belt loop, or optional belt clip. We design every holster to be as small as possible and still fit your pistol.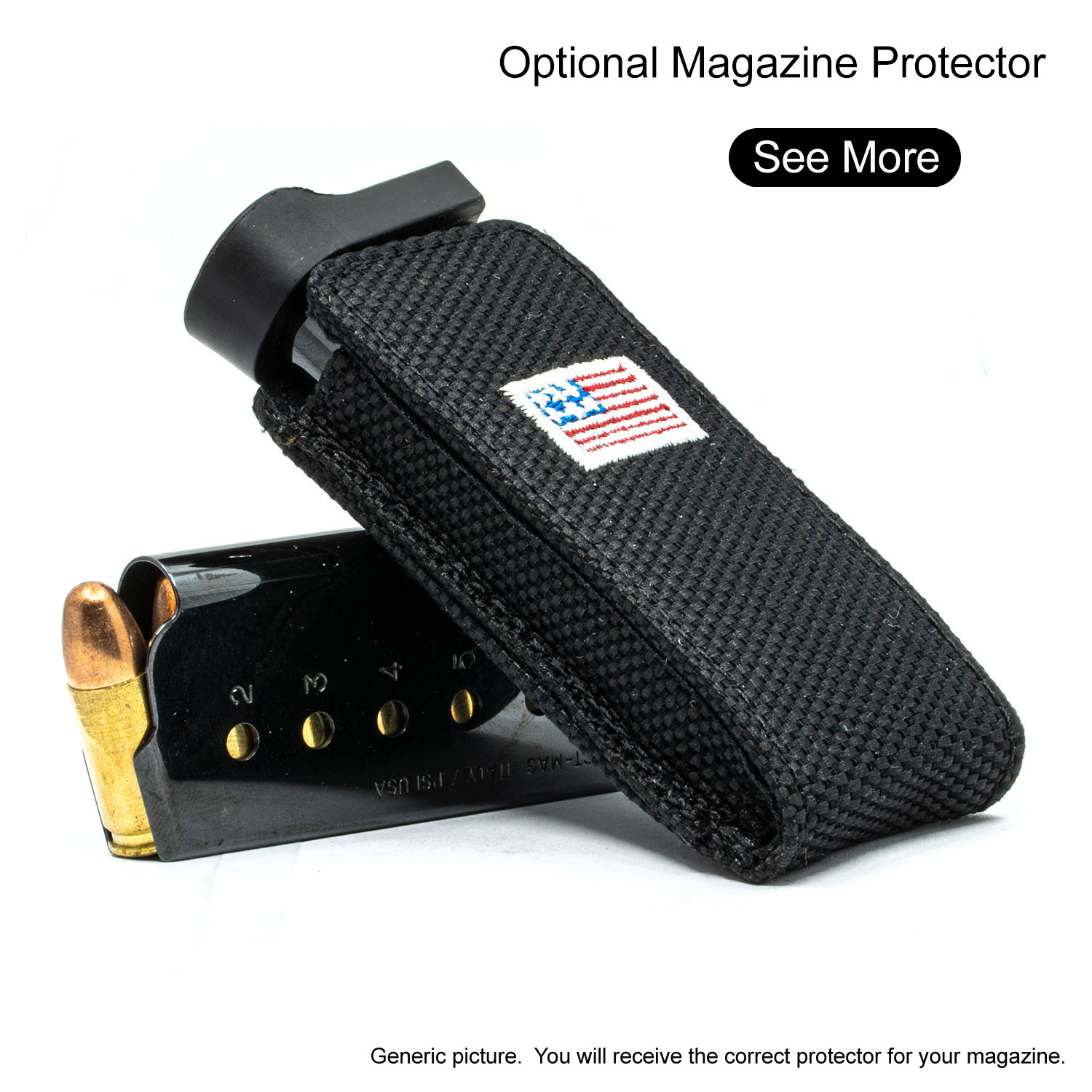 Other Details
Please contact us for warranty and exchange requests.
Product Videos
Custom Field
10 Round Flush (approx. dimensions)
Height 5 3/4" Width 4 3/8" Depth 1 1/8
10 Round Extended (approx. dimensions)
Height 5 3/4 Width 4 5/8 Depth 1 1/8
12 Round Extended (approx. dimensions)
Height 5 3/4 Width 5 Depth 1 1/8
Product Reviews
I've had my Sneaky Pete holster for about a month now. It's the first time I've every used a 'hidden in plain sight' holster and I've been carrying daily for about 30 years now. I have to say that this is probably the most comfortable carry I've ever used. My usual IWB carry method is definitely more discrete, but I haven't had anyone ask what it is, and the little Sig P365 is small enough that it just looks like a wallet/cell phone man-purse. (I'm old enough that I don't really care about the fashion faux pas--it works). When I'm in casual clothing, the Sneaky Pete is now my go-to. For office attire, I'm still using tucked IWB. The only place where the Sneaky Pete doesn't shine is when seated in the car. But that's only because I like to wear it 11:00 (lefty). If I wore it at 9:00 like I use with my IWB, it would work fine. Overall, I'm happy with my purchase. I do wish it had a couple of elastic bands to hold a pen and flashlight, but other than that, it's a pretty damn good design.

Sig P365 Air Force Tactical Patch Holster

I have tried so many makes, this is perfect, the best ever and good value!

Had never even saw a holster like this but took a chance judging magazine ads -- GLAD I DID.

Great product, great price -- thanks.

Wow, I just received the first pre-production version of this holster and I can't believe that no one thought of this sooner! I fell like I have 3 different holsters for the price of one since I bought two extra tactical patches. Thanks Sneaky Pete, now I'm even sneaky-er!