Product Description
The Sig Sauer P290 Sneaky Pete Holster has double belt clips which can accommodate a belt up to 1.75" inches wide. The holster is made of high quality soft leather, and when worn on the belt resembles a cell phone case. The advantage of this design is that it allows you to carry your P290 concealed, but with full and easy access. Now it's possible to wear whatever you want, whenever you want to. Don't dress around your gun anymore.

The holster is made inside and out of glove-quality leather, and uses two magnets to stay closed. Each holster is designed for your specific firearm, and the opening is made in such a way that you cannot accidentally place your finger on the trigger during draw. The Kydex insert ensures that a smooth, silent draw occurs every time.

The use of double stitching and steel rivets guarantees that this holster will last for years to come. All available options are listed above, and the holster can be ordered either with the belt loop, or optional belt clip. We design every holster to be as small as possible and still fit your pistol.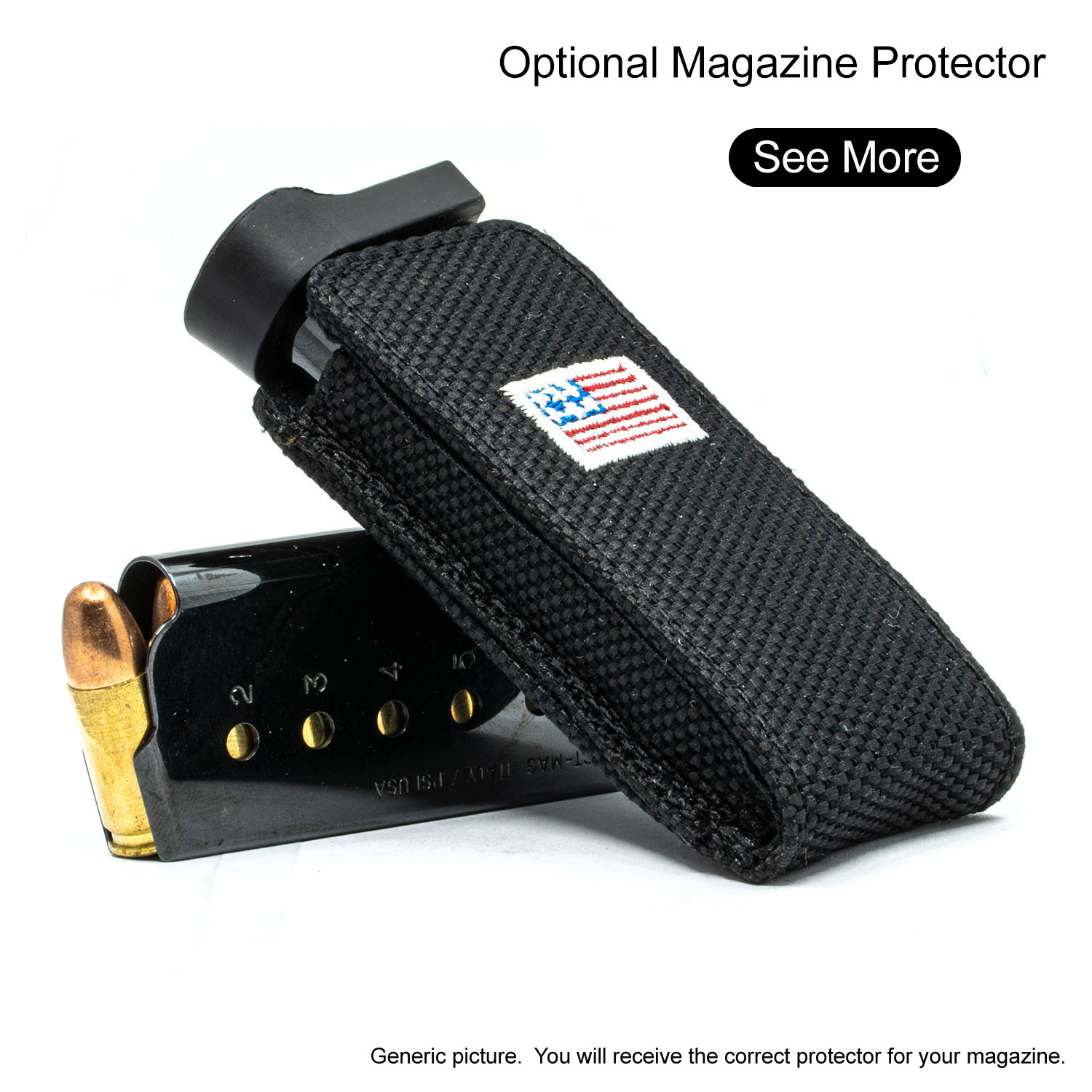 Other Details
Please contact us for warranty and exchange requests.
Custom Field
Approx Internal Dimensions
Height 5 3/4" Width 4 3/8" Depth 1 1/8" (flush base magazine holster)
Product Reviews
A Lefties Dream Come True!

As a lefty I have always had problems with finding a good holster! That problem has been put to death, The Sneaky Pete has been a great deal and very easy to use. I have a Sig P290RS and have used this product for a while now and am very pleased with the draw and reholstering of the gun. Both functions are so easy to do by touch and the magnets grab well.

After receiving my Sneaky Pete Holster for my Sig P290, I became concerned because the small magazine that came with my pistol would not fit properly in the Holster. I contacted "S.P." via email and made arrangements to return the thing. I then thought about checking the case the P290 came in after seeing a flat base plate on a mag in the "S.P." ads. To my surprise such a base plate was in a small bag in the case. I shared this with the folks at Sneaky Pete as they seemed unaware of the situation. I ordered the ballistic nylon and would have given 5 stars if the inside of the case were more substantial and if Sneaky Pete had a better communication system. (They only reply to emails, NOT phone calls. No phone numbers are available!) The piece inside the holster that holds the pistol in place is merely a bent piece of thin plastic. I'm hoping it holds up and will see as I plan to use the holster to carry my P290. I also wish they would make the pocket protector mag case in ballistic nylon. I do like the concept very much!

Fantastic Conceal Holster

This is a well built, top quality holster. With it being manufacterer and model specific, the gun fits perfectly inside. The oustside is so good looking that it can pass for any electronics or other kind of device. No one knows what you are carrying inside. Because of the quality of leather and workmanship it is a great dollar value. I bought the belt clilp model, and it is easy to take it on and off the belt.

Sneaky Pete holster for sig P290

I received my Sneaky Pete holster today. Upon examination, it is very well made, the belt loops are secured by rivets. It will fit my belt which i was worried it would not. The only negative right now is that it will not accept my Sig Sauer P290 with the 8 round clip, you have to use the 6 round clip. Drawing from it will take practice and uses a different method than from a holster, but you do not have to go thru the motions of pulling up your shirt to access your holster. This holster is almost like open carry but it is still concealed.