Product Description
The Sig Sauer P238 Sneaky Pete Holster has a sewn belt clip which can accommodate a belt up to 1.75" inches wide. The holster is made of high quality soft leather, and when worn on the belt resembles a cell phone case. The advantage of this design is that it allows you to carry your P238 concealed, but with full and easy access. Now it's possible to wear whatever you want, whenever you want to. Don't dress around your gun anymore.

The holster is made inside and out of glove-quality leather, and uses two magnets to stay closed. Each holster is designed for your specific firearm, and the opening is made in such a way that you cannot accidentally place your finger on the trigger during draw. The Kydex insert ensures that a smooth, silent draw occurs every time.

The use of double stitching and steel rivets guarantees that this holster will last for years to come. All available options are listed above, and the holster can be ordered either with the belt loop, or optional belt clip. We design every holster to be as small as possible and still fit your pistol.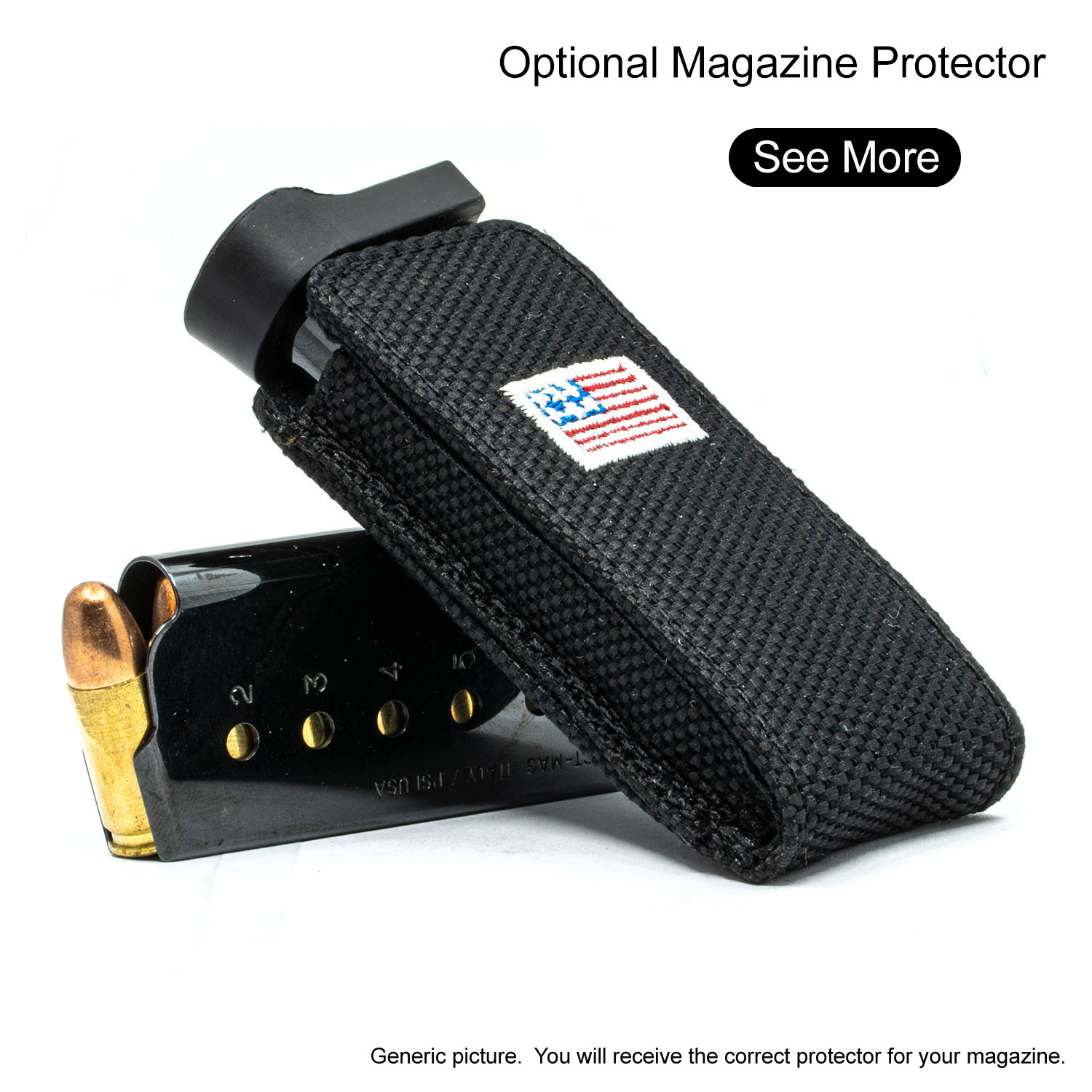 Other Details
Please contact us for warranty and exchange requests.
Custom Field
Approx Internal Dimensions
Height 5" Width 4 1/8" Depth 1" (flush base magazine holster)
Product Reviews
P238 extended magazine holster

We have been using sneaky Pete Holsters for the past six or seven years. I just upgraded my wife's sig to the extended magazine, and got her the new sneaky Pete so she could carry it comfortably, we love the ease of access and the fact that in Southeast Texas we don't have to wear a jacket or coat over a shoulder rig or something like that. It's much easier to access and much more comfortable.

Products looks great and fits the pistol perfectly.

SIG P238 Ballistic Nylon Holster

This is the 4th or 5th Sneaky Pete holster I have purchased. This one for the P238 is for the extended magazine option and it fits the pistol like a glove. A++++

SIG P238 Ballistic Nylon Holster

This is the 4th or 5th Sneaky Pete holster I have purchased. This one for the P238 is for the extended magazine option and it fits the pistol like a glove. A++++

P238 Sneaky Pete Holster Ballistic Nylon

Based on reviews critical of the ungainly size of Sneaky Pete holsters, I was apprehensive about the size of the P238 holster before it arrived. In person, it's quite reasonable. Though, I won't be ordering one for my other carry pistol, a Springfield Armory EMP with 3" barrel. With an approximately 50% larger footprint, I think it would be ungainly hanging from the hip. So, in my opinion, Sneaky Pete holsters work well for very small handguns. The quality of the holster is excellent. The pistol fits snugly. The belt clip is secure, but the holster is still easy to put on and remove. As others have pointed out, the cocked and locked hammer does create a subtle dimple in the top of the holster; it's really not noticeable. I chose ballistic nylon in black, which I think helps the holster blend in, as compared to a "luxurious" looking leather holster. The holster provides an excellent alternative to IWB or pocket carry. Some of my pants are too tight for comfortable IWB, and the pockets on some of my pants make drawing difficult. Also no risk of the pistol inadvertently being exposed if (e.g.) bending over or kneeling down while shopping. And, lint and stuff don't collect on the pistol, like pocket holster carry. Can be easier to draw than pulling away clothes for firmly tucked IWB, or from a pocket holster. Just need to flip up the flap. A drawback is not being able to initially get a good grip on the pistol, due to the design of the holster. Overall, a good purchase and a holster that I will use often.

the p238 did not fit, returned for larger holster,, fit my p230 sl sig but is quite large to put on belt, well made.

WORKS GREAT

Well made and fits like a glove

Highly recommend it to others

Quality product and I had a question so I contacted support. They are great and helpful.