Product Description


The BUGBite holster was designed for maximum comfort and concealment. Each holster is designed specifically to conform to the shape of the human leg ensuring that your firearm is supported properly and in a way that allows you to forget you are even carrying a pistol. The BUGBite keeps your firearm properly oriented upwards at all times, and because the design lacks velcro or snaps, removing your pistol when you need it is 100% silent, unlike almost every other type of holster. The holster is designed to comfortably carry pistols from small all the way up to mid-size frame so you only need one holster that can work with a variety of your firearms.
Our size chart is a guide to help you select the best size. BUGBite holsters are made of a light breathable Neoprene that has a snug stretchy comfortable fit. The size chart is a good guide but much like any garment regardless of what size you are, fit is a matter of personal preference and can vary depending on how a leg is shaped, how muscular the calf is or not.
If you are right between sizes. If your measurement falls between two sizes, we suggest going up in size. Fit is in part a matter of personal preference, if when you receive your order you feel a different size would be a better and more comfortable fit, please let us know and we will be happy to help with an exchange.
Right Handed: A right handed BUGBite holster is used on the left leg, the holster is made with a pocket for your gun that sits on the inside of your left leg for a cross draw.
Left Handed: A left handed BUGBite holster is used on the right leg, the holster is made with a pocket for your gun that sits on the inside of your right leg for a cross draw.
Holster Size: size A. 11.5-13.5 size B. 13.5-15.5 size C. 15.5-17.5 size D. 17.5-19.5 size E. 19.5-21.5
Holster length: A.10" B.10" C.10.25" D.10.5" E. 10.75"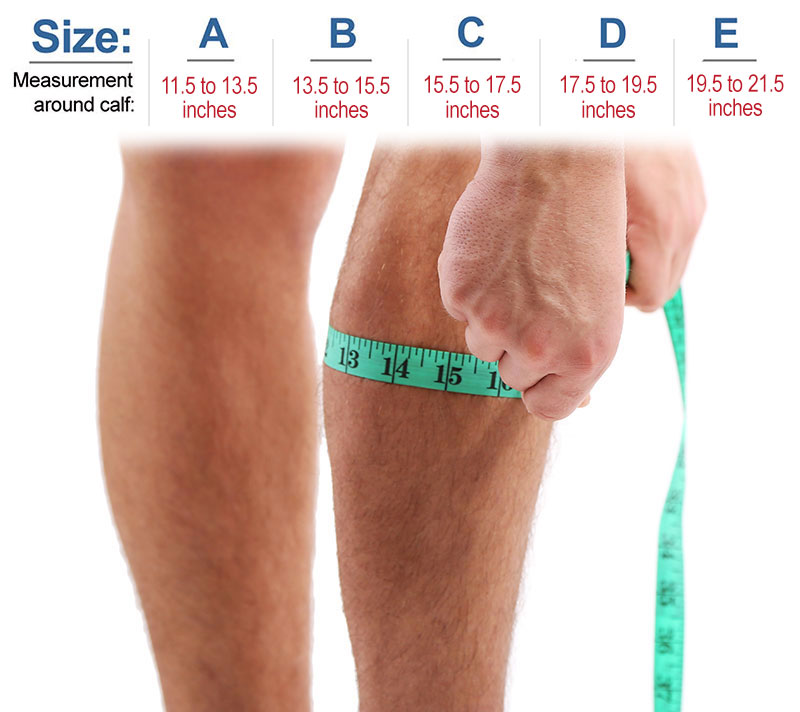 Product Videos
Product Reviews
I've owned several ankle holsters is this is why far the best! very comfortable and it doesn't slip. I agree with others that you forget you're wearing it.

Works great and very convenient and comfortable

This Bugbite is all it is cracked up to be. I have carried in ankle holsters before and at best they were OK. Fine. Nothing to write home about until NOW. This is a very comfortable way to carry with an ankle holster. Great for my back up P238 AND a mag. Good going guys!

Item is as advertised. Fits comfortably does not move around. As with any conceal product, the appropriate clothing must be worn (Not tight fitting) I have had this holster for thirty days and wear it daily. So far I have not had any design or manufacturing issues.

I couldn't wait for my holster to arrive, and literally started wearing it the day it came. It took a few days to find the best position for the holster with my not-so-small legs. I measured out to be at the upper end of the size range, but did not go up the next size, and I am very glad that I didn't. The holster is VERY comfortable, and I truly do forget that I am wearing it on most days, especially at work, where I am required to wear dress pants. Only one person in our entire office knows that I even have it, and they can NOT tell that I am wearing it. I am around people all day in very close proximity to them, and no one has even given a second glance. Accessibility is very easy with the looser-fitting dress pants, but is a bit more changing with jeans. You can gain access to your weapon, but it is definitely not a quick draw with jeans. With dress pants, however, I think it is actually faster than my IWB holster, as I have to tuck in multiple layers for adequate concealment with my job. I would HIGHLY recommend this holster, especially if ultimate concealment is your primary need. The fact that it is sooooo comfortable is a nice bonus!!!

Bugbite P238 ankle holster

very comfortable, sometimes I forget it is there (with pistol and mag). Only negative is that it rides a bit low on my leg and the bottom may be visible if I'm sitting. Maybe I just need longer pants. :)

Great job on super holster

You forget your even wearing it..thinking about buying two more. Me

I love this holster. It's easy to forget that you're wearing it since it just feels like you're wearing some high socks. My P238 doesn't jostle around and the holster doesn't slide down my leg at all. Highly recommended!!

I have been looking for and alternative carry method. Have used IWB holsters and bellyband holster. The ankle holster by Bugbite was a welcome addition. With ankle carry I can now wear tucked in shirts if I desire. The holster is comfortable to wear and fits snugly so no fear of it falling down my leg. Works well with my P238.