Product Description
The SCCY CPX-2 Concealed Carry Holster has two sewn belt loops which can accommodate a belt up to 1.75" inches wide. The holster is made of high quality soft leather, and when worn on the belt resembles a cell phone case. The advantage of this design is that it allows you to carry your CPX-2 concealed, but with full and easy access. Now it's possible to wear whatever you want, whenever you want to. Don't dress around your gun anymore.

The holster is made inside and out of glove-quality leather, and uses two magnets to stay closed. Each holster is designed for your specific firearm, and the opening is made in such a way that you cannot accidentally place your finger on the trigger during draw. If you have a factory pinky extension you must order that option. The Kydex insert ensures that a smooth, silent draw occurs every time.

The use of double stitching and steel rivets guarantees that this holster will last for years to come. All available options are listed above, and the holster can be ordered either with the belt loop, or optional belt clip. We design every holster to be as small as possible and still fit your pistol. Our holsters are not designed to work with pinky extenders, modified grips, flash suyppressors, or any accessory that will increase the size of the SCCY from stock.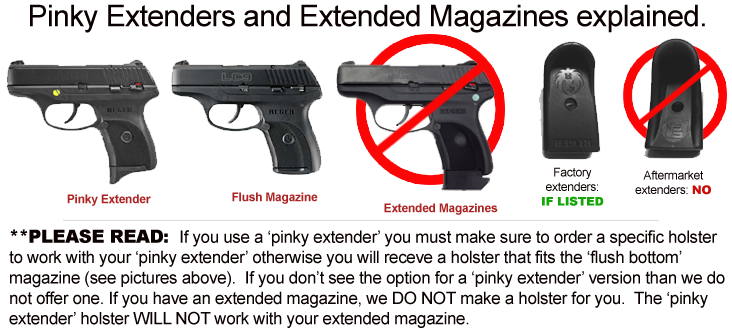 Other Details
Please contact us for warranty and exchange requests.
Custom Field
Approx Internal Dimensions
Height 6 2/8" Width 5" Depth 1 1/8" (flush base magazine holster)
Product Reviews
This holster is the best thing, that ever happened to canceled carry.

Easiest way to CCW and no one is the wiser. Better than carrying in the waist band.

Great fit! The Freedom-embossed brown holster looks awesome with a pair of blue jeans & brown ratchet belt; while the black holster dresses up nicely for more formal or business occasions! As others have pointed out, though, the pistol sits too far down into this holster: making it potentially difficult to draw in a stressful situation. The easy fix: cut a couple of 4"x1/2" strips out of the foam that comes with the holster, fold the strips over and seat the foam down at the bottom of the holster where the barrel tip rests. This will slightly raise the firearm - the holster flap will still close, but the grip will be high enough up to clear the holster's cutout, making it easier to draw the firearm. You'll see what I'm talking about when you get it. The need to do that takes a star away... but there is otherwise nothing wrong with it. Great looking way to stay safe when you're out and about!

Covert holster, power pack

The over all concealment is outstanding!!... not once has anyone even asked what it was!!.. even my friends didn't notice it as anything but a power pack for something!!... might be a little slow to get my weapon out but I'll give that fir the total concealment!

Very nice workmanship. Fit is long and allows pistol to set too deep.

Cut two squires of the grey foam that came with you holster and place in the opening under the barrel. This will position the gun correctly

I really like my Sneaky Pete although it's a little bigger than I expected. It's at times difficult to drive with it on but it look fashionable and I getting better at retrieving it.

I really like my Sneaky Pete although it's a little bigger than I expected. It's at times difficult to drive with it on but it look fashionable and I getting better at retrieving it.

The pro side is the Sneaky Pete holster is well made from what little I've used it (I just got it). The one thing I really like about it is its versatility. I Got it for one gun and it actually accommodates four different guns. So far. The con side is while I have it on it looks like I have a briefcase strapped to my side. Just slightly clubby. Also, it takes some doing to get on and off. That's why I gave it four stars.