Product Description
The Bodyguard 380 Sneaky Pete Holster has a sewn belt clip which can accommodate a belt up to 1.75" inches wide. The holster is made of high quality soft nylon, and when worn on the belt resembles a cell phone case. The advantage of this design is that it allows you to carry your Bodyguard concealed, but with full and easy access. Now it's possible to wear whatever you want, whenever you want to. Don't dress around your gun anymore.

The holster is made inside and out of glove-quality nylon, and uses two magnets to stay closed. Each holster is designed for your specific firearm, and the opening is made in such a way that you cannot accidentally place your finger on the trigger during draw. The Kydex insert ensures that a smooth, silent draw occurs every time.

The use of double stitching and steel rivets guarantees that this holster will last for years to come. All available options are listed above, and the holster can be ordered either with the belt loop, or optional belt clip. We design every holster to be as small as possible and still fit your pistol.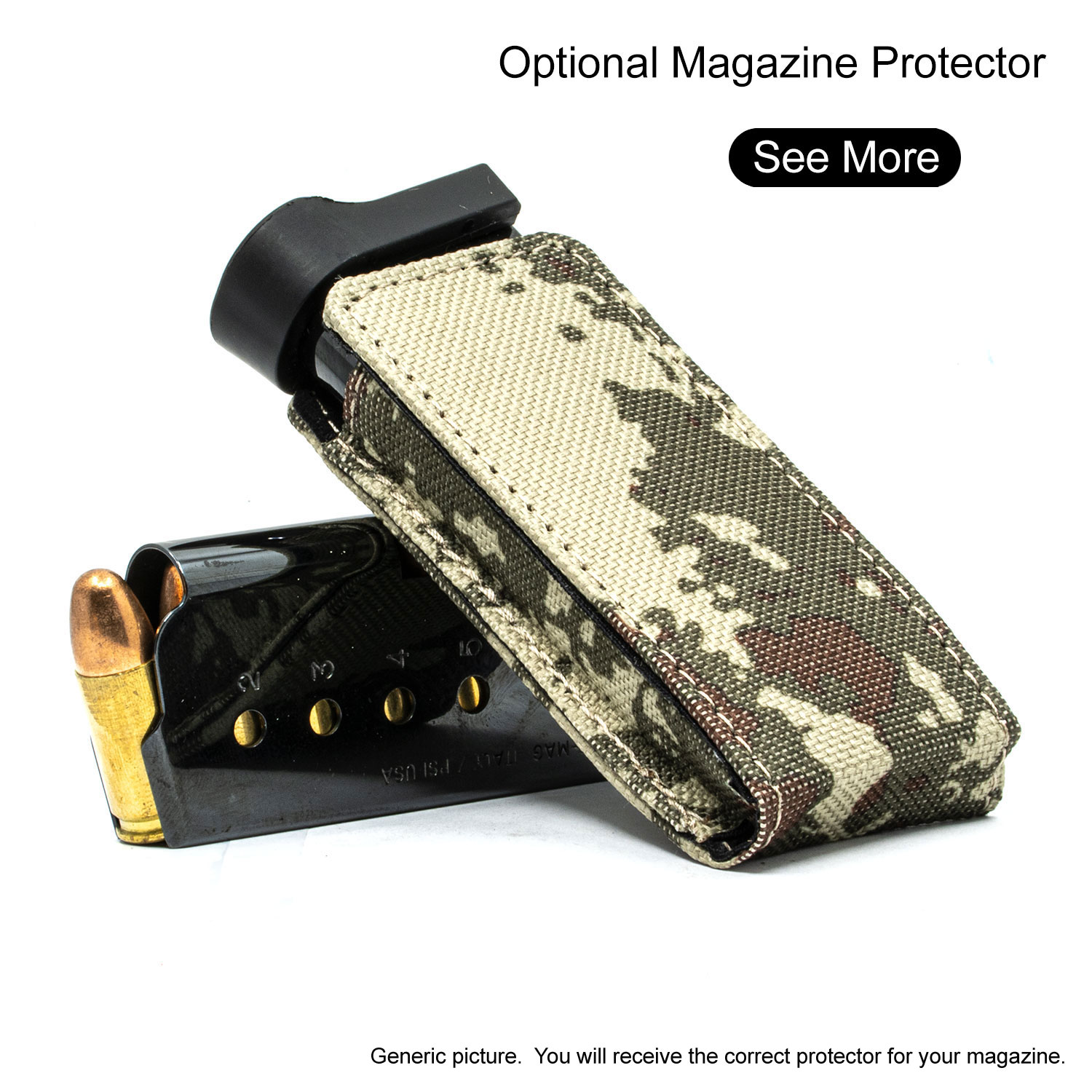 Other Details
Please contact us for warranty and exchange requests.
Product Videos
Custom Field
Approx Internal Dimensions
Height 5" Width 4 1/8" Depth 1" (flush base magazine holster)
Product Reviews
This is a nice holster and I would have given it five stars if it had been a bit more compact.

Very well made. This is the second one we have purchased.

Like that it doesn't look like a holster...people either assume it's a cell phone holder or we say it's a diabetic kit holder. This saves the discomfort of people who may not be comfortable with concealed carrying of firearms.

Body guard holster -- 380

Holster is a great item. For my cc it is fast and easy to use. The part I like best is being able to dress or undress without fear of my gun crashing to the floor. The worst part about this deal was shipping. Even after contacting you about the long time of waiting you used the excuse of how far away for the shipping. You are in business to take care of your customers for future orders. Through my order you should have seen by my zip code. If shipped my order could have reached me in 1 or 2 days, even by USPS. If you were going to make up an excuse make an honest one. You have a wonderful product. I would like to order more but send it by drone!!!!

Well made and fits my body guard perfectly.

380 smith & wesson nylon holster

first fit was a little small. thanks to diligence , prompt service and understanding, the 2nd replacement holster fit perfectly. Everything I expected for the merchandise and company cooperation and professionalism. I couldn't ask anything more! I am totally satisfied with the purchasing experience. A remarkable and commendable company! Thanks!