Product Description
The Ruger SR9c Sneaky Pete Holster has sewn belt clips which can accommodate a belt up to 1.75" inches wide. The holster is made of high quality soft leather, and when worn on the belt resembles a cell phone case. The advantage of this design is that it allows you to carry your Ruger concealed, but with full and easy access. Now it's possible to wear whatever you want, whenever you want to. Don't dress around your gun anymore.

The holster is made inside and out of glove-quality leather, and uses two magnets to stay closed. Each holster is designed for your specific firearm, and the opening is made in such a way that you cannot accidentally place your finger on the trigger during draw. The Kydex insert ensures that a smooth, silent draw occurs every time.

The use of double stitching and steel rivets guarantees that this holster will last for years to come. All available options are listed above, and the holster can be ordered either with the belt loop, or optional belt clip. We design every holster to be as small as possible and still fit your pistol.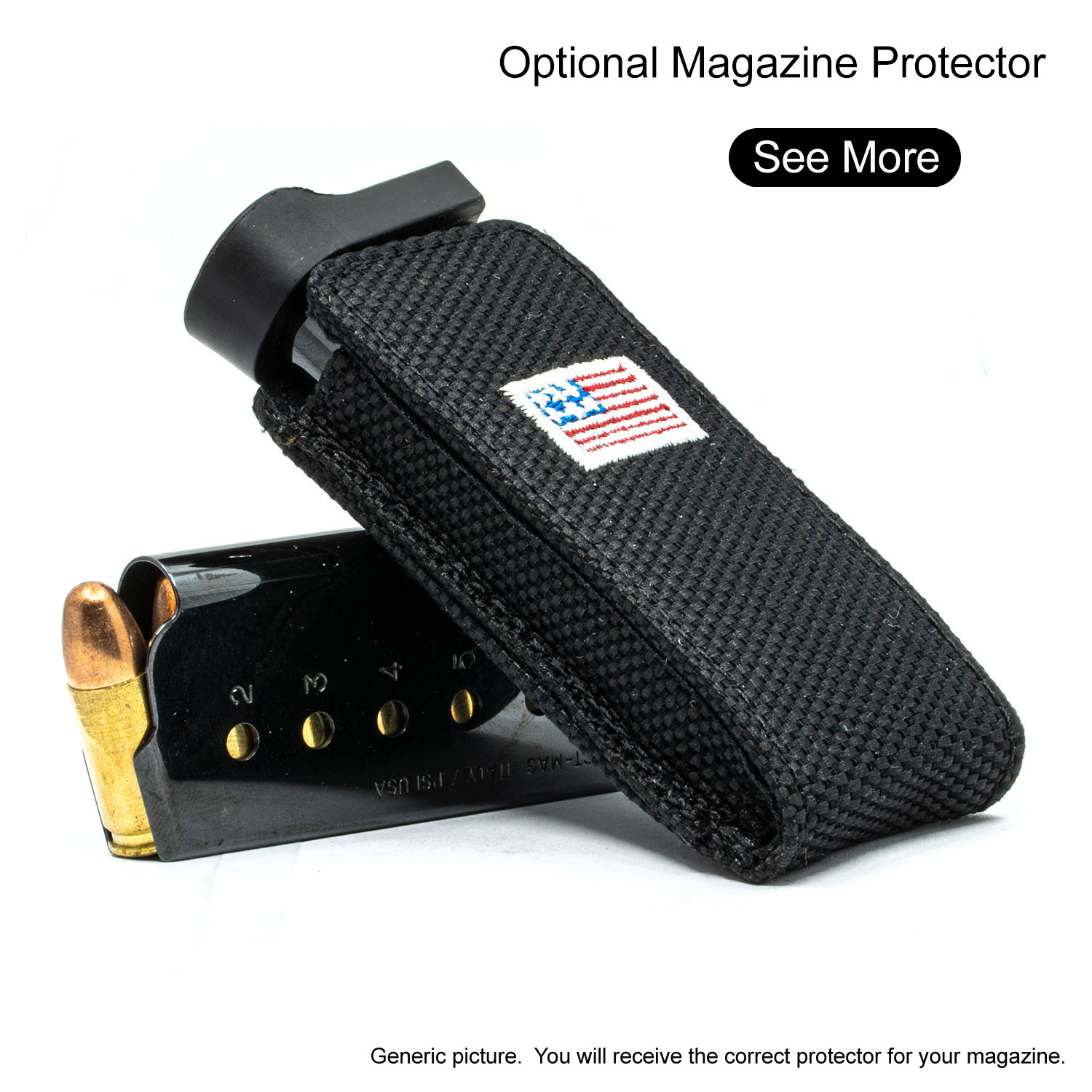 Other Details
Please contact us for warranty and exchange requests.
Custom Field
Approx Internal Dimensions
Height 6 1/2" Width 4 3/4" Depth 1 3/8" (flush base magazine holster)
Product Reviews
Very nice concealment holster, the gun fits very well in it with easy access to get to it

could not be more happy with it fit and carries great

Very comfortable to wear and really accessible.

I love my holster. My gun fit perfectly.

I love it. No one suspects a thing. It is so good looking and comfortable to wear. Really like the alligator skin look. Sneaky Pete was recommended to me by a friend and I will recommend them as well. Thanks

Being left handed people in general do not notice it. Feels good when I carry it.It is also easy to draw from.

I would like to see the holster ride the hip approximately one half inch higher to further facilitate drawing the weapon.

excellent service

I have had many types. This is tops! I wear it with untuck shirts and sport coats. Great for 1st responder at church.

Belt Clip Holster for SR9C

I was looking for a concealed carry holster that actually worked for me, allowing me to carry in MANY different circumstances with any type of clothing. I have a Ruger SR9C with a double stack magazine. It makes the profile too wide to comfortably carry IWB. I tried an Old Faithful "tuckable" holster and it was VERY uncomfortable and VERY DIFFICULT to put on. I gave up on IWB holsters. I have an Israeli Fobus paddle holster that I REALLY love, but it DIDN'T allow me to conceal carry unless my shirt was pulled out or I was wearing a sweatshirt or coat. I came across the Sneak Pete holster while looking for other carry options. I have a LOT of good things to say about the holster and the company and only a couple of minor negatives. I'm going to be rather wordy but will try to be comprehensive in my review. Customer Service is prompt and thorough. I looked at their web site and found the holster that worked with my model, but noticed that it wouldn't work with the standard magazine because of the 'pinky extender'. I contacted customer support and spoke with a rep name Beth who was MORE than HELPFUL. She told me how to measure so that she could find one that worked with the SR9C with the 'pinky extender' magazine. She found a holster that would work and kept in constant contact. I eventually opted for the standard holster and 'removed' the pinky extender. I couldn't find a base plate for the 10-round magazine that didn't have the extension. The 17-round base didn't work. Quality and styling: The holster lived up to its reputation. The overall construction is quite superior. The stitching is durable and even. The double belt hooks are sturdy and hold securely. The style is unassuming and can be worn with any clothing without drawing attention to itself. The exterior and interior leather are very high quality and finished very nicely. The interior is softer, helping to reduce wear on the gun's finish. Fit: My Ruger was snug but not tight in the holster. It won't move around or fall out when sitting, yet it won't stick or be tight causing the draw to be slow or clumsy. Draw: This was my chief concern given the 'enclosed' design of the holster. I was worried that I would not be able to draw the weapon smoothly or easily. My concern was unfounded. The magnetic buttons holding the flap closed are secure and don't create unnecessary resistance. It took me about ten minutes of practice to get the draw reasonably smooth. When you draw from the holster, lead with your thumb to open the flap and run your fingers up the side until the contact the grip. Continue the draw and the weapon comes out cleanly. Also convenient is that I did not see a need for a two hand draw with my shirt tail out. When I drew the weapon as described, the flap move my shirt tail out of the way and it was a non issue. Wear-ability: Carry concealed but in the open. It was strange to have the weapon in a concealed holster that was worn in the open. I did a 'test wear' for brief periods to see if it was noticed by others. So far, no one has even commented on it since it doesn't draw any unusual attention. Some people have reported issues with wear-ability when driving. I didn't have any discomfort. The seat belt wraps over the holster without any issues. Since the weapon is fully enclosed there is no 'cold steel' or weapon profile pressing in to my side. The design made it very comfortable to wear while driving. There are only two very small issues that I have with the holster and they are so small that they are almost not issues. Lead time: I ordered the holster and after a couple days of not hearing back I contacted customer support to inquire. Once again Beth was very communicative. She informed me that there would be a few days delay since the holsters are pretty much made when ordered but assured me that 'my business was important to Sneaky Pete Holsters'. The holster shipped two days later. The wait was worth it. Variety: They have several different leather colors available. They also have a heavy-duty ballistic nylon holster for casual wear. I didn't order that one but I'd love to try it and provide feedback on it. Size: It is larger that what you are accustomed to if you've never carried with this style of holster. But that is a natural result of the type of holster you are buying and it is NOT a showstopper. Summary: If your experience is like mine, you'll be very happy with the holster. Draw is smooth with a little practice. Your weapon should fit nicely. The style and finish is high quality and my overall experience was great. The also have a money-back guarantee if you are not satisfied. That remove an additional concern. I don't regret my purchase.