Product Description
The Ruger SR40c Sneaky Pete Holster has sewn belt clips which can accommodate a belt up to 1.75" inches wide. The holster is made of high quality soft leather, and when worn on the belt resembles a cell phone case. The advantage of this design is that it allows you to carry your Ruger concealed, but with full and easy access. Now it's possible to wear whatever you want, whenever you want to. Don't dress around your gun anymore.

The holster is made inside and out of glove-quality leather, and uses two magnets to stay closed. Each holster is designed for your specific firearm, and the opening is made in such a way that you cannot accidentally place your finger on the trigger during draw. The Kydex insert ensures that a smooth, silent draw occurs every time.

The use of double stitching and steel rivets guarantees that this holster will last for years to come. All available options are listed above, and the holster can be ordered either with the belt loop, or optional belt clip. We design every holster to be as small as possible and still fit your pistol.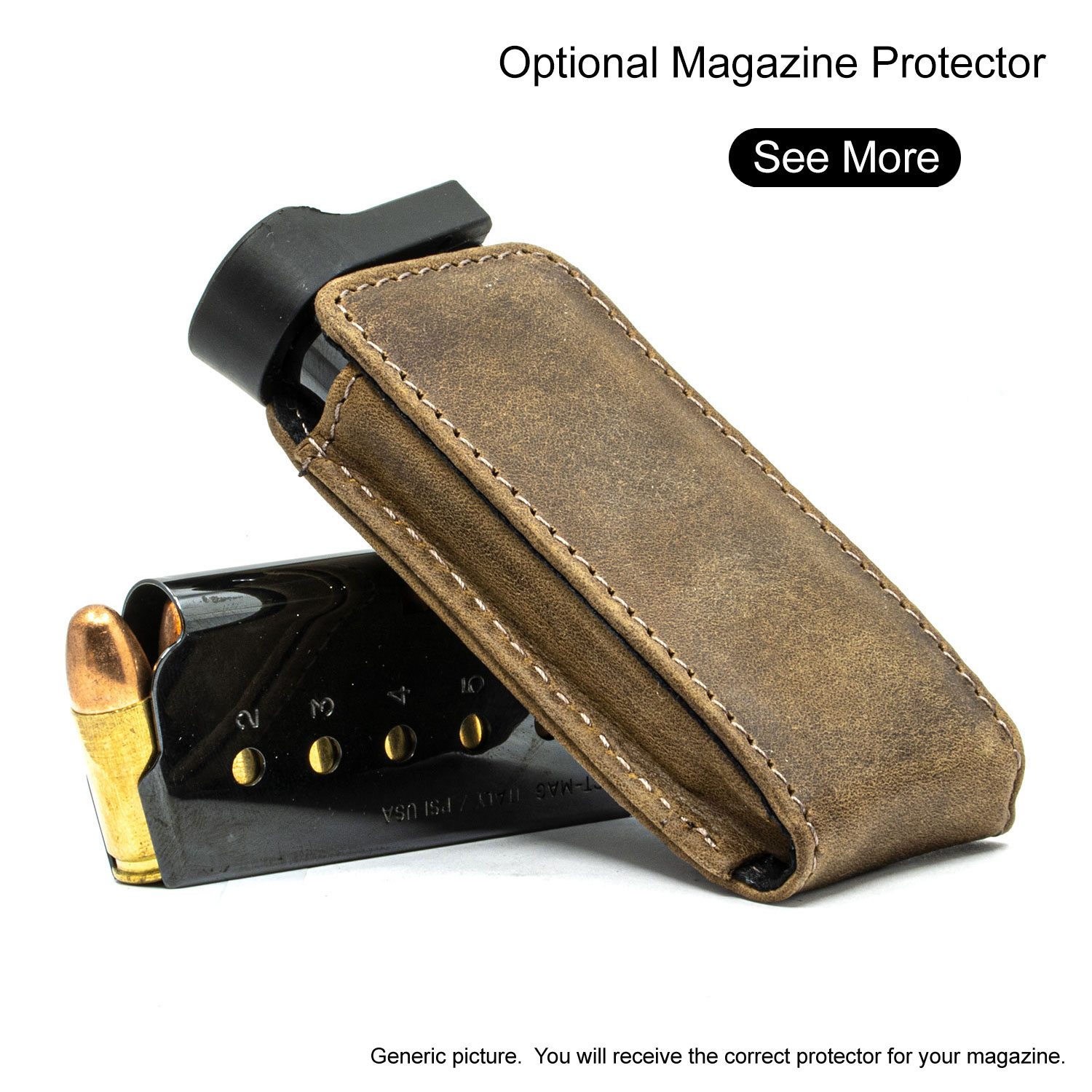 Other Details
Please contact us for warranty and exchange requests.
Product Videos
Custom Field
Approx Internal Dimensions
Height 6 1/2" Width 4 3/4" Depth 1 3/8" (flush base magazine holster)
Product Reviews
RUGER SR40C BROWN FREEDOM SERIES HOLSTER

This holster is exactly what I was always wanting to find, concealed open carry in a leather holster which doesn't look like a holster. I've worn this to the dentist, in stores, all around as I walk the dog or go shopping for groceries, just whenever I leave the house. No one has seemed to notice it is a holster. It is comfortable, distributes the weight very well and does not weigh down my britches. It holds my .40 tight and secure. I wear it with shorts and even that is comfortable and hasn't been noticed by people. I wear it on my bike and scooter with no problems, it fits comfortably under the seat belt in my truck and even in small cars. Worth every penny, well made, strong, light, soft sweet smelling leather. This is perfect for daily carry even with a .40 and 10 rounds. It is easy to access the pistol, easy to return to holster, the design makes it difficult to accidently grab the bang switch as you draw too. I love this thing.

The holster is fantastic, a beautiful work of quality, after the first day I didn't even realize I was wearing it as it is very comfortable and beats having to wear a 2nd shirt to cover a regular holster. The S.P. Company is first class from the time you place your order to the time you get it in communication and tracking number, their packaging is exceptional and it shows the pride in their work, product, and customer satisfaction..

This is a beautiful holster. I especially like the extra features like the inner card slot, the extra magnets and the side pockets. The leather is so soft and subtle too.