Product Description
The holster is made from Saddle quality leather with an embossed horse design on the cover. The advantage of this design is that it allows you to carry your Security 380 concealed, but with full and easy access. Now it's possible to wear
whatever
you want,
whenever
you want to. Don't dress around your gun anymore.
The tough leather that this holster is made from is secured against unintentional opening by 3 rare Earth magnets. Each holster is designed for your specific firearm, and the opening is made in such a way that you cannot accidentally place your finger on the trigger during draw. The Kydex insert ensures that a smooth, silent draw occurs every time.
The use of double stitching and steel rivets guarantees that this holster will last for years to come. All available options are listed above, and the holster can be ordered either with the belt loop, or optional belt clip. We design every holster to be as small as possible and still fit your pistol.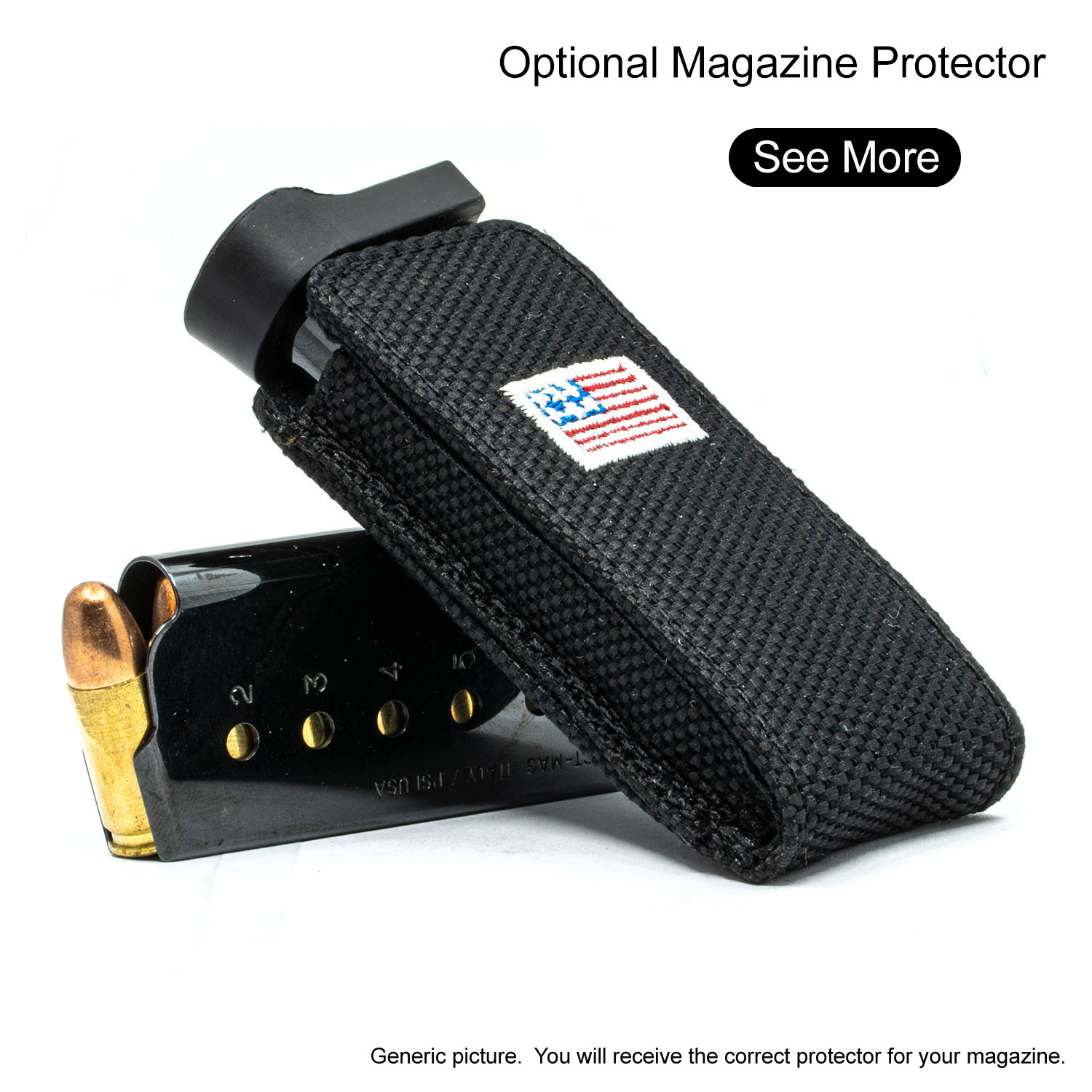 Other Details
Please contact us for warranty and exchange requests.
Product Videos
Custom Field
Approx Internal Dimensions
Height 6 1/2" Width 4 1/4" Depth 1 3/8" (flush base magazine holster)
Product Reviews
I bought this for myself. As a woman, I find that my effective concealed carry options are limited, especially as a slim woman with fitted clothes. Open carry doesn't appeal to me personally, but I needed something that would work with my existing wardrobe, not cause unflattering lumps in my clothes, and not scream "holster"! I bought the saddle leather horse holster for my 9mm EDC because I wanted something beautiful that would allow me to hide my gun in plain sight. It's perfect. It smells and feels like quality leather, and the workmanship is top notch. The fit is snug and secure, and the clips fit my gun belt so well I can't even slide it up and down the belt once it's on. I was nervous about the clips vs the loops, because I heard they can fit looser, but that's not the case here. I'm very pleased with my purchase, and even though it took awhile to get, it was worth the wait. I'd love to see even more embossing options on the leather holsters so I can get a second one.