Product Description
The Ruger LC9 Concealed Carry Holster has a sewn belt loop which can accommodate a belt up to 1.75" inches wide. The holster is made of high quality soft leather, and when worn on the belt resembles a cell phone case. The advantage of this design is that it allows you to carry your LC9 concealed, but with full and easy access. Now it's possible to wear whatever you want, whenever you want to. Don't dress around your gun anymore.

The holster is made inside and out of glove-quality leather, and uses two magnets to stay closed. Each holster is designed for your specific firearm, and the opening is made in such a way that you cannot accidentally place your finger on the trigger during draw. The Kydex insert ensures that a smooth, silent draw occurs every time.

The use of double stitching and steel rivets guarantees that this holster will last for years to come. All available options are listed above, and the holster can be ordered either with the belt loop, or optional belt clip. We design every holster to be as small as possible and still fit your pistol.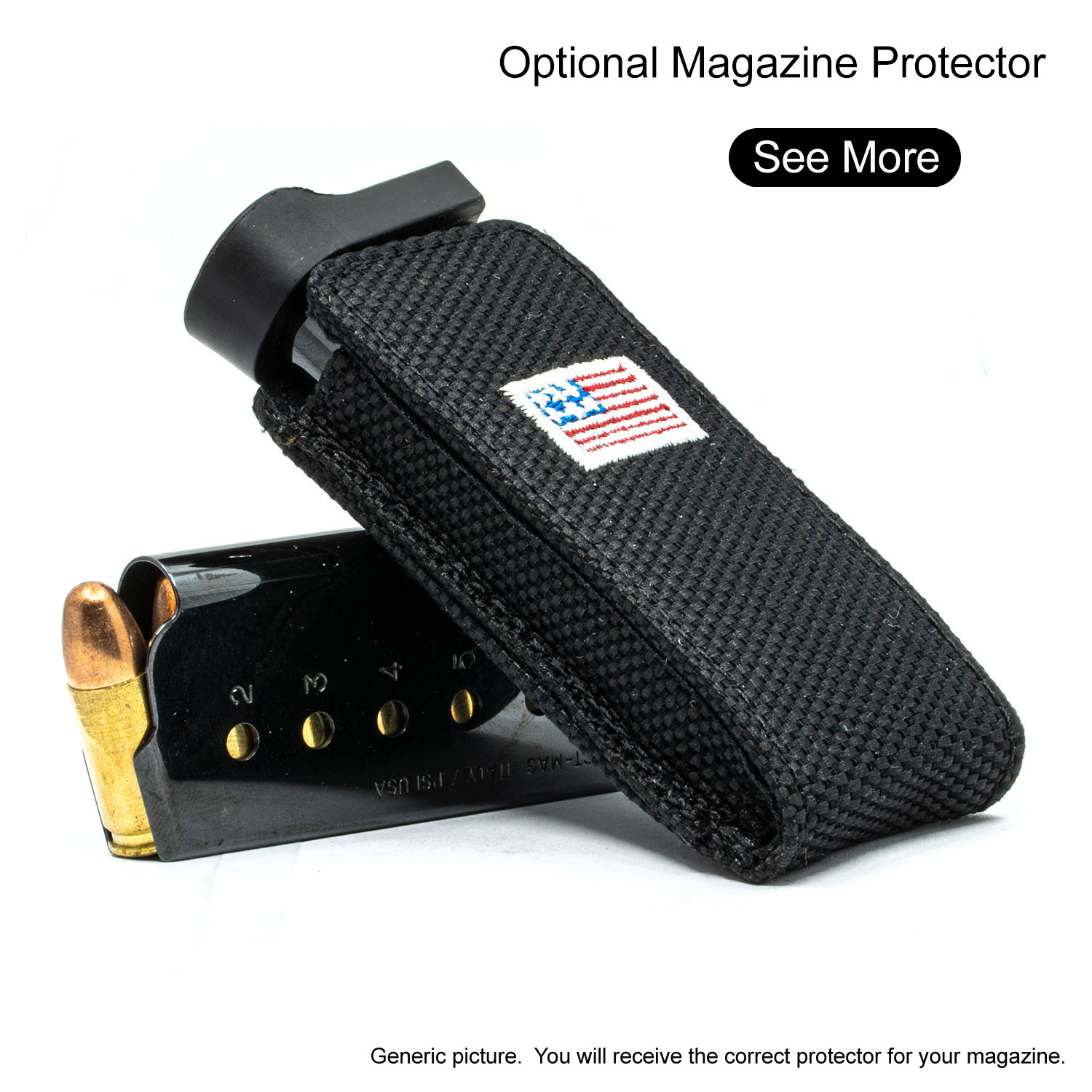 Other Details
Please contact us for warranty and exchange requests.
Custom Field
Approx Internal Dimensions
Height 5 3/4" Width 4 3/8" Depth 1 1/8" (flush base magazine holster)
Product Reviews
Sneaky Pete for Ruger LC9s

The product seems well made. The Ruger LC9s fits it in very snug. The whole thing is HUGE - much bigger than I imagined but it is what it is. The flap is held by a magnet which is ok but I wouldn't trust it doing summersaults. The one I bought is Belt Loop which I prefer for security reasons and my standard belt is a real tight fit. Overall - happy with the quality a bit surprised at the size of it all.

I enjoy the belt loop holster for my LC9. Very comfortable. Provides concealment and protection.

I've had problems with conceal carry holsters but the sneaky pete fits great.

The customer service (Anna) is outstanding with getting the right holster for my LCS9.

Quality 10/10 Ease of use 10/10 Workmanship on it far exceeded my expectations. Very nice!

love it!!!!! but had to send it back because i should have ordered LCP easy to exchange though

Prefer older version Black Leather to newer Canvas w/Flag. Newer rides higher and has harder corners.

Clip extender , all LC('s come with this clip installed. I thought I could just buy a replacement. hard to shoot now

Your holster is wounderful but does not wor with the little finger extender the gun comes with, had to spend more than I paid for the holster to get a clip with ouy this piece. **NOTE: Hi Michael and thanks for your purchase. Ruger makes magazines with and without a pinky extension, so we offer a holster for either option. It sounds like you have the pinky extension but ordered the holster for the flush magazine. We are always happy to do an exchange.**

Everything I thought it would be

Great product, would recommend this holster Thank you

High quality product and staff was very helpful.