Product Description
The Ruger EC9s Sneaky Pete Holster has a sewn belt clip which can accommodate a belt up to 1.75" inches wide. The holster is made of high quality soft leather, and when worn on the belt resembles a cell phone case. The advantage of this design is that it allows you to carry your EC9s concealed, but with full and easy access. Now it's possible to wear whatever you want, whenever you want to. Don't dress around your gun anymore.

The holster is made inside and out of glove-quality leather, and uses two magnets to stay closed. Each holster is designed for your specific firearm, and the opening is made in such a way that you cannot accidentally place your finger on the trigger during draw. The Kydex insert ensures that a smooth, silent draw occurs every time.

The use of double stitching and steel rivets guarantees that this holster will last for years to come. All available options are listed above, and the holster can be ordered either with the belt loop, or optional belt clip. We design every holster to be as small as possible and still fit your pistol.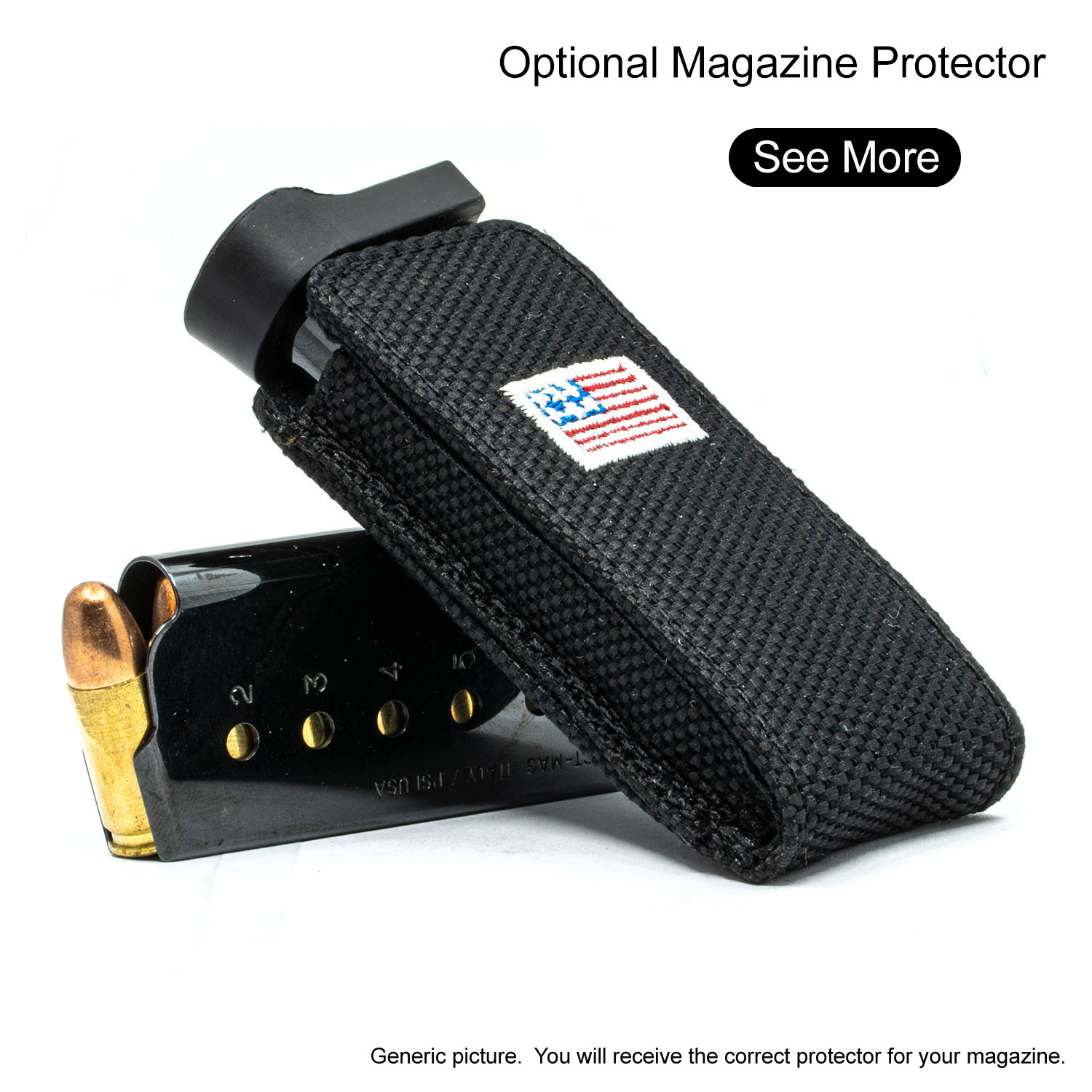 Other Details
Please contact us for warranty and exchange requests.
Custom Field
Approx Internal Dimensions
Height 5 3/4" Width 4 3/8" Depth 1 1/8" (flush base magazine holster)
Product Reviews
Really fits well

My Ruger ec9s with laser fits perfect inside sneakpeteholster. Going to order more for my other types of guns I have .

perfect fit

Works perfectly as a hide in plain sight for my living room however it is a bit large for me as a conceal carry sa I am small in stature which makes it a bit too bulky.

I was almost scared off by the company's announcement stating getting these holsters delivered might take several weeks due to Covid. However, the holster was delivered in a very reasonable time. I think it was about a week. This holster seems like it was built for longevity. Its very durable and the magnetic flap is strong enough to keep the holster closed, but yet not strong enough to get in the way if you need your firearm. This is perfect for business people that have to tuck in their shirts and are too fat for the fancy holster from another company that hides behind your pocket and is pulled up by a tab when needed. No one questions me about it or notices it that I'm aware of. I like the simplicity of it and I'm glad it wasn't too good to be true. It's worth the cost for sure!

Nice holster, only problem is it's a little larger than expected.

This holster is just what I hoped it would be based on the information I read from the site before purchasing. It holds the pistol in perfect grabbing position. I like the little details like the hard, smooth edges at the top which make extraction super smooth and prevents wear at a natural repetitive friction point. I like the belt clips because they make taking it off to drive or sit easier, and the clips are easy to slip over, and then off your belt as needed. Well made. Good value. And, I don't have to have a firearm in my pants any more! (Yes, I replaced the word "gun" with "firearm" after proofreading.)

It is a little larger than a phone case but that is to be expected in order to hold a pistol. Looks good, comfortable, and fits the gun you specify perfectly. I highly recommend it.

Very well made. Nice conceal carry protection !!! Would definitely recommend this product.