Product Description
The M&P Shield 9mm Sneaky Pete Holster has sewn belt clips which can accommodate a belt up to 1.75" inches wide. The holster is made of high quality soft leather, and when worn on the belt resembles a cell phone case. The advantage of this design is that it allows you to carry your M&P concealed, but with full and easy access. Now it's possible to wear whatever you want, whenever you want to. Don't dress around your gun anymore.

The holster is made inside and out of glove-quality leather, and uses two magnets to stay closed. Each holster is designed for your specific firearm, and the opening is made in such a way that you cannot accidentally place your finger on the trigger during draw. The Kydex insert ensures that a smooth, silent draw occurs every time.

The use of double stitching and steel rivets guarantees that this holster will last for years to come. All available options are listed above, and the holster can be ordered either with the belt loop, or optional belt clip. We design every holster to be as small as possible and still fit your pistol.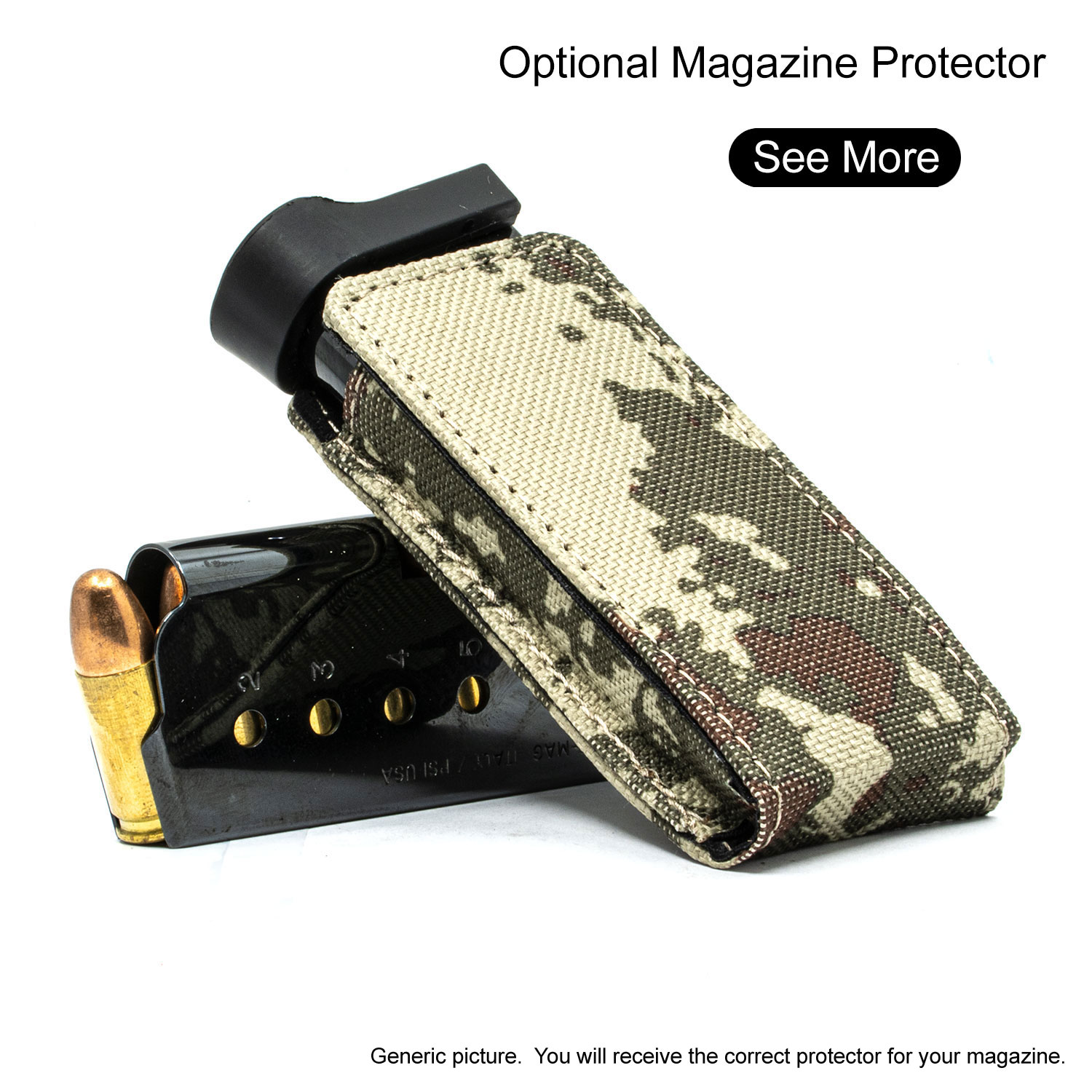 Other Details
Please contact us for warranty and exchange requests.
Product Videos
Custom Field
Approx Internal Dimensions
Height 6 1/2" Width 4 3/4" Depth 1 1/8" (flush base magazine holster)
Product Reviews
Great holster.

Looks like a real big phone case, fits my pistol perfectly.

Sneaky Pete for M&P Shield/Shield Plus

This is a good way to protect your pistol from dust and sweat while out in the woods, mowing your lawn, or working around the property. Perhaps not the designed purpose for your Sneaky Pete Holster, but it allows you to carry your gun and still protect it against the environment. And, if your work takes you off your property or places you in the public view, you are carrying your weapon concealed and protected from the complaint of brandishing your firearm.

Sneaky Petes holster specified for M&P Shield 9MM does fit the M&P Shield Plus 9MM. However, the magazine release sticks out further on the Plus model. As the holster conforms to your body, the magazine switch is pressed causing the magazine to drop from my weapon in the holster. I sent the holster back to Sneaky Pete and they modified the holster to help remedy this issue. The modified holster is much better. I work in my yard and garden with the holster, bending and stooping. I also drive my truck with the holster in the 3-1/2 o'clock position. I plan to wear the holster mostly while fishing and in the field. The magazine release switch has only allowed the magazine to separate from the weapon one time since the holster was modified. Therefore, the issue has not been 100% solved, but much better. I did have to pay to have the holster returned to Sneaky Pete to be modified. I do not mind paying this fee, because Sneaky Pete listed the holster to fit the Shield 9MM and not the plus model. They had no way of knowing this issue might occur. I am very pleased with the customer service I received. Sneaky Pete responded to my communications quickly and made a sincere attempt to solve the issue I was experiencing. I do recommend this holster and the company. I will probably order another for the S&W 642 revolver, as it does not have a magazine release. Sneaky Pete lists the weapons its holsters are made for, it is not their fault, if the holster does not perfectly work with different weapons.

Love this item and recommend

First, I like this product. It allows me to carry without announcing I'm carrying. It's about as close to open carry as you can get without displaying a firearm. Second, the belt clips are strong! So strong I found it easier to pull my belt out rather than try to pull this off. (Attach like clip-on, remove like belt loops.) The product is larger than it appears in photos. I'm carrying a S&W Shield, so not a large firearm but that mass has to be hidden somewhere. It looks like I am carrying a an enormous phone with battery back up or a small tablet on my belt. Or maybe some kind of tool kit. It is noticeable but not immediately as a firearm. Would I recommend it, yes. I bought two, the second in a different look.

I was a little concerned when i seen the size but the first time i wore it out i was glad i purchased it. It is very comfortable, looks good and is made very well.

Love my camouflage holster fits PERFECTLY plus I purchased magazine holders GREAT PRODUCT

Starting with fast shipping this holster was everything I hoped it would be. Excellent quality , awesome fit for the M & P Shield & comfortable to wear. What's not to like?