Product Description
The Kimber Ultra TLE II Sneaky Pete Holster has a sewn belt clip which can accommodate a belt up to 1.75" inches wide. The holster is made of high quality soft leather, and when worn on the belt resembles a cell phone case. The advantage of this design is that it allows you to carry your Kimber concealed, but with full and easy access. Now it's possible to wear whatever you want, whenever you want to. Don't dress around your gun anymore.

The holster is made inside and out of glove-quality leather, and uses two magnets to stay closed. Each holster is designed for your specific firearm, and the opening is made in such a way that you cannot accidentally place your finger on the trigger during draw. The Kydex insert ensures that a smooth, silent draw occurs every time.

The use of double stitching and steel rivets guarantees that this holster will last for years to come. All available options are listed above, and the holster can be ordered either with the belt loop, or optional belt clip. We design every holster to be as small as possible and still fit your pistol.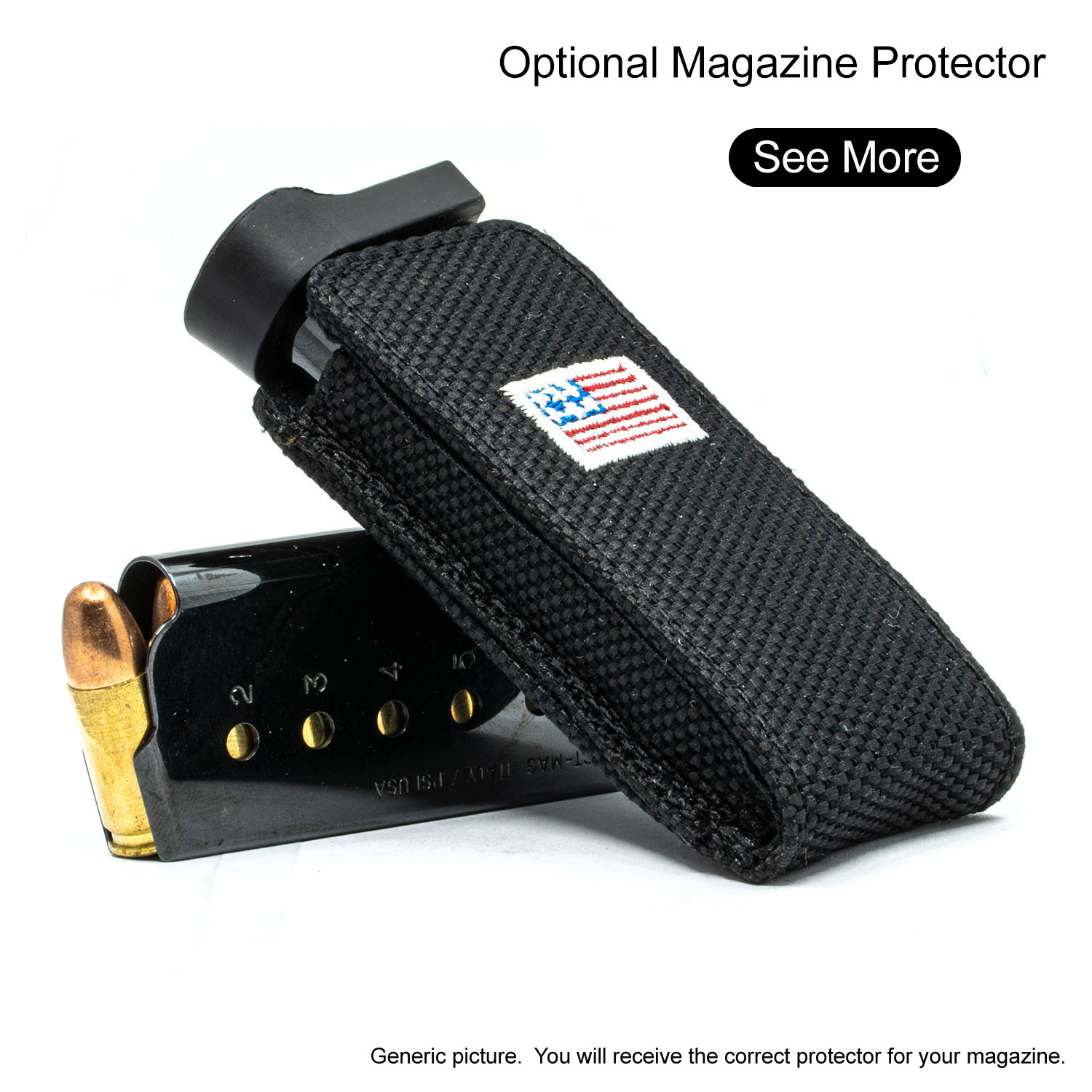 Other Details
Please contact us for warranty and exchange requests.
Custom Field
Approx Internal Dimensions
Height 6 2/8" Width 5" Depth 1 1/8" (flush base magazine holster)
Product Reviews
Bought my holster over 4 yrs ago GREAT for everyday carry have the clips belt or no belt GREAT PRODUCT

Got mine and I absolutely love it. Couldn't be more satisfied

Kimber Ultra TLE 2 Sneaky Pete Holster with belt clips

I've followed the Sneaky Pete holsters for some time now. I researched and made the choice of this holster in holistic nylon. I'll review from start to finish. I received my holster within 3 days of ordering. The packaging was very professional. Upon opening the box, I could tell this is a well made holster. It fit my pistol with a Crimson Trace laser sight. It will fit with the red sight, but not the green sight. And for that I was extremely happy. It's very a solid holster. The pistol slides in easily and doesn't bounce around. The magnets hold the flap down really well. But opens with one hand. I had read people were scared that someone could run up behind you and steal the case when you have belt clips. This is not the case. It takes more about than a tug to break it free. However, when you need to remove it, a simple movement gets it off you. And putting it back on is very easily done. Also holstering and drawing your pistol takes practice (unloaded pistol before you come into play) to learn to draw and place back in to the holster. The size for my pistol is a little bigger that I would like. But it doesn't draw attention to you . Overall I am happy with this purchase. Because I don't really feel it on my hip. But it's there when I need it. Also I love wearing shirts tucked into my pants. The holster is definitely worth the money. I would recommend this holster to anyone.

beautiful product but I have the laser built into the grip and I'm not sure if you sent me the correct holster

The products came in a timely fashion and craftsmanship is top shelf .I'd reccomend this holster to anyone looking to conceal a weapon without having to wear a jacket ***NOTE*** This holster is not designed to work with Laser Grips, just Laser Guards.

Best conceal in plain sight device

Excellent quality, Excellent fit and Comfortable I have recommended this product to all my conceal carry friends

One Color/finish Option only

The only thing I'd change is to have brown as an option. Shiny black in casual clothes isn't very subtle. Editorial Comment: Brown is coming!!!

quality, comfortable, holster

Fit and finish excellent. Does what it is advertised to do. No one even suspects it has a weapon inside. Also unexpected, will take other guns as well as the one it was built for.