The Kimber Micro CDP Sneaky Pete Holster has a sewn belt clip which can accommodate a belt up to 1.75" inches wide. The holster is made of high quality soft leather, and when worn on the belt resembles a cell phone case. The advantage of this design is that it allows you to carry your Micro concealed, but with full and easy access. Now it's possible to wear whatever you want, whenever you want to. Don't dress around your gun anymore.

The holster is made inside and out of glove-quality leather, and uses two magnets to stay closed. Each holster is designed for your specific firearm, and the opening is made in such a way that you cannot accidentally place your finger on the trigger during draw. The Kydex insert ensures that a smooth, silent draw occurs every time.

The use of double stitching and steel rivets guarantees that this holster will last for years to come. All available options are listed above, and the holster can be ordered either with the belt loop, or optional belt clip. We design every holster to be as small as possible and still fit your pistol.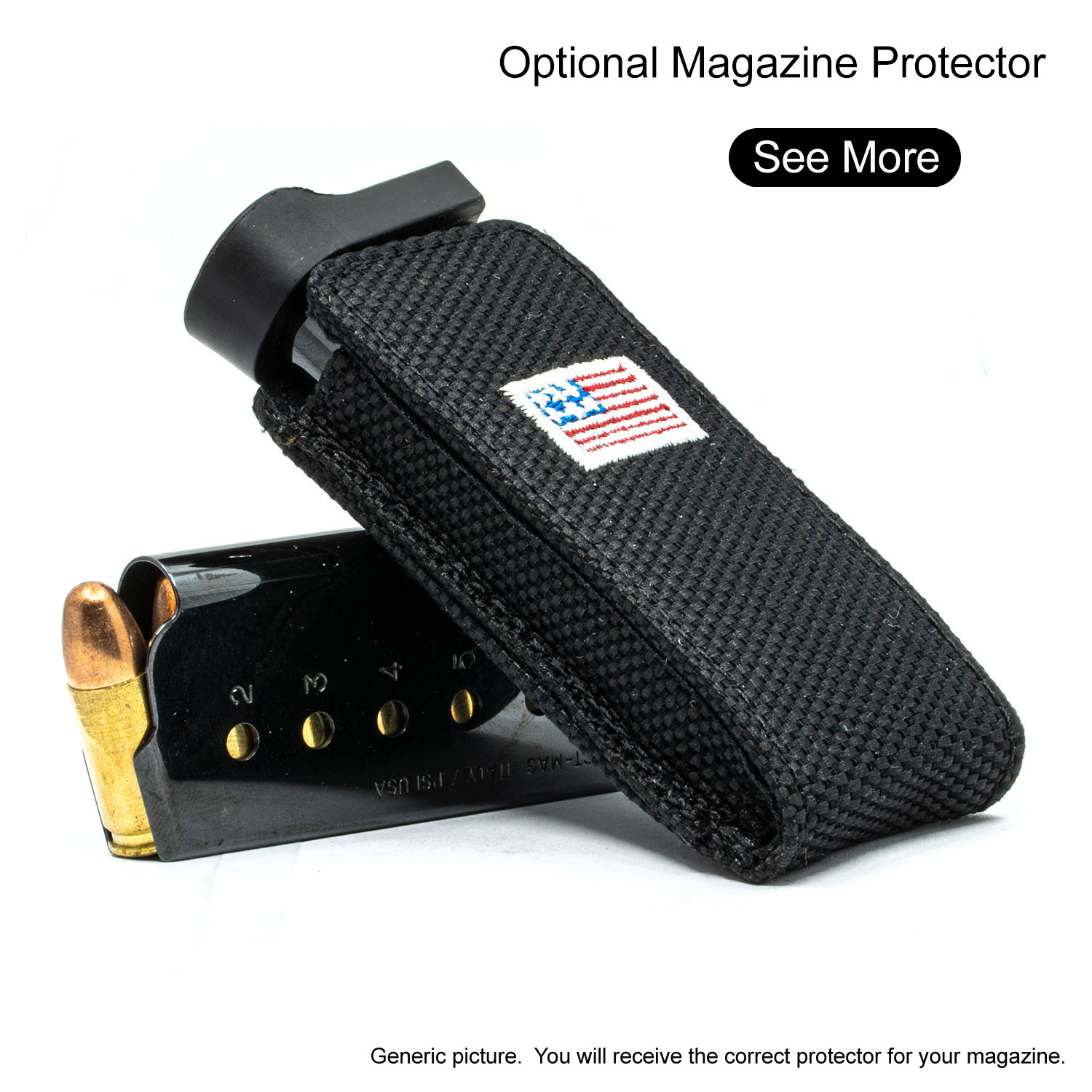 6 Round Flush: Approximate Dimensions:
Height 6 1/2" Width 4 1/2" Depth 1 1/8"
7 Round Extended: Approximate Dimensions:
Height 6 1/2" Width 4 3/4" Depth 1 1/8"
Please contact us for warranty and exchange requests.
Fits perfect

I ordered the 7 round extension maybe a little larger than I expected but it will be better than in my wast.

I would purchase again for another pistol

Very nice. Wish it was a little smaller

See review subject

KIMBICRO CDP 9MM SNEAKY PETE HOLSTER (BELT CLIP)

The quality of the holsters leather and stitching was outstanding and better than expected for the price. I ordered it on Monday, mid-day, received it Saturday. I called a friend that was looking for a carry holster, on my recommendation he ordered one and loves it...his name Lee Phelps, Satellite Beach, FL

Quality product! love the double belt clips. Fits my pistol perfectly!!!

Holster is well made but very bulky. Not very comfortable to use.

Number micro 9 perfect fit and comfortable

Thanks for a product that is exactly as advertised, the holster is much more comfortable than anything I have previously tried, my pistol fits it perfectly and the draw is very quick and easy

Was bigger than I thought from the pictures

Kimber Micro CDP 9mm Sneaky Pete Holster (Belt Clip)

Wow is this thing COOL! Clips right to my belt. Looks like a (slightly large) cell phone case. I've worn it all over town to stores, restaurants, what have you, and nobody is the wiser. The clip holds the holster firmly in place. Easy access to the firearm, and smooth draw. I have a "sneaking" feeling this thing is going to get lots of use! Highly recommend!