The KelTec PF9 Sneaky Pete Holster has double belt clips which can accommodate a belt up to 1.75" inches wide. The holster is made of high quality soft leather, and when worn on the belt resembles a cell phone case. The advantage of this design is that it allows you to carry your PF9 concealed, but with full and easy access. Now it's possible to wear whatever you want, whenever you want to. Don't dress around your gun anymore.

The holster is made inside and out of glove-quality leather, and uses two magnets to stay closed. Each holster is designed for your specific firearm, and the opening is made in such a way that you cannot accidentally place your finger on the trigger during draw. The Kydex insert ensures that a smooth, silent draw occurs every time.

The use of double stitching and steel rivets guarantees that this holster will last for years to come. All available options are listed above, and the holster can be ordered either with the belt loop, or optional belt clip. We design every holster to be as small as possible and still fit your pistol.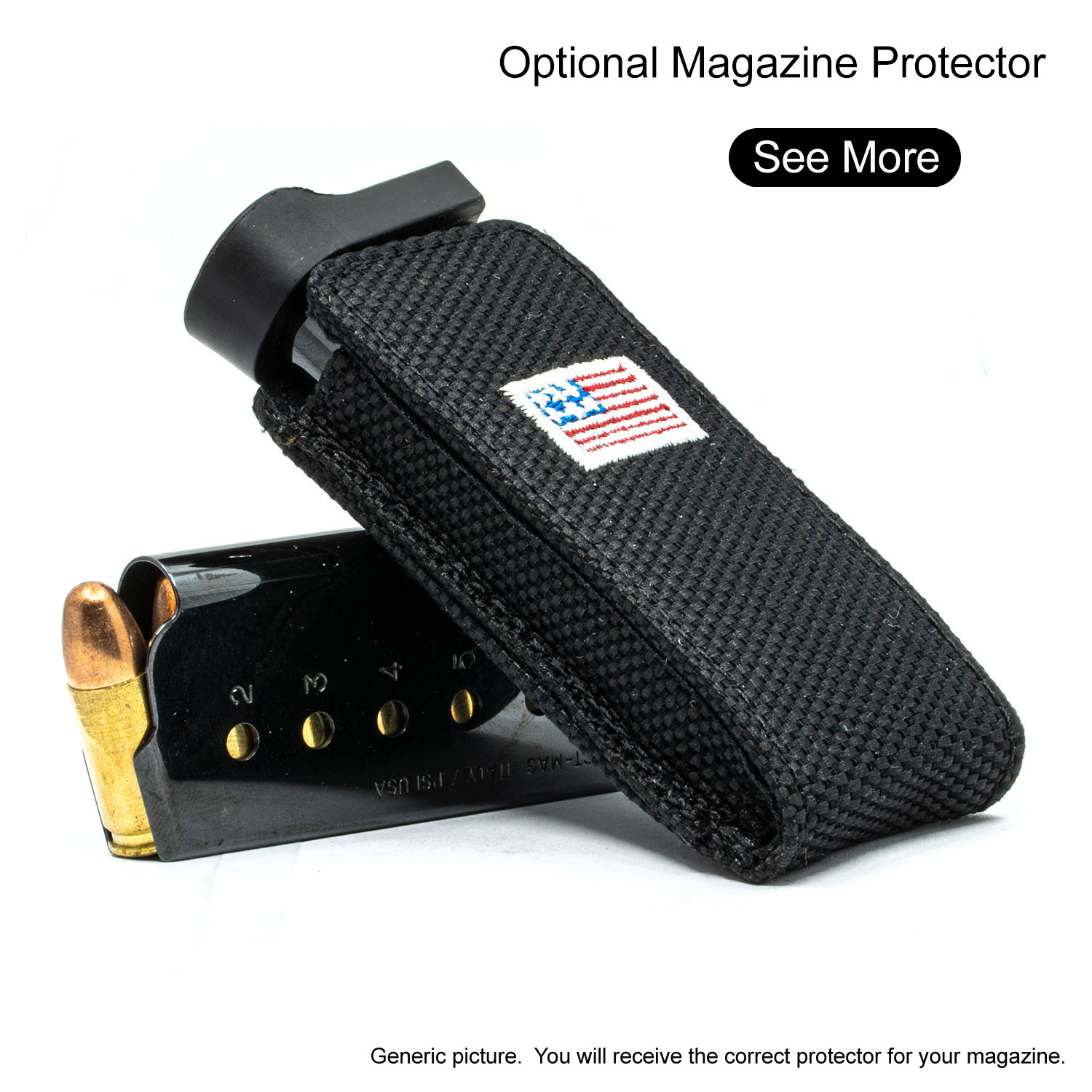 Approx Internal Dimensions:
Height 5 3/4" Width 4 3/8" Depth 1 1/8" (flush base magazine holster)
Please contact us for warranty and exchange requests.
Comfortable to wear. only had two people ask if I had a gun.

Love it!!!

looks very nice and should work well

since this is a christmas gift for my husband, I won't know until then how well it works for him

Excellent quality, easy access, comfortable to wear, absolute concealment!

I can't really criticize this product as it is very well built and designed. My problem was that it is bulky compared to the Versdacarry holster I use.

I will most likely use this holster with my carry bag.

This holster is perfect for carrying in public. it's comfortable, even when sitting in a car seat, The pistol fits perfectly, and it draws no attention while in stores or in general public view.

It conceals the gun great. It is like an oversized I phone holster.

Good quality with attention to detail

Unfortunately, I am unable to use it. The reason for obtaining was to utilize it during my recovery of the hip and T-Bands on my sides due to an accident. Still had too much pressure against my side due to the 30-pounds of weight I had gained due to inability to exercise/move around. I still would recommend it to anyone wanting an Outside of Waist type of wear. I normally wear a Crossbreed with my 40-cal glock. I am hopeful to be able to wear SOMETHING as I recover due to the stories I hear of people being attacked and not able to defend themselves or their loved ones!

This is a great and comfortable holster

This is a great holster. Perfect for Winter or Summer. I can wear it in plain view and nobody has a clue. They think it is a PDA or cell phone inside. No one suspects at work. Very discrete. Draws no attention. I am very glad I bought it and recommend it to anyone with a CHL. Thanks Sneaky Pete!