Product Description
The Kahr PM9 Sneaky Pete Holster has sewn belt clips which can accommodate a belt up to 1.75" inches wide. The holster is made of high quality soft leather, and when worn on the belt resembles a cell phone case. The advantage of this design is that it allows you to carry your Kahr concealed, but with full and easy access. Now it's possible to wear whatever you want, whenever you want to. Don't dress around your gun anymore.

The holster is made inside and out of glove-quality leather, and uses two magnets to stay closed. Each holster is designed for your specific firearm, and the opening is made in such a way that you cannot accidentally place your finger on the trigger during draw. The Kydex insert ensures that a smooth, silent draw occurs every time.

The use of double stitching and steel rivets guarantees that this holster will last for years to come. All available options are listed above, and the holster can be ordered either with the belt loop, or optional belt clip. We design every holster to be as small as possible and still fit your pistol.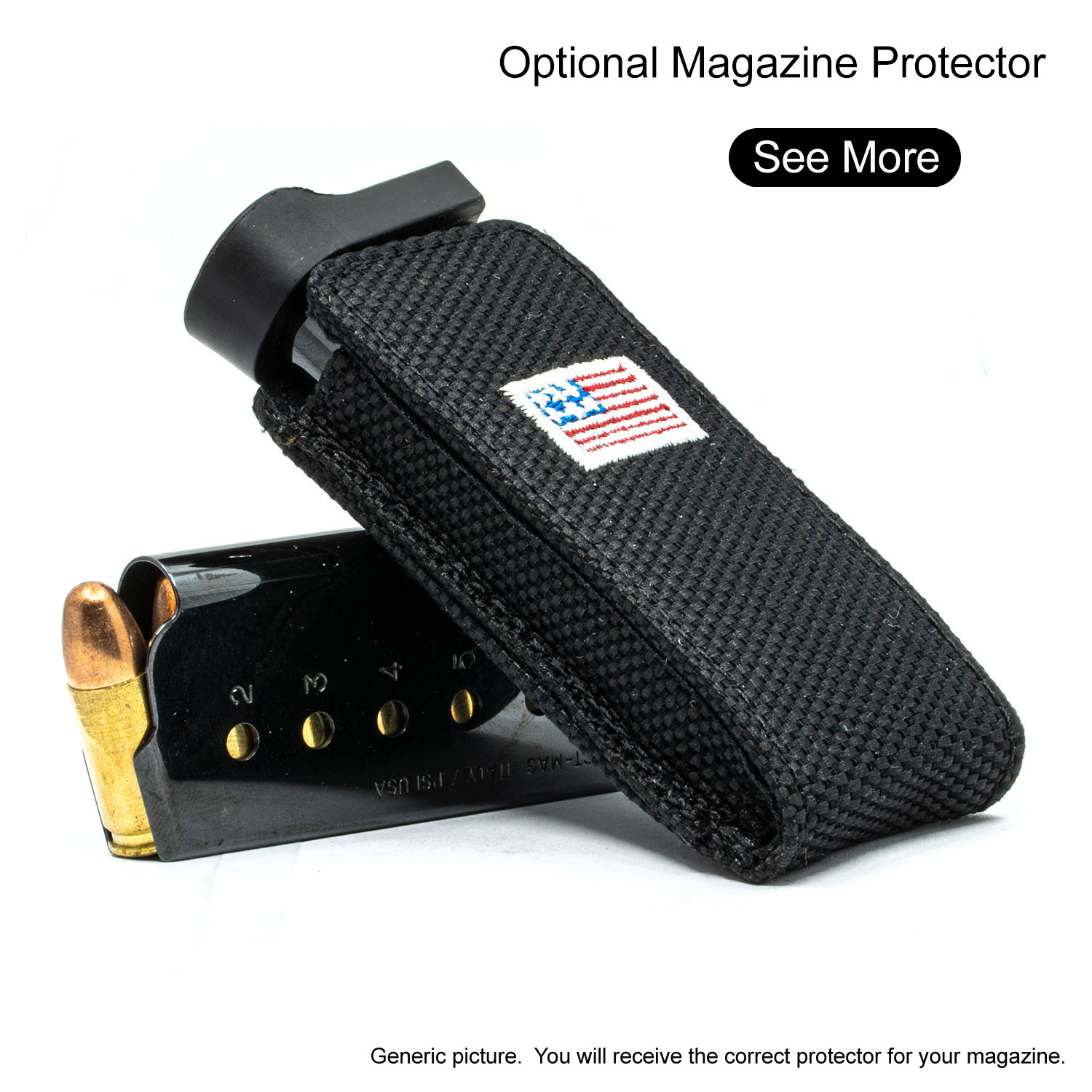 Other Details
Please contact us for warranty and exchange requests.
Custom Field
Approx Internal Dimensions
Height 5 3/4" Width 4 3/8" Depth 1 1/8" (flush base magazine holster)
Product Reviews
Sneaky Pete Belt-Clip Holster for Kahr PM9

Similar to the Kahr P380 holster I already reviewed, just a little larger but still very compact. This, too, had an extended delivery time due to the virus. But once again, the holster arrived professionally packaged and in perfect condition. All SP holsters, including this one, are meticulously crafted in the USA and truly give meaning to "concealed in plain sight." I really like that. The double belt clips are plenty strong and secure for a subcompact pistol of this size yet facilitate easy on/off. I feel very safe carrying with a round in the chamber because the trigger is covered, and the pistol is well secured as well as accessible due to the magnetized flap. This holster certainly doesn't look like it contains a pistol, and no one has ever asked me what's inside. I really like that, too. A well-deserved Five Stars.

Sneaky Pete Belt Clip Holster

Background: Retired LE , working corporate security. We wear a soft uniform, and in the summer months we are permitted to ditch the jacket if we can conceal our weapons. It's hot in NYC in the summer so I was all in. I've had the belt clip holster for a month now. The pros: top quality material and well made. No wasted space. Fits weapon perfectly. Appears as easy to deploy as advertised. Slides in and out smoothly. Nobody has any idea what is and only one person even bothered to ask. The only negative I could possibly see: If you're carrying a large weapon, the case will have to be large. You will probably lose access to a pocket or two. Otherwise, I highly recommend this product.

I have only had this holster a few days, so have really not had a chance to use it very much. However, it has been satisfactory so far. I am very impressed with the quality of construction.

THis holster is a brilliant idea. I like to wear OWB holsters for comfort but I don't like the fact that if a normal citizen sees your weapon or holster they get nervous. You can wear SneakyPete holsters in plain sight and no one even looks twice. It looks like a PDA or cellphone case. With practice drawing the weapon becomes effortless and quick. Awesome product, great idea.

I purchased this holster for my Kahr PM9 but then discovered, happily, that my MK40 fits just as well! No one even gives it a second look when I wear my gun in this great holster! So I am carrying it much more frequently, these days. Since you can't see the gun people seem to think it's probably a large smartphone or small tablet on my waist. This is a GREAT holster!