Product Description
The Kahr CW9 Concealed Carry Holster has sewn belt loops which can accommodate a belt up to 1.5" inches wide. The holster is made of high quality soft leather, and when worn on the belt resembles a cell phone case. The advantage of this design is that it allows you to carry your Kahr concealed, but with full and easy access. Now it's possible to wear whatever you want, whenever you want to. Don't dress around your gun anymore.

The holster is made inside and out of glove-quality leather, and uses two magnets to stay closed. Each holster is designed for your specific firearm, and the opening is made in such a way that you cannot accidentally place your finger on the trigger during draw. The Kydex insert ensures that a smooth, silent draw occurs every time.

The use of double stitching and steel rivets guarantees that this holster will last for years to come. All available options are listed above, and the holster can be ordered either with the belt loop, or optional belt clip. We design every holster to be as small as possible and still fit your pistol.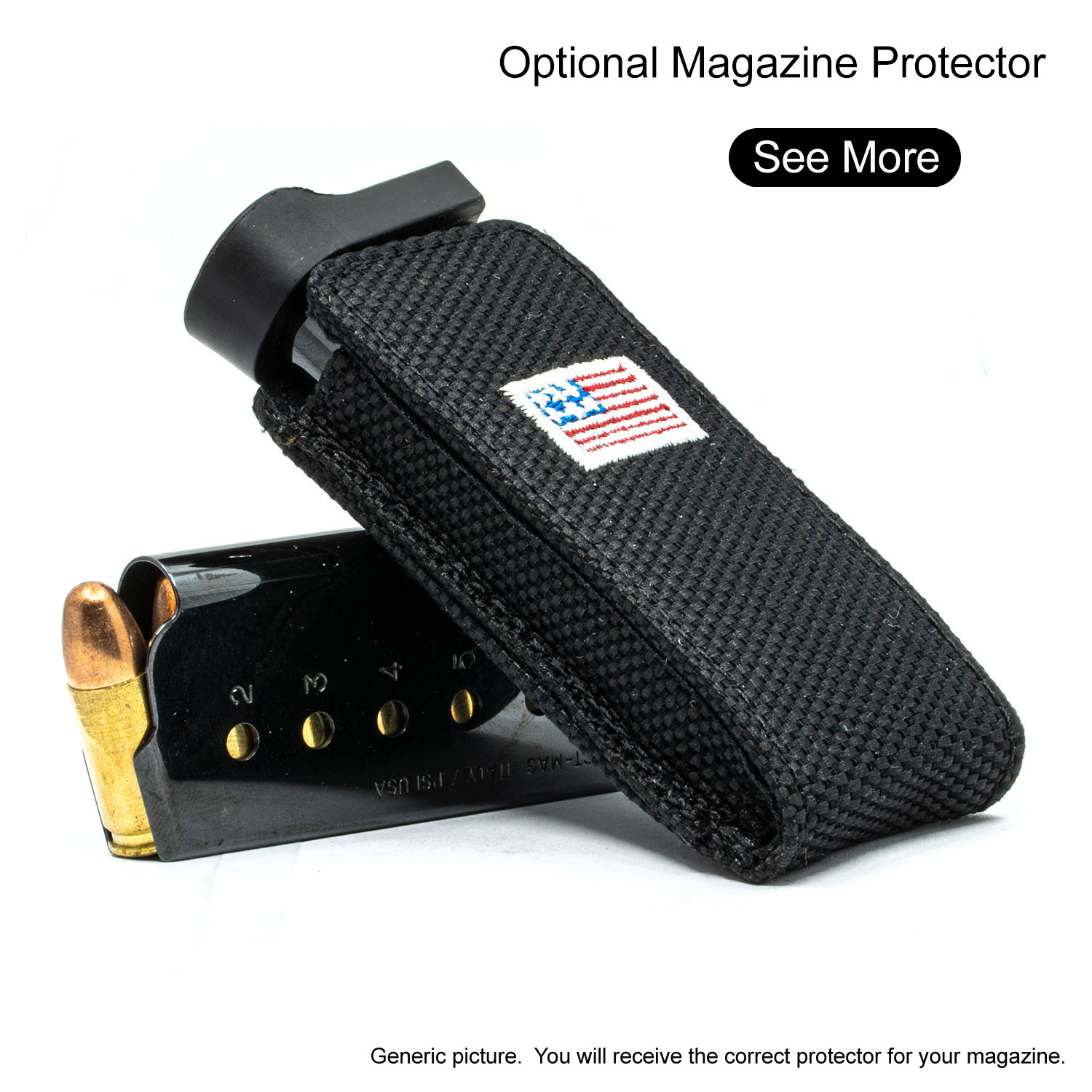 Other Details
Please contact us for warranty and exchange requests.
Custom Field
Approx Internal Dimensions
Height 6 2/8" Width 5" Depth 1 1/8" (flush base magazine holster)
Product Reviews
Although it's a bit bigger than I thought it would be, I really like this holster. It fits my Khar perfectly. The quality is outstanding and I can see it lasting along time.

The closest thing to open carry !

With all the cell phone holders out there, nobody even gives my Sneaky Pete holster a second glance. I opted for the belt loop version and I'm amazed at how comfortable it is even when I'm in my car with the seat belt fastened and, as easy as it is to reach in moments, it's as close as you can get to "open carry" holster.

This is a great holster, I wear it almost everyday. Just keep in mind that people do look at it, but look away not thinking twice. If your around family or anybody that knows you really well, it gets a lot of questions "whats that". My friend has the smaller Kahr P380 so the case is also smaller and it looks more like a normal sized cell phone case. If you have not bought your pistol yet I recommend buying the smallest one that you can handle if you are thinking of this case, this day and age cell phones are not the size of most guns they are way smaller. That being said its more the size lf my gun then this being a holster problem. it's a high quality product and I would buy it again. In the winter time just throw a jacket on and it's completely concealed.