Product Description
The Kahr CM9 Concealed Carry Holster has sewn belt loops which can accommodate a belt up to 1.5" inches wide. The holster is made of high quality soft leather, and when worn on the belt resembles a cell phone case. The advantage of this design is that it allows you to carry your Kahr concealed, but with full and easy access. Now it's possible to wear whatever you want, whenever you want to. Don't dress around your gun anymore.

The holster is made inside and out of glove-quality leather, and uses two magnets to stay closed. Each holster is designed for your specific firearm, and the opening is made in such a way that you cannot accidentally place your finger on the trigger during draw. The Kydex insert ensures that a smooth, silent draw occurs every time.

The use of double stitching and steel rivets guarantees that this holster will last for years to come. All available options are listed above, and the holster can be ordered either with the belt loop, or optional belt clip. We design every holster to be as small as possible and still fit your pistol.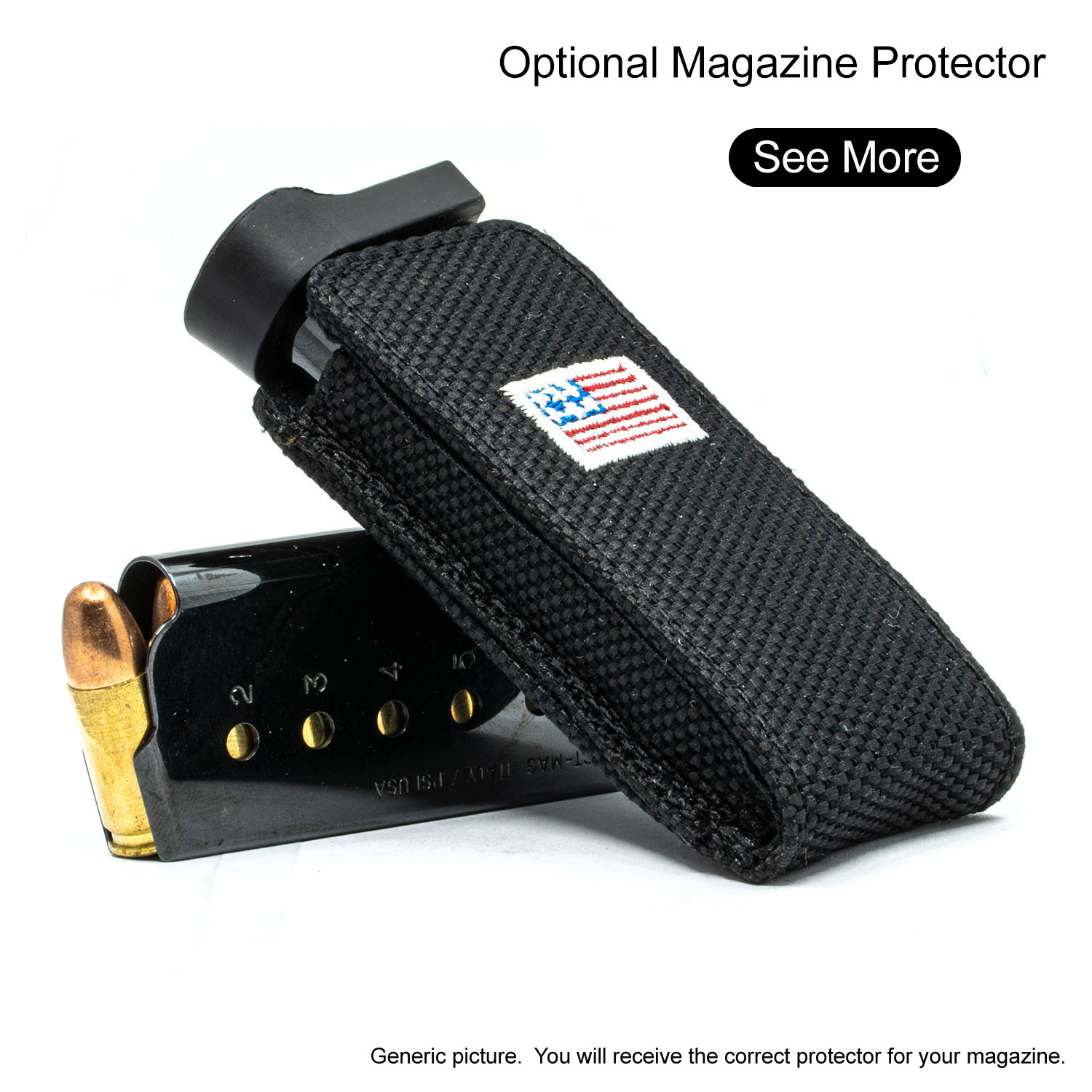 Other Details
Please contact us for warranty and exchange requests.
Custom Field
Approx Internal Dimensions
Height 5 3/4" Width 4 3/8" Depth 1 1/8" (flush base magazine holster)
Product Reviews
? Poorly phrased question

One complaint, overpriced. Recently saw product advertised at $20 cheaper price than i paid.

Awesome! Just what I was hoping for and more!

CM9 Sneaky Pete black leather alligator review

Perfect precision fit. Solid, well made quality product. Looks great and nobody will know what is inside. It IS somewhat bigger than I thought but i got used to it quickly. Highly recommended.

Received in a timely manner

Received my holster in about 5 days. Was packed very well. I was a little disappointed in the brown color of the holster and I had to take it outside to see that it wasn't black. Everyone who saw it thought it was black. Gun fits nicely and I like the magnatic flap. Had a heck of a time getting it on my belt, 13/4", and almost impossible to adjust, back and forth. Probably would fit better on a dress belt. Overall a nice holster. Dennis

Sneaky Pete for a Kahr CM9

I've been using my SP for about two weeks now; and have been totally satisfied with with the fit, finish, quality and actual "usefulness" of the holster. I initially bought it to use while riding my motorcycle, and the magnetic catches on the flap stay put at all speeds (up to 75 MPH so far). I've since used it some for the novelty of being able to tuck in a shirt again. As far as anyone taking "notice" of it; only my son has asked about it (he knows that I always carry). Matter of fact; I was wearing it at band practice last week when we were visited by three of the local LEO's, and none gave it a second look. It's been pretty well received on the Forums that I frequent, with the only comments for "improvements" being from some of the ladies that have noted an interest, but wished that they could get one with the SP monogram in pink, or maybe a small flower embroidered on one corner just to make it a little more feminine. Bottom line; I plan to purchase at least one more (probably two, plus a third for the wife)! Great niche product for sure.