Product Description
The Glock 43X Sneaky Pete Holster has double belt clips which can accommodate a belt up to 1.75" inches wide. The holster is made of high quality soft leather, and when worn on the belt resembles a cell phone case. The advantage of this design is that it allows you to carry your Glock 43X concealed, but with full and easy access. Now it's possible to wear whatever you want, whenever you want to. Don't dress around your gun anymore.

The holster is made inside and out of glove-quality leather, and uses two magnets to stay closed. Each holster is designed for your specific firearm, and the opening is made in such a way that you cannot accidentally place your finger on the trigger during draw. The Kydex insert ensures that a smooth, silent draw occurs every time.

The use of double stitching and steel rivets guarantees that this holster will last for years to come. All available options are listed above, and the holster can be ordered either with the belt loop, or optional belt clip. We design every holster to be as small as possible and still fit your pistol. This holster will not work with a pinky extender on your Glock. Frequently Asked Questions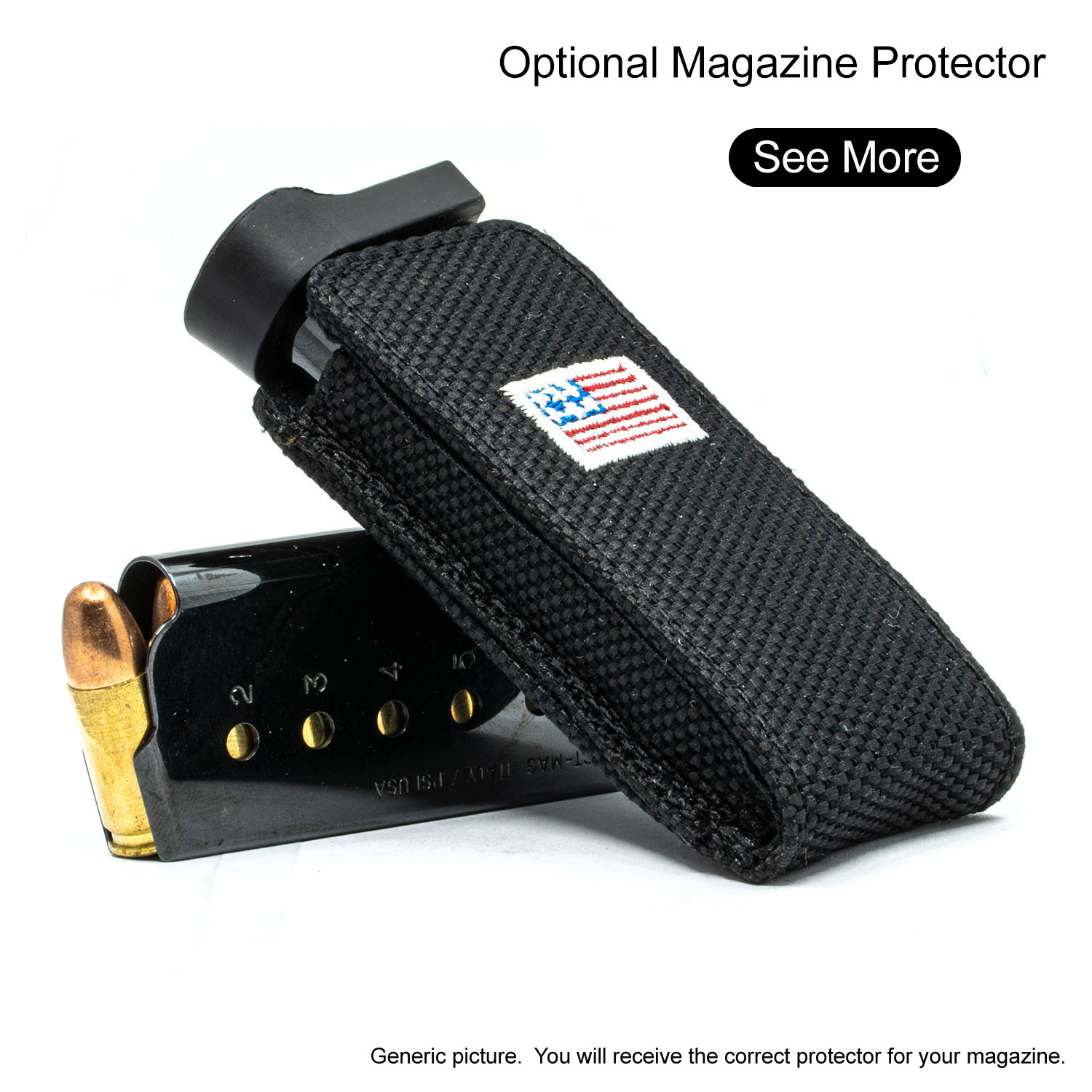 Product Videos
Custom Field
Approx Internal Dimensions
Height 6 2/8" Width 5" Depth 1 1/8" (flush base magazine holster)
Product Reviews
Glock 43X Ballistic Holster

The produce is well made, with first class materials, however, the belt clips are difficult to attach to belt, especially since the two are very close together and most of my jeans have a belt loop that i try to put between them for best comfort. I think I would like one single belt clip that was larger (wider) which would make it much easier to put on or take off. Still, it's the best concealed holster around for my Glock.

Well made great quality, just didn't really fit my Glock 43X, the holster was to tight in the area of the rear sight, my Glock had the standard plastic factory sights. It did fit my brothers S&W M&P Shield perfect. So I gave it to him. Honestly I think that the wrong holes put in the box, I do understand that with COVID 19 pandemic that's things are tough and it's hard to find people to work. But my beloved it it with his S&W shield 9mm. Again well made holster.

It's a little bit bigger than I thought but the guy fits it.

Excellent Holster, Well made

I have a Glock 43 with the 2 round extension on it. After carefully measuring and scrutiny, I tried the 43 X holster as I wanted to carry my 43 with extension. For me, the 43 with 2 round extension fit sin the 43X holster. Just FYI... Just verify your measurements.

Well built holster, much bigger then the picture shows but I'm ok with it

Does the job of concealing without anybody knowing. Easy remove the your firearm if needed

This is a beautifully made, real leather holster. It's a very well made product, and I am very happy with it. Most importantly, when I made some initial ordering mistakes, customer service responded in moments and stuck with me. A very nice, professional and efficient experience.

good quality leather, gun fits perfect! larger than the picture . however I like it, and would refer friends to this product!

Have to pivot the handgun to return it to holster but it allows easy removal which is the most important

The 43X draws easily but has to be pivoted when returned to the holster. Not a big deal as I have gotten used to it.

This holster is of good quality just a little larger than I would like. I do use it and it works just fine just too big.