Product Description
The Glock 43 Concealed Carry Holster has double belt loops which can accommodate a belt up to 1.75" inches wide. The holster is made of high quality soft leather, and when worn on the belt resembles a cell phone case. The advantage of this design is that it allows you to carry your Glock 43concealed, but with full and easy access. Now it's possible to wear whatever you want, whenever you want to. Don't dress around your gun anymore.

The holster is made inside and out of glove-quality leather, and uses two magnets to stay closed. Each holster is designed for your specific firearm, and the opening is made in such a way that you cannot accidentally place your finger on the trigger during draw. The Kydex insert ensures that a smooth, silent draw occurs every time.

The use of double stitching and steel rivets guarantees that this holster will last for years to come. All available options are listed above, and the holster can be ordered either with the belt loop, or optional belt clip. We design every holster to be as small as possible and still fit your pistol. This holster will not work with a pinky extender on your Glock. Frequently Asked Questions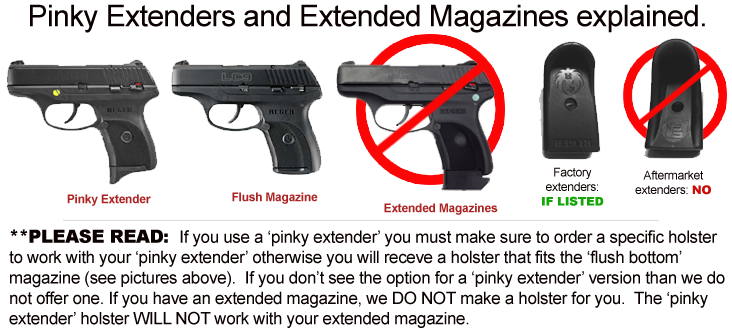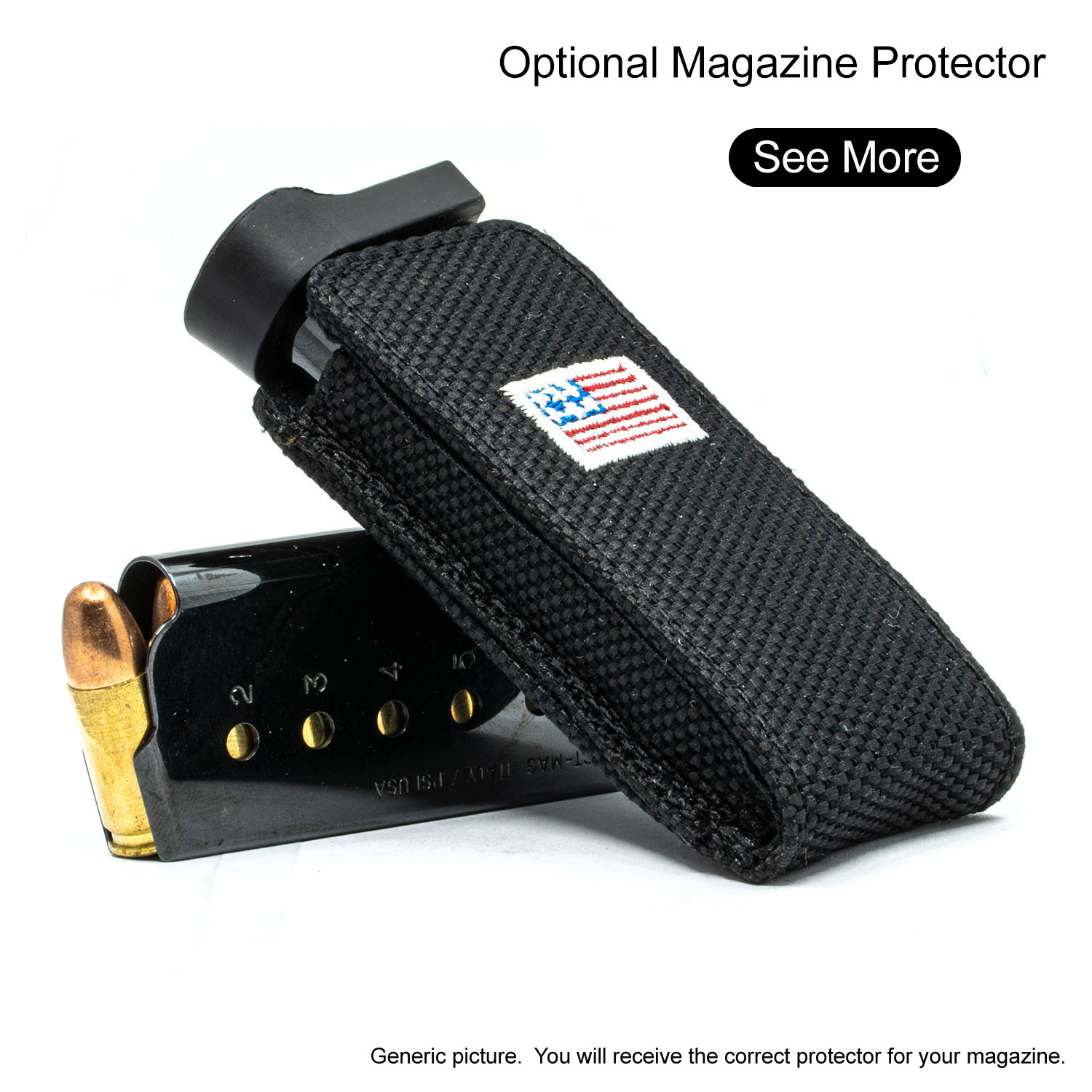 DISCLAIMER: This product is not manufactured, authorized, endorsed, or warranted by GLOCK. GLOCK does not warrant or represent that this product is compatible with GLOCK pistols.
DISCLAIMER: GLOCK is a federally registered trademark of GLOCK, Inc. and is one of many trademarks registered by GLOCK, Inc. and GLOCK Ges.m.b.H. Neither Sneaky Pete Holsters, Inc. nor this site are affiliated in any manner with, or otherwise endorsed by, GLOCK, Inc. or GLOCK Ges.m.b.H. The use of GLOCK on this page is merely to advertise the sale of GLOCK pistols, parts, or components. For additional genuine GLOCK, Inc. and GLOCK Ges.m.b.H products and parts visit www.glock.com.
Other Details
Please contact us for warranty and exchange requests.
Custom Field
Approx Internal Dimensions
Height 5 3/4" Width 4 3/8" Depth 1 1/8" (flush base magazine holster)
Product Reviews
This holster is well made and wears well

i wish i would have bought the clip on Hoster because the loops are so wide thay get in the way of my pants loops. wider than the ones for my 380.....but?

Glock43 Belt Loop Holster

I was expecting this size, so no surprise. Didn't take much practice to develop a clean, fast draw. I'm on oxygen, so having something on my belt doesn't raise any eyebrows at all. Good quality, too. I'll probably get a phone case also, as mine current one is wearing badly.

Most comfortable way to carry a firearm and I have tried all the methods as a old man!

Glock 43 Concealed Carry Holster (belt loop)

I ordered the above holster in brown leather and was very impressed with the craftsmanship. I decided to exchange it for the belt clip model, and the exchange process was seamless, just as described on their website. I had some general questions throughout the exchange process, and the customer support team was timely and concise in answering them. In summary, Sneaky Pete customer support is A++ should you need it, which is unlikely given the quality craftsmanship and attention to detail of their product. They look great too!

very nice

Quality well made product

Love it!

Bulkier than I had thought, but actually, a perfect fit. Got what I needed. Would recommend.