Product Description
The Glock 43 Concealed Carry Holster has double belt loops which can accommodate a belt up to 1.75" inches wide. The holster is made of high quality soft leather, and when worn on the belt resembles a cell phone case. The advantage of this design is that it allows you to carry your Glock 43concealed, but with full and easy access. Now it's possible to wear whatever you want, whenever you want to. Don't dress around your gun anymore.

The holster is made inside and out of glove-quality leather, and uses two magnets to stay closed. Each holster is designed for your specific firearm, and the opening is made in such a way that you cannot accidentally place your finger on the trigger during draw. The Kydex insert ensures that a smooth, silent draw occurs every time.

The use of double stitching and steel rivets guarantees that this holster will last for years to come. All available options are listed above, and the holster can be ordered either with the belt loop, or optional belt clip. We design every holster to be as small as possible and still fit your pistol. This holster will not work with a pinky extender on your Glock. Frequently Asked Questions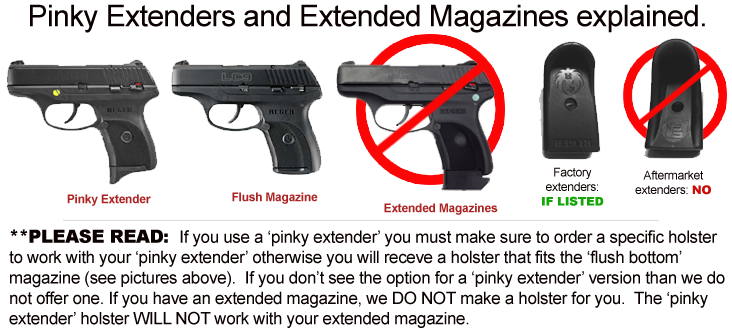 Other Details
Please contact us for warranty and exchange requests.
Custom Field
Approx Internal Dimensions
Height 5 3/4" Width 4 3/8" Depth 1 1/8" (flush base magazine holster)
Product Reviews
Love it!

Bulkier than I had thought, but actually, a perfect fit. Got what I needed. Would recommend.

I really like it!!!!

WELL MADE, ALITTLE BIGGER THAN I EXPECTED, BUT STILL WORKS VERY WELL. VERY GOOD HOLSTER.

GOOD HOULSTER

Fit just right and is the perfect conceal and open carry at the same time. Thumbs up

Great well made product guys.

I purchased the freedom series for my glock 43. I keep a pen exposed in the outside pocket. I can carry in plain sight with no questions asked. This is my 2nd sneakypete holster. I have one for my glock 42. Great well made product guys. Keep up

Glock 43 concealed carry holster belt loop

Very,,, very well made. It was as advertised only looked better. The leather is very professional down to the stitching. Fit of the 43 is tight enough to be secure but loose enough to be removed easily. My biggest concern was getting the gun out of the holster. No concern now. There is an opening inside of the flap that allows you to insert the middle finger below the trigger guard and when it exits the holster it easily comes into your hand. There is NO shifting of the gun necessary to bring in into your palm. The belt loops are a little tight, but I don't consider this an issue. Makes it difficult to get a belt in to it but the good side of this is as it gets older and it stretches it will still be tight. Also the loops are of a thick strong leather with 8 large rivets holding it on. The flap is held down with 2 strong magnets. I tried to shake the gun out holding it upside down with the flap closed. Granted the 43 is a light gun but I was unable to open the flap by shaking it with the weight of the gun on it. I am very impressed with the look and quality of this holster. It reminds me of the leather you were able to purchase in the 70's quality wise.

Love the concept, Once I received the holster it was bigger than I thought it would be. I have wore it several times and I still prefer the inside waist holster I have been using. I will use it every now and then, maybe it will grow on me.

The idea is good, quality construction, awkward to draw the gun.