Product Description
The Glock 43 Concealed Carry Holster has double belt loops which can accommodate a belt up to 1.75" inches wide. The holster is made of high quality soft leather, and when worn on the belt resembles a cell phone case. The advantage of this design is that it allows you to carry your Glock 43concealed, but with full and easy access. Now it's possible to wear whatever you want, whenever you want to. Don't dress around your gun anymore.

The holster is made inside and out of glove-quality leather, and uses two magnets to stay closed. Each holster is designed for your specific firearm, and the opening is made in such a way that you cannot accidentally place your finger on the trigger during draw. The Kydex insert ensures that a smooth, silent draw occurs every time.

The use of double stitching and steel rivets guarantees that this holster will last for years to come. All available options are listed above, and the holster can be ordered either with the belt loop, or optional belt clip. We design every holster to be as small as possible and still fit your pistol. This holster will not work with a pinky extender on your Glock. Frequently Asked Questions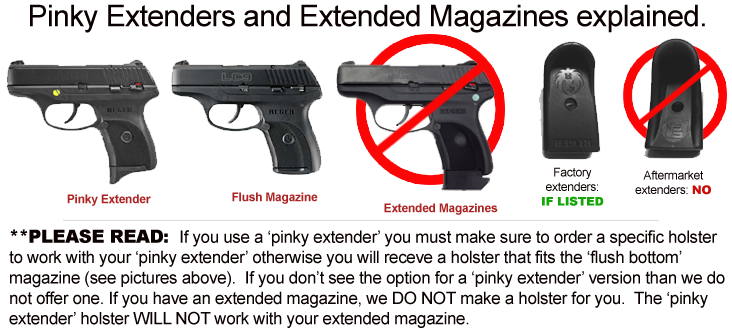 Other Details
Please contact us for warranty and exchange requests.
Custom Field
Approx Internal Dimensions
Height 5 3/4" Width 4 3/8" Depth 1 1/8" (flush base magazine holster)
Product Reviews
Love the concept, Once I received the holster it was bigger than I thought it would be. I have wore it several times and I still prefer the inside waist holster I have been using. I will use it every now and then, maybe it will grow on me.

The idea is good, quality construction, awkward to draw the gun.

only drawback is it is thicker than I thought it would be

Glock 43 concealed carry holster

I have carried a concealed weapon since 1951, and I never been comfortable with any holster during that time. Along came the Sneaky Pete concept and I am finally satisfied.

Excellent concealment

I bought this for my son who works in a situation where he has to be armed but discreet. He loves the holster. It is very stealth, holds the weapon securely and allows for rapid access. He may buy a few more for other guns he has.

The holster was excellent in craftsmanship and leather quality. I communicated via email about making a modification and was informed it could not be changed, so unfortunately I returned the product.

Good customer support thanks.

Impressed with the quality, much better than most holsters. Delivery was fast. Very satisfied.

Well made and attractive. A bit large to pass as a cell phone case.
I wish I had purchased the clip-on instead of the belt loop version. The belt slots are not very wide, and it's a bit of a struggle to get a wide to build through them. Because carry situations vary from time to time and place to place, it's not practical to have to take off your belt multiple times per day. The next time I will buy the clip-on version.